David Cameron and Ed Miliband are engaged in a frantic hearts-and-minds battle for voters as the race for No 10 remains too close to call.
With the polls deadlocked, the Prime Minister issued a direct plea to Liberal Democrat and Ukip supporters to vote Tory in order to prevent a Labour-SNP government taking power.
And Miliband appealed to moderate "one nation" Tories to vote Labour, insisting that he now represented the centre ground and would keep Britain firmly in the heart of Europe.
Story continues after the slideshow...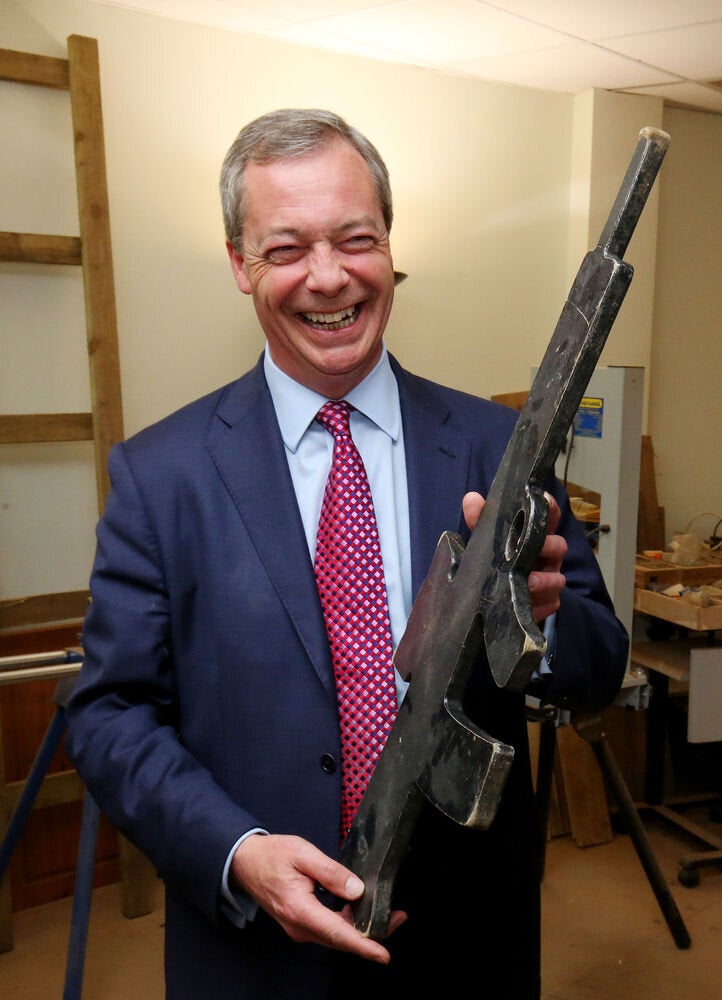 General Elections 2015: Funny and Awkward Pictures
The increasingly fraught attempts by the two main parties to widen their appeal appeared to reflect a growing frustration at the apparent inability of either one of them to gain any sort of momentum in the election campaign.
The latest polls continued to offer conflicting pictures with an Opinium poll for The Observer putting the Tories a four point lead over Labour, while YouGov for The Sunday Times put Labour three ahead.
Writing in The Sunday Times, Cameron urged Lib Dem and Ukip supporters not to "waste" their votes and instead back the Conservatives as the surest way of stopping a Labour government propped up by SNP votes.
He described SNP leader Nicola Sturgeon as a "hostage-taker" who would insist on "more borrowing, more taxes and more welfare".
"Vote for Ukip or the Liberal Democrats and you take Ed Miliband and Nicola Sturgeon a step closer to Downing Street - and our government, economy and country a step closer to chaos," he said.
Miliband, meanwhile, used an interview with The Observer to make a direct pitch for the support of disaffected centre ground Conservatives who feared the return of Cameron to No 10 could leading to rising inequality and jeopardise Britain's place in the EU.
"I am a politician of the left, but I am positioned where the mainstream of politics is positioned. I am on the centre ground of politics,"
"I want to reach out to Tory voters, to Liberal Democrat voters, to Ukip voters, to non-voters ... to people who feel that David Cameron can't answer the challenge of our time, who worry about our place in the European Union, who really think to themselves, 'we can do a lot better as a country'."
In contrast, he described Cameron as "ideologically beached" and with no answers about how to tackle inequality.
Asked what he could offer Conservatives worried about the rightward drift of their party, he said: "Who is going to stand up to tax avoidance? Who is going to stand up to energy companies? Who is going to stand up to banks? That is absolutely something I think will appeal to Tory voters."
Cameron meanwhile is set to announce that small investors will be offered the chance to buy up to £4 billion worth of Lloyds bank shares at below-market prices if the Conservatives are returned to power after the general election on May 9.
The Prime Minister will say the next £9 billion tranche of the taxpayers' stake in the bank to be sold will see a proportion of them earmarked for small investors at a discount of at least 5%.
Buyers who keep them for a year will be rewarded with a "loyalty bonus" of one additional free share for every 10 shares that they still hold.
After last week's announcement by the Tories to revive Margaret Thatcher's Right to Buy scheme, the move recalls another of her keynote policies to build a share-owning democracy.
Labour, in turn, are accusing the Conservatives of drawing up "secret" plans to axe hundreds of NHS nursing posts in England once the general election is out of the way.
Shadow health secretary Andy Burnham said that figures buried in official documents showed that almost 400 posts would go if the Tories returned to power.
The Conservatives however insisted the figures were out-of-date and did not take account of their commitment to raise spending on the NHS by £8 billion-a-year by the end of the next parliament.
Liberal Democrat Cabinet minister Vince Cable dismissed Cameron's tactical voting call as "dangerous nonsense".
He said there was no chance the Tories could win an overall majority and would end up reliant on the support of Ukip and "30 or 40 maverick Tory MPs".
"These are people who hate his guts," he told BBC1's Andrew Marr Show.
The Business Secretary said he had no personal preference over whether his party governed with the Conservatives or Labour in the event of another hung parliament.