EU foreign ministers are meeting today to discuss whether to resume full-scale search and rescue operations for immigrants trying to cross the Mediterranean, after hundreds drowned in the latest sinking.
Up to 900 are feared drowned in the latest capsize tragedy, taking the number of dead among those seeking refuge in Europe from Libya and elsewhere in this year alone to more than 1,500.
Labour has called on the government to reverse its "immoral" withdrawal of support for search and rescue missions in the Mediterranean as Philip Hammond prepared to join counterparts in Luxembourg.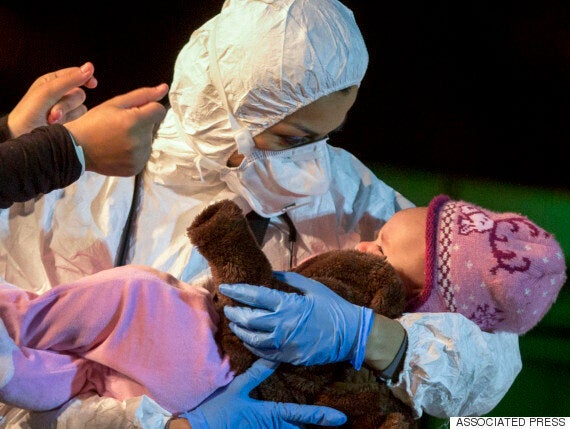 A rescuer cradles a child, rescued from another boat trying to cross, in the Sicilian harbour of Pozzallo
An Italian naval operation, Mare Nostrum, was wound up late last year despite rescuing tens of thousands of people making the journey from North Africa. It was replaced with a more limited European Union border security operation.
The UK has argued search and rescue operations might encourage more illegal immigrants to attempt the crossing.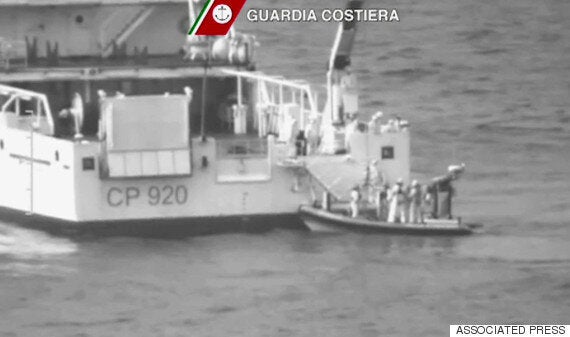 An Italian Coast Guard vessel during ongoing search and rescue operation for those missing from the sunken boat
Hammond blamed people smugglers for helping people try to cross the sea, saying the world was horrified by the death toll of the latest sinking. He said stopping traffickers "demands a comprehensive, co-ordinated response".
"As well as helping to identify and target the traffickers by offering the expertise of our National Crime Agency and security services, Britain can make an important contribution to addressing the factors driving migration through our aid programme in the key source countries," he said.
But shadow home secretary Yvette Cooper said: "The British Government must immediately reverse its opposition to EU search and rescue operations in the Mediterranean, as the EU needs to restart the rescue as soon as possible.
"Theresa May was very wrong to argue that the EU rescue operations should be stopped in order to deter others from coming. It is immoral to turn our backs and leave people to drown in order to deter other desperate travellers - and of course it hasn't worked.
"Since the operations were cancelled even more people have tried to cross the Mediterranean, and thousands have died."
Nick Clegg conceded that "the current arrangements are clearly leading to these tragic consequences" and backed a change of course but insisted the "cure" lay not at sea but in dealing with the reasons people were seeking refuge.
He said it was Italy which had pushed the switch of focus amid fears that the safety net of maritime patrols was encouraging the refugee traffic but accepted the need for a "long, hard collective think about what the best arrangements are".
The European Commission said: "The reality is stark and our actions must therefore be bold. These are human lives at stake, and the European Union as a whole has a moral and humanitarian obligation to act.
"What we need is immediate actions to prevent further loss of life as well as a comprehensive approach to managing migration better in all its aspects... This is a joint responsibility of all 28 EU Member States and the EU institutions and requires a joint European response."
Refugee Council head of advocacy Lisa Doyle said: "This latest tragedy is an appalling reminder that Europe's response to the greatest refugee crisis in modern times has been to close off people's escape routes, pull up the drawbridge and let desperate people drown.
"How many more people have to be swallowed by the sea before European leaders act? The focus has to be on saving lives and creating alternative routes to safety."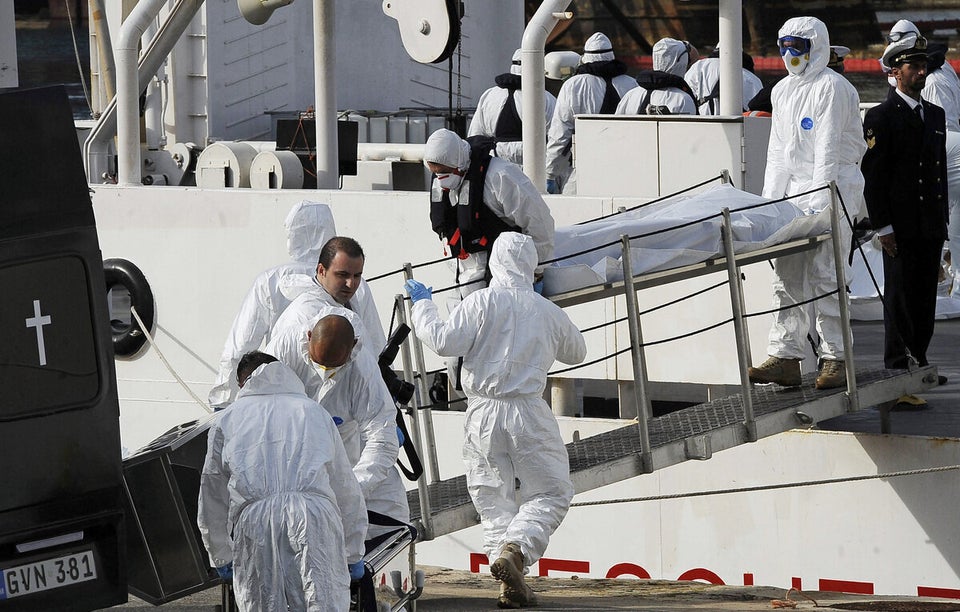 Migrant Tragedy
Related