As the Scottish National Party prepares to launch its election manifesto today, the nation's media has gone wild over fears that the party will hold a Labour government "to ransom".
In their headlines, both the Times and the Telegraph claimed that Nicola Sturgeon's party is holding the UK's defence forces to "ransom" if Ed Miliband were to become Prime Minister after next month's general election.
There was strong language across the board as The i said that the SNP was "ready to wage war on Miliband", accompanied by the headline: "SNP veto on Labour spending".
The Telegraph went on say that the SNP was "prepared to paralyze Britain's Armed Forces and shut down governmental departments if Ed Miliband is Prime Minister".
The Guardian took a slightly more measured approach, with the headline: "SNP will be able to steer government - Sturgeon."
Although not referencing the defense spending block directly, Boris Johnson blasted the prospect of a Labour-SNP coalition in his Telegraph column, claiming in his headline: "If Ed's in the driving seat, Nicola will be steering him."
The headlines come after the SNP's deputy leader said that the party would block military spending unless the renewal of the Trident nuclear deterrent was halted.
The SNP's deputy leader Stewart Hosie told the BBC's Sunday Politics the party would vote against "cuts that we didn't like".
He added that the party would "table amendments to Budgets and legislation, vote against or table amendments to estimates [which control spending]," if they included Trident.
On Twitter, reactions to the claims were also strong.
Ruth Davidson, leader of the Scottish Tories, said: "Our armed forces deserve better than being held to ransom in political power games between parties bartering a deal."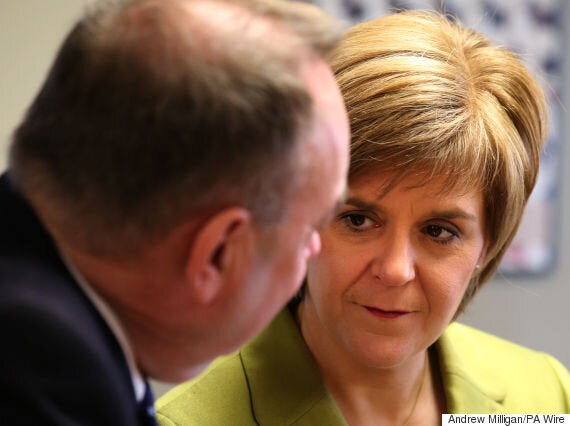 Nicola Sturgeon's party could 'hold the UK to ransom', according to the UK press
Tweeter @PARROTVOTTI added: "The SNP need to realise that if it wasn't for weapons like Trident they would not now be free to spout their Marxist ideology."
Sturgeon has already offered to work informally with a Labour government to lock David Cameron out of Downing Street.
Ed Miliband has rejected the SNP offer, but Davidson will warn today that Labour are preparing to do a "back-room deal" with the nationalists.