Nicola Sturgeon was doing so well - her poll results were up, her debate appearances were widely praised and people were even talking about the SNP holding the balance of power in the general election.
But today - Saturday 25 April - will be marked as the day in which she lost it all.
For The Sun have exposed a scandal so horrifying there is no hope the public will ever forgive her...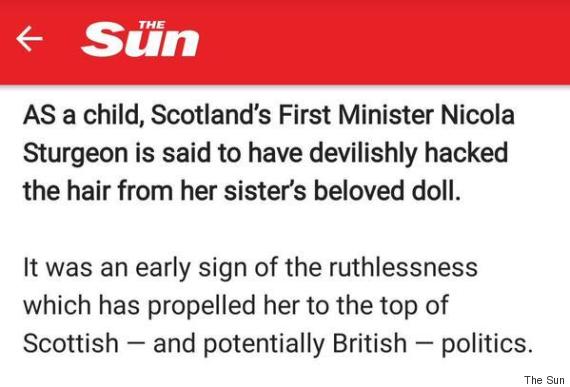 Just let that sink in a while.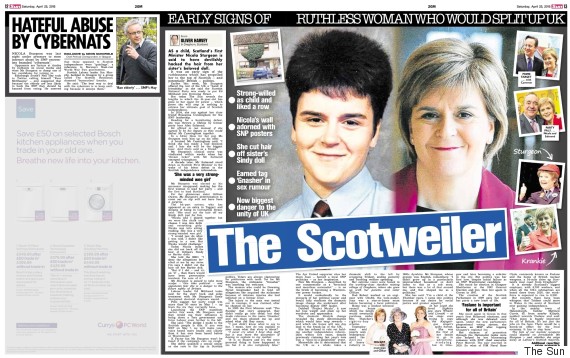 She cut the hair off her sister's doll.
Oh dear Lord.
Show me on the doll where @NicolaSturgeon hurt you.

— General Boles (@GeneralBoles) April 25, 2015
SEE ALSO: Boris Johnson Takes Down Nicola Sturgeon's SNP With 11 Unbelievably Apocalyptic Claims
Sturgeon's PR machine spun into action in a desperate attempt to deflect the hideous accusations.
For the record, I think my sister is misremembering. I'm sure it was a Sindy doll. #DollGate

— Nicola Sturgeon (@NicolaSturgeon) April 25, 2015
Bit it was too late, the damage was already done.
@NicolaSturgeon how could you, Nicola. Not angry, just disappointed.

— Linda Semple (@LindaFSemple) April 25, 2015
Sturgeon was clearly hurt by the accusations and tried to express her remorse.
@LindaFSemple I'm not proud of it, Linda, but I've changed. My niece's dolls have never come to any harm. #DollGate

— Nicola Sturgeon (@NicolaSturgeon) April 25, 2015
Needless to say the media took her apart. A bit like that doll...
#Dollgate latest: @NicolaSturgeon confesses to ruthless hacking of Sindy doll. See update: http://t.co/47tco8zoVW

— Guido Fawkes (@GuidoFawkes) April 25, 2015
So Nicola Sturgeon once did something that every child in possession of a doll has done - cut its hair - and this is now a story...#dollgate

— Jess Bowie (@jessbowie) April 25, 2015
Clearly such violent behaviour as a precursor to her brutal political tactics...
Removing doll's head early example of @NicolaSturgeon 's separatist tendencies #DollGate

— mclog's log (@ColinMcGarvie) April 25, 2015
Not voting SNP anymore, she may escalate and scalp my children #DollGate pic.twitter.com/DQjJZ24DIW

— Craig Lynn (@craigilynn) April 25, 2015
On the plus side, the shock revelations do appear to have prompted a lot of soul-searching amongst the UK population...
I left my teddy in the rain for days when I was 7. Now I'm responsible for locking the door in my own flat #dollgate pic.twitter.com/nIEJbt2j3M

— Liam Beattie (@Liam_Beattie) April 25, 2015
My mum thought Barbie a perverse male fantasy & bought me the plain, dungaree-wearing Patch. I buried her. #dollgate pic.twitter.com/VCVA7WlNtw

— mandy rhodes (@holyroodmandy) April 25, 2015
And where does it end?!
@NicolaSturgeon also confirmed colouring outside the lines #DollGate pic.twitter.com/cU7n6pND2L

— Sophia Cannon (@UndercoverMutha) April 25, 2015
The Sun's worst ever political figures who abuse dolls.

1. Nicola Sturgeon

2. Doll Pot

3. Adollf Hitler

April 25, 2015
@GuidoFawkes @NicolaSturgeon @TheSunNewspaper makes you wonder what Thatcher, Putin and Blair got up to as kids. #dollgate

— Russell Merryman (@merryarty) April 25, 2015
I never had dolls. I did bad things to Gingerbread men. #DollGate

— Statgeek (@StatgeekUK) April 25, 2015
.@NicolaSturgeon, at age 5 I turned action figures' heads 360 degrees, foreshadowing my future of being a child a further 8 years. #dollgate

— Gerald Anderson (@Fracturedpope) April 25, 2015
I used a razor blade from a pencil sharpener to give my Action Man extra scars #DollGate

— Stuart Forbes (@StuartForbes1) April 25, 2015
My brother's Action Man once drove his tank into my Sindy's kitchen as his pretend tea wasn't ready. Early lesson in feminism. #dollgate

— Maggie Simpson (@MaggieSimpson49) April 25, 2015
Please Nicola, just make it stop...