After three weeks of angering feminists and body image campaigners, Protein World's controversial "beach body" advert will no longer be plastered over London underground.
The now infamous ad, which stars bikini-clad Australian model Renee Sommerfield, asks commuters whether they are "beach body ready" in a promotion for weight loss aids.
In a statement given to HuffPost UK Lifestyle, a spokesperson from TFL confirmed the Protein World advert will be removed from London transport from Wednesday.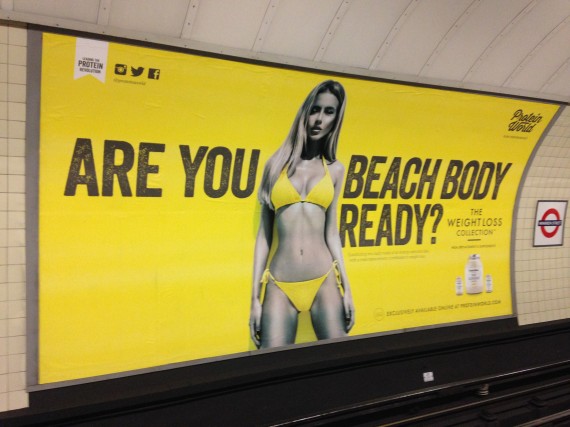 "This advertisement will begin to be removed from our network as scheduled from tomorrow," the spokesperson said.
"We have received one complaint about it and we will be guided by The Committee of Advertising Practice (CAP) and Advertising Standards Authority (ASA) if a similar advert were to be submitted again.
"We have zero tolerance towards graffiti on the network and take action to prevent it and remove it."
TFL say Protein World originally paid for three weeks of advertising. Their three weeks are now up and this is why the advert will be replaced.
Even though the advert is set to be removed, campaigners are holding a Taking Back The Beach protest in Hyde Park on Saturday, to show how ridiculous the beach body concept is.
The event organisers, Fiona Longmuir and Tara Costell, are inviting men and women to don their swim stuff in the park, whatever their shape or size.
You're god damn right we're beach body ready. Exactly as we are. http://t.co/yzcNxmeYHC #eachbodysready #bodypositive pic.twitter.com/OLWJukWSrO

— Fiona Longmuir (@EscapologistGl) April 23, 2015
A message on their Facebook page reads: "So apparently the adverts are being taken down tomorrow - huzzah!
"Saturday is a celebration of all things beautiful and we definitely want to go ahead."
Over the past three weeks, a change.org petition calling for the removal of the advert has gained over 23,000 signatures.
On top of that women (and men) have written on the posters to say that all bodies are "beach ready".
@VagendaMagazine @cait_gc I went one further: pic.twitter.com/oFGuhxuJy6

— Nicole (@NicoleBurstein) April 24, 2015
Meanwhile, Katie Hopkins waded in on the debate, saying: "Chubsters, quit vandalising Protein World ads and get your arse running on the road. Feminism isn't an excuse for being fat. Eat less, move more."
Speaking exclusively to HuffPost UK Lifestyle, Renee Somerfield, the model starring in the advert, said the backlash was "very contradictory".
"I think nearly every ad campaign you have ever seen is open to interpretation. But saying the ad is body shaming by body shaming the image is very contradictory," she said. "Two wrongs don't make a right."
SEE ALSO:

Bloggers Shed Their Clothes in Protest of Advert in London Underground

'Your Body Is Not A Commodity': Controversial Beach Body Adverts Vandalised On London Underground