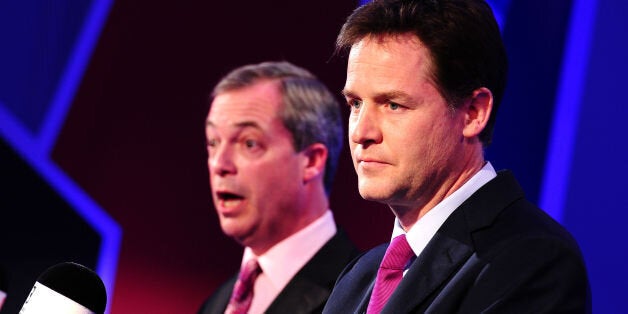 In Sheffield Hallam, Clegg's seat, Labour's Oliver Coppard is leading the Lib Dem leader by one point. And in Thanet South, the constituency Farage hopes to capture, Conservative Craig Mackinlay is ahead of the Ukip leader by two points.
However the tight margins suggest both races are too close to call. And the Lib Dems and Ukip will point to the fact the Ashcroft poll questions do not name the candidates. Both parties will argue that the substantial name recognition enjoyed by their leaders will be enough to avoid defeat.
And Clegg has insisted Liberal Democrat polling shows him "firmly ahead" in his seat. The deputy prime minister is defending a huge majority of more than 15,000 votes and would normally be considered to hold one of the safest seats in the country.
"Our own polling shows that we are firmly ahead," he said. "Just call me old-fashioned, but if you are going to try to work out how people are going to vote, ask them the question they are actually going to be asked on polling day."
In his commentary on the polls, Ashcroft said: "In Thanet South I found the Conservatives two points ahead of UKIP, 34% to 32%, despite nearly nine out of ten voters there saying they have had campaign contact from the challengers. In my recent polls in the constituency I have found the Labour share drifting down as the Tory share edges up, suggesting that Labour supporters may be lending their vote to the Conservatives to stop Nigel Farage. However, the lead remains well within the margin of error and the seat could still go either way.
"Labour's lead in Sheffield Hallam is down to a single point, compared to two in March and three in November. While 30% of 2010 Liberal Democrats in the seat say they intend to vote Labour next week, 31% of 2010 Conservatives say they will now vote Lib Dem. Tory voters in the seat were also notably less likely than they are elsewhere to say that they rule out voting for Nick Clegg's party. Their decisions could have more impact than most in determining the shape of the next government."
Popular in the Community