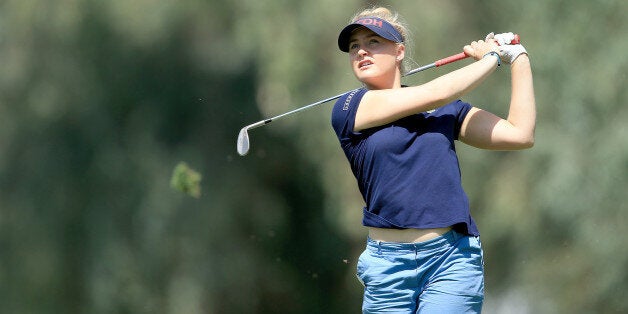 As part of our Fitspiration month, we're profiling some of the trailblazing women who are dominating the sport industry in 2015.
Charley Hull has been hailed by the Daily Mail as the "best teenage golfer in Britain" and comparisons have even been made between her and world-class golfer Rory McIlroy.
She became a professional golfer in 2013 and, just last year, became the youngest golfer to participate in the international Solheim cup - her team went on to be the first European Solheim squad to win on US soil.
Then, four days shy of her 18th birthday, she won her first professional title at the Lalla Meryem Cup in Morocco.
The beauty of Hull, however, is that while she's incredibly gifted on the golf course, she's also just like any other 19-year-old who loves nothing more than going out with her pals or walking her dog.
Hull's talent on the course is unparalleled, so who better to advise us on training and nutrition when it comes to being a pro-golfer?
We caught up with her to find out about weekly routines, guilty pleasures and why it's important for youngsters to take up the sport.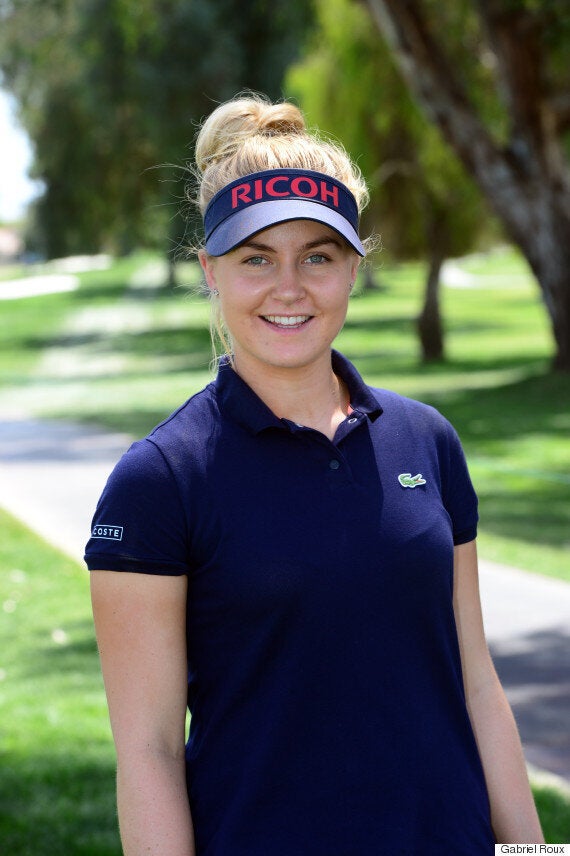 Tell us about a typical training schedule
If it's a non-tournament week I'll focus on working in the gym and practicing my golf. I'll practice for around six hours a day at Woburn GC - this will involve a mixture of playing on the course and working on all aspects of my game from driving to chipping and putting.
When I'm not at a tournament I like to mix things up a bit and focus on different techniques to keep it varied and fresh. I also like to go on the golf course and play nine holes with my dad.
I love what I do so it certainly doesn't feel like work to me.
With all that training, how important is your diet in keeping you going? And what do you eat on an average day?
I eat really healthily and try to be very strict with that. Especially as I feel a lot better when I eat well.
My diet on an average day during a golf tournament tends to consist of: three eggs, a banana and peanut butter for breakfast; lots of fluids, nuts and an apple when I'm on the course; and then for dinner I like to eat fish or chicken with lots of colourful veggies.
I do try to consume a lot of protein in my diet and will have a protein shake on the course if I feel I haven't managed to get enough.
If I have a cheat day I'll have a chocolate bar, pizza or burger - although I'm really trying to stay away from them at the moment!
How do you let off steam and relax?
I like going to the pub and going out with my mates - just normal stuff that teenagers do, I guess.
I also like going for long walks with my dog. I'll usually do that before I go out so I feel less guilty.
If you could say one thing to young women considering a career in sport what would it be?
If you have fun and enjoy it then go for it!
I would say that to both young men and women – being in a position where you can play a sport you love as your 'job' is unbelievably lucky and if you are fortunate enough to get that chance, you should definitely grab it!
It's great for younger generations to see all of the young people coming up and playing well, like myself and Lydia (Ko), because then they feel inspired to keep the sport going.
I think sport is a great thing, as it teaches and helps kids with their etiquette and manners. Plus, the golf course is a great place to keep fit and active - it's definitely a good thing.
This April we're running a Fitspiration campaign, where we're championing fitness as a positive addition to life rather than always being about weight loss. From inspirational interviews to easy-to-follow exercise tips, we hope to inspire everyone to get out there and have fun. Trust us, your body will thank you for it. If you'd like to contribute email uklifestyle@huffingtonpost.com or tag us on social media using the hashtag #HPFitness