As the extremely tardy royal baby continues to remain in utero, speculation as to whether the upcoming full moon could trigger the birth process has begun.
There is anecdotal evidence that labour is influenced by the lunar cycle and the start of a full moon, and the next one is on May 4.
When the Duchess of Cambridge gave birth last time on July 22 2013, it was the day of a full moon.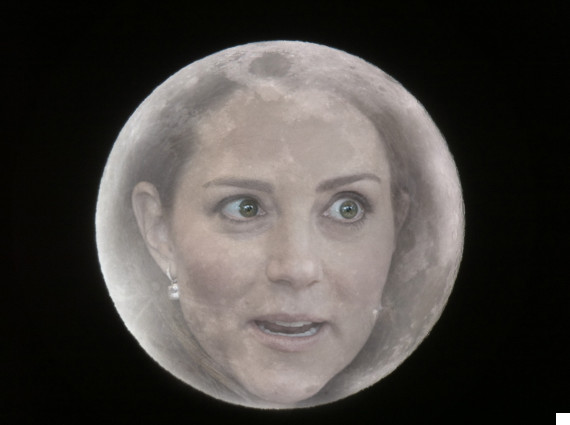 Could the full moon's gravitational pull prompt the royal labour?
The suggestion is that the moon's gravitational pull affects the amniotic fluid in the same way it affects the water in the sea and rivers, as well as influencing the levels of the hormone melatonin.
Maternity wards are said to be busier during a full moon, although there is debate in the medical world about whether the moon does encourage women to go into labour.
SEE ALSO:
Maddie McMahon, who has been a birthing doula for 12 years, said the deliveries she helps with often coincide with a full moon and she keeps track of the phenomenon.
"It's certainly busier during a full moon. I did a tot up last year and I found that 40% of my clients go into labour on a full moon or a new moon when the sky is very dark," she said.
"A lot of women will tell you that their cycle seems to work in that pattern as well. I suppose the science comes with the production of melatonin that is associated with light and dark and with regulating our menstrual cycles."
Mrs McMahon, of Doula UK - a co-operative of UK doulas - said she even uses an app on her phone to track moon cycles as she waits for clients to go into labour.
"If I'm on call for a woman I might see when the full moon is coming up and see if that's around her due date. We also tend to notice women will also call us first in the middle of the night. We know hormone levels are higher at night," she said.
Doulas support women and their families during pregnancy, childbirth and early parenthood.
There are also suggestions electrical storms and a drop in barometric pressure can bring on labour.
Just before Kate was admitted into hospital in 2013, western central London - near where her Kensington Palace apartment is based - experienced isolated heavy rain, thunder and lightning strikes.
In further signs the public is losing patience with the delay, one royal "superfan" admitted he is tired after staging a lengthy vigil outside the Lindo Wing of St Mary's Hospital in Paddington.
It is the longest John Loughrey, 60, from London, has ever camped out and he thinks it has been 10 or 11 nights - but he has lost count.
The royalist said he is looking forward to resuming "normal life".