Nigel Farage's boycott of the BBC doesn't seem to be going particularly well.
Ukip yesterday declared they were "at war with the BBC" - only for the party's leader to then appear on a debate programme for the broadcaster later that day.
Okay, fine he couldn't have pulled out of that and left them without a programme. But he wouldn't do any more BBC appearances right?
Not quite.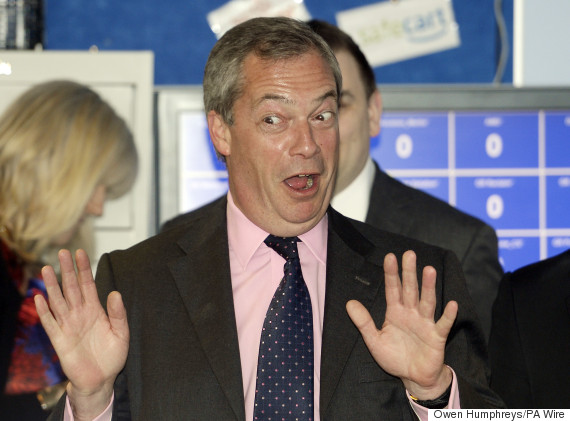 Be afraid BBC, be very afraid
This morning Farage appeared on BBC Radio 4's Today Programme, where he complained about not being given enough representation by the BBC.
He will also do an interview with BBC Radio 2's Jeremy Vine, according to the Mail.
Oh and don't forget an appearance on the Andrew Marr Show on BBC One on Sunday.
But the Ukip leader was determined to prove his point by pulling out of what we can only assume was a keynote interview with BBC Radio 1 today.
The "war" began after journalist Camilla Long made a joke about the party's leader on Have I Got News For You last week.
When asked about Farage's chances in South Thanet, the Sunday Times columnist said: "I went there more than Nigel Farage. By the time I arrived there he'd only been a few times."
Ukip election strategist Raheem Kassam told the Huffington Post UK: "Camilla Long made false statements about a candidate at this election.
"The BBC chose to air it. If this isn't a breach of Section 106 of the Representation of People Act then we don't know what is".
Farage has hit back at the BBC following the incident by saying that the broadcaster would lose funding and influence with Ukip in power.
Official #VOTEFUKP statement on coverage by the mainstream media pic.twitter.com/0yynAtcpZp

— FUKP (@FUKPnews) May 1, 2015
GENERAL ELECTION 2015
HuffPost UK asked Ukip why Farage pulled out of the Radio 1 interview but had not received a response as this story went live.
Speaking to Sky News, Farage said: "Ukip are the fourth major party in British politics and that is something that has been respected by Sky, ITV, Channel 4 and Channel 5 but not by the BBC.
"If I was in a position of power, I would take away a lot of their funding, a lot of their influence.
"I think in the modern world the BBC having this vast budget and this huge power over broadcasting is frankly an anachronism."
Farage was not invited to take part in the main Question Time-style programme with David Cameron, Ed Miliband and Nick Clegg last night but did take part in an individual show broadcast separately in England and Wales.