After Christine suffered two breakdowns, and her family couldn't afford to support her, she suddenly found herself homeless.
"I lost my dignity," the 31-year-old single mother told The Huffington Post UK. "Not owning your life - it sounds weird but your home is you and when you don't have a home, you have nowhere to go back to,"
Christine had been a legal headhunter. While she dealt with her mental health problems, as well as the trauma of becoming homeless, she also made the decision to put her son into care.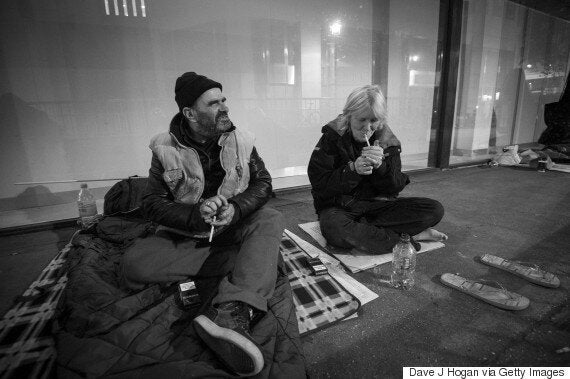 Rough sleeping has risen by a third under the coalition
"It was the scariest point in my life. I found myself thinking 'all my friends, all my qualifications, my son, my religion - they don't matter anymore because I have nowhere to go.' That was scary," she said.
"Actually being alone, that lonely feeling was very intense. I always have a faith that everything is going to be okay but actually that was the point when I really started to question that.
"I felt really powerless."
It was then she took up running again. Most people would probably assume that going for a jog isn't particularly high on a homeless person's agenda, but one UK charity argues that something as simple as putting on a pair of trainers can be a key part to rebuilding your life.
it's clear that the way the government is handling homelessness isn"t working. The most visible form of homelessness is rough sleeping - this has risen nationally by more than a third (37%) since 2010, according to St Mungo"s Broadway. And even for those not sleeping on the streets, life without permanent accommodation is tough and often means staying in hostels and bed & breakfasts.
According to a study by Homeless Monitor England, the number of homeless placements in temporary accommodation rose by 24% between 2010/11 and 2013/14 - marking a new high over those three years.
As Christine experienced, the impact of this on the health of homeless people can be huge.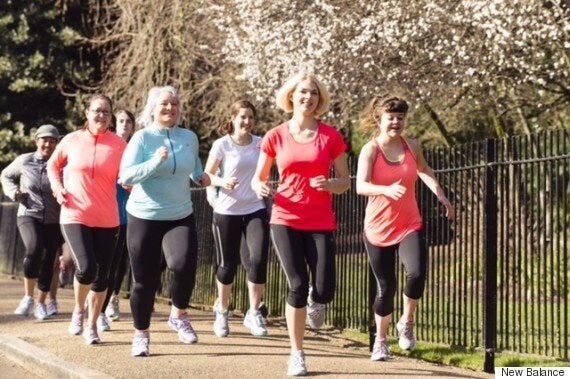 A running group out with A Mile In Her Shoes
Nicola Miller, the founder of A Mile In Her Shoes, which puts on running fitness classes for homeless women, explains: "The average life expectancy of a homeless woman is about 42, men are slightly higher. There are all kinds of reasons for that, some of it is to do with lifestyle, sometimes drugs, some of it is danger. That lifestyle means that the average life expectancy drops. It's horrible."
Before she became homeless, Christine use to run for at least two hours a day. "I wanted to run the marathon and all those kind of things," she said.
She joined A Mile In Her Shoes, where groups are led by qualified running instructors and participants in need of kit are provided with everything they need, from sports bras to trainers.
"I feel empowered," said Christine. "It helps me mentally and physically. I put on a lot of weight throughout my illness so it's really help me to get fit again. It just gave me power to think 'it doesn't matter how I look right now, I just need to do it as I am'.
"When I was running before, I was generally a size eight for many years. But when I joined the group I was about a size 16 or 18, it was very hard for me to accept this body. But I realised that if I didn't go, it wouldn't change - I had to do something about it."
"I used to get annoyed when I saw all these runners and I used to think they were so arrogant. But now I think 'yay, other people running in the park, I'm not the only one'. I find myself thinking I need to match another runner's pace - it's very motivating. Also, I'm an early bird so it's nice to see other people crazy enough to be up at 6am running - it gives you a sort of union with other people who [you] don't know."
"I also feel much more confident about going running by myself," she added. "Being able to wear new kit helps me fit in with the other runners; it's just like being one of the pack. I think it helps boost your confidence, it helps make you develop yourself as a runner rather than how well you're doing financially.
"What's really comforting about the group is that everybody is homeless, they're all dealing with their own thing. Some of the staff were great to chat to.
Miller founded A Mile In Her Shoes several years ago: "It was just after I'd finished volunteering for Crisis at one of their shelters over Christmas 2012. I wanted to do some more volunteering, rather than wait until the following Christmas, but wasn't sure what I had to offer.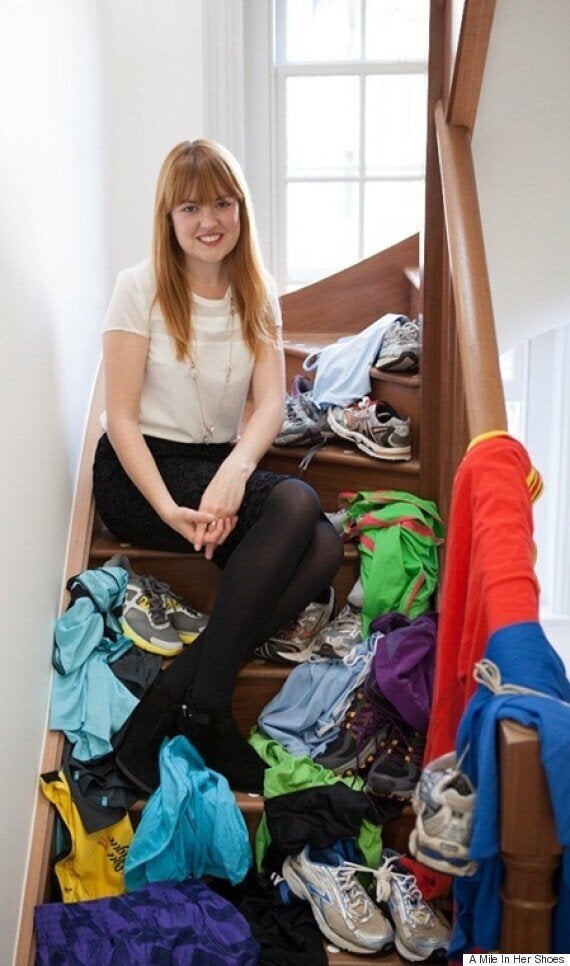 Founder Nicola Miller with kit donated to A Mile In Her Shoes
"I'm a runner, albeit a very average one, and had seen how running had helped such a wide variety of women I knew - of all shapes, sizes, abilities and backgrounds - to get fit and feel good about themselves, and wondered if there might be something in that for women who were facing homelessness issues."
She did some research and found that homeless organisations offered limited resources for sport and exercise. But a lack of kit wasn't the only barrier stopping the women running: she realised that giving homeless women ill-fitting second-hand sports clothes would not help their confidence. "I realised I'd need to do more than turn up and lead a running group," Miller said.
"That's why we provide everything from sports bras (always new) to running shoes and kit (usually donated new or slightly worn) to healthy snacks, all of which are offered in a relaxed and welcoming women-only environment.
"I want the women that are in our groups to put something on and feel good. It hasn"t got to be new but it has to be something that makes you feel good, rather than reminding you that you're wearing someone else"s clothes. it's investing in somebody."
Jennifer Cirone is a volunteer with A Mile In Her Shoes, and works as a Children and Families Support Advisor at St Mungo"s Broadway, which helps homeless people to rebuild their lives.
She blames one political factor for the rise in rough sleeping: "A very simple answer would be austerity. Austerity really cuts to the heart and will affect all vulnerable people disproportionately."
"I think it's about being fair and considering the impact that reform can actually have at all levels, taking into particular account people who are vulnerable and the impact of policies on them. it's a really important thing that any incoming government needs to think about and address when they are making policies."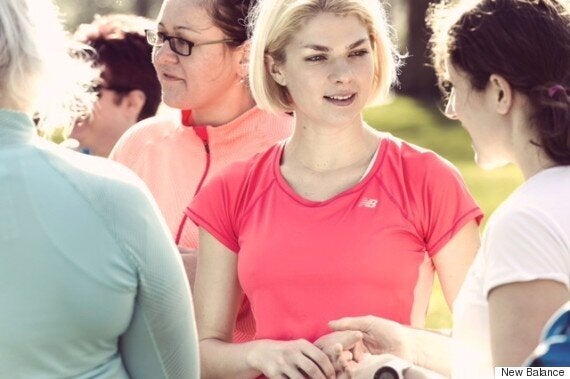 Bethan Holt, a run leader with the charity, out with a group
Cirone firmly believes that A Mile In Her Shoes has the right idea about tackling the complex issue of homelessness - it's about a full-circle approach, not just about housing.
She said: "By the time a woman becomes homeless, she has experienced a lot more trauma compared to her male counterparts. Because of that very complicated background, there isn"t really one thing that will help a woman completely recover from homelessness. it's really about of trying to really holistically help women.
"Women can have extremely low levels of self esteem and confidence. Running is really good for helping you to feel like you can actually achieve things. A lot of women who are homeless have acquired negative labels like "mental health patient", "drug user" and "bad mum". But through this they can actually acquire a good, positive label, a new label: runner.
"Something quite simple like taking part in a physical activity can actually help to start to address some of those very underlying and complex issues."
Christine is now getting her life back on track. She has just finished a contract with a law school and is staying at St Mungo's while she waits for a council property to live in.
Cirone said that the positive effects of the raised self-esteem Christine has experienced can be "huge".
"They can motivate you to make changes in other areas. For a lot of our women," she said, "actually addressing something really big like substance misuse or getting your children back is a huge project and can feel insurmountable.
"If you start to make changes which are quite small, such as going to a group regularly or taking part in exercise, that can actually give you a bit of confidence. This can make you think 'if I can do something like turn up every week and join in with the session, that actually gives me a bit of self-belief that I can sit down and tackle some of the bigger issues'. You start to address issues like substance abuse and engage with other services like statutory and healthcare services."
And Christine agrees that politicians need to use a wider approach to help with homelessness, one that recognises that people are complex and independent, no matter what their housing situation is.
"I think we need to do stuff on the ground before we start making big promises. It needs to be less patronising," she said.
"Some people are being given courses that are not tailored to actually really help them and make them feel like a human being. There are so many issues outside of simply being homeless. Instead of giving people skills like "how to cook", we need to be empowering these people to actually go and make a life for themselves. The issues are underneath that.
"Offering things like more therapy and focusing on how to make someone whole. Instead of saying 'this is what homeless people need', how about asking them what their life goals are, what they would have wanted if their situation hadn"t been the way it was? Empower them so that they want to improve their lives."
Miller added: "Being homeless or on the streets is only one aspect of it, it's caused by many other very complicated issues. If it was that simple to solve the problem we would have solved it by now in this country.
"We're helping people to help themselves. We don't want there to be any more handouts. The women that we work with don't want to live on handouts and have everything done for them. They want to be independent. A lot of that is about self-confidence and we are dealing with that in a direct way."
"These women are now able to get up and go to work and tackle life - and that goes for anybody."
To donate to A Mile In Her Shoes or get involved, click here
As part of HuffPost's What's Working initiative, we're profiling inspirational people and organisations who are making a positive contribution to society by finding solutions to the world's problems.