UPDATE: Charlie Brooker has apologised for the rant. Profusely... (see below).
Charlie Brooker has launched an expletive-laden rant at the Independent for "missing the point" of an article he wrote about the aftermath of the General Election.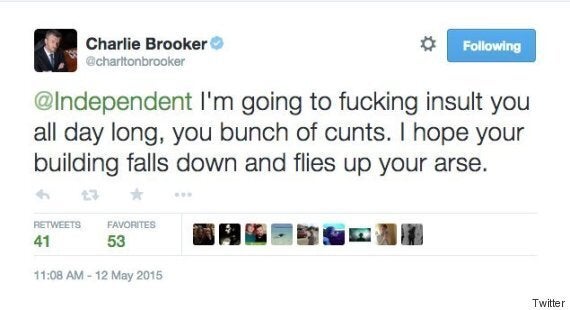 After some rather colourful language Brooker appeared to calm down slightly.
And later he apologised further...
And then there was this...
In the Guardian piece entitled 'Cameron rebooted: five more years of a shiny computerised toe in a prime-ministerial suit', Brooker says: "It was supposed to be more complicated. After the vote, they said we'd have to get out the constitutional slide rule to try to work out who'd won.
"Instead, on the night, we got what Game of Thrones fans might call an "Ed Wedding"; from the shock exit polls onwards, the bloodletting never let up. Now we've got the full-fat Tory government that virtually no one predicted.
"Five more years of a shiny computerised toe in a prime-ministerial suit, clonking hither and thither, a thin smile above his shiny chin. He won the election, won completely. Won the shit out of it."
Last week on the eve of the election, Brooker spoke to the Huffington Post UK to give his satirical verdict on the General Election campaign, calling Ed Miliband "inherently comic", David Cameron "slippery and a bit weird," and Nick Clegg "a microwaved Tony Blair".
Brooker said that Cameron, Miliband and Clegg were all "cover versions" of Tony Blair "to varying extents," but that Farage was like "a flipping slightly pissed-up sort of brother in law or something. He's like somebody else's uncle at a wedding that corners you and starts banging on about immigration.
"But people sort of like him, because he seems authentic. How authentic he is, I'm not really convinced, but he certainly seems like he is. He's got slightly off mannerisms and he guffaws and it's very calculated, I'm sure, everything he does.
"I mean he's a bit of a gift [comically] in a lot of ways, obviously. But in a weird way he's a bit of a pain in the arse, because we've got to be balanced, and he keeps providing all the [material]. Like when he sort of turns on the audience, and having a go at HIV sufferers and stuff like that.