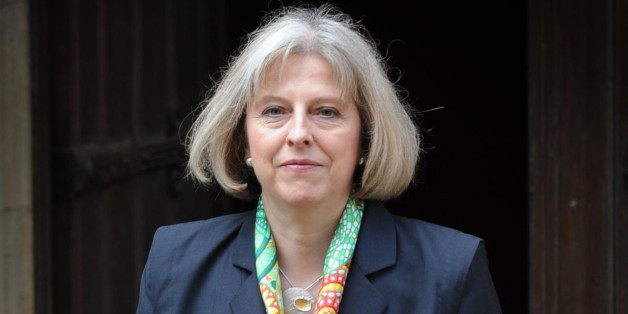 Stefan Rousseau/PA Archive
While defending controversial plans to fast-track a crackdown on radicalisation, Home Secretary Theresa May seemed to struggle somewhat to define what exactly the "British values" the proposals would protect.
She managed "democracy, tolerance, freedom, the rule of law," but that was about it.
So the ever-helpful Twittersphere decided to give her a hand...
Taking Food And Drink Seriously
Refusing to microwave tea #britishvalues

— Mark Hewerdine (@markrhewerdine) May 13, 2015
Eating fish and chips on fridays #britishvalues

— Kishan Umrania (@KishanU14) May 13, 2015
I mean Theresa May could at least have said that #Britishvalues includes cheeky nandos. Maybe it'll be in the legislation.

— Charles Arthur (@charlesarthur) May 13, 2015
No argument cannot be solved with a cup of tea after a #cheekynandos #BritishValues

— Ellie Carys (@your_coffee_pot) May 13, 2015
@profanityswan Milk in first when brewing in a teapot, milk in last when brewing in the mug. #BritishValues

— Iain Macintosh (@iainmacintosh) May 13, 2015
Struggling With Our Emotions
Holding all your BIG FEELS in, then letting them out down the pub when 'Don't Look Back in Anger' comes on the jukie #britishvalues

— Andrew Day (@doombrarian) May 13, 2015
I'm thinking self loathing, sarcasm, drunkeness, navel gazing, queuing.... #britishvalues

— Painfully Dull (@painfullydull) May 13, 2015
(crass sentimentalism + incoherent rage) x moral cowardice = #britishvalues

— Andrew Day (@doombrarian) May 13, 2015
Keeping a straight face at all times, but actually crying on the inside #britishvalues

— Hussein Kesvani (@HKesvani) May 13, 2015
National Pride
Wear a poppy. Wear 2 poppies. Stab poppies into your eyes until all you see is poppies. #BritishValues

— Sarah_Woolley (@Sarah_Woolley) May 13, 2015
Enslaving half the world but it's all okay because we gave them cricket #BritishValues

— Henry Legg (@PhysicsHenry) May 13, 2015
#BritishValues ingerland ingerland two world wars and one world cup

— linden amy (@teamhotdads) May 13, 2015
Our Language Skills
[at home] "If they come here they need to learn English!"

[abroad] *shouting at everyone in English*

May 13, 2015
Living in Spain, refusing to learn the language & telling everyone we are only here to get away from the foreigners #britishvalues

— Trevor Mitchell (@bushmanB25) May 13, 2015
Shouting at people abroad to make them understand ENGLISH

— Mouth of Sauron (@simon_lindsell) May 13, 2015
Spelling words nothing like the way that they actually sound #britishvalues

— Andy Winter (@andywinter26) May 13, 2015
Manners
Staring murderously at the back of a tourist's head when they stand on the wrong side of the escalator #BritishValues

— Scum on the Bun (@GregoryScrawl) May 13, 2015
#BritishValues - apologising

"I'm sorry".

"No I'm sorry. I really am".

"Stop apologising it's my fault".

"Okay, sorry".

— Ravin Sampat (@_Sampat) May 13, 2015
Queuing. Always queuing. Queuing for the queue to wait in a queue. #britishvalues

— Danny Matcham 20⚽️ (@boymetworld91) May 13, 2015
#britishvalues Saying Sorry even though someone has bumped into you...

— Dan Tracey (@dantracey1983) May 13, 2015
The Weather
Treating moderate weather events as a sign of the impending apocalypse #britishvalues

— David Wilcock (@davidwilcock) May 13, 2015
Complaining more about the weather than pretty much anything else happening in the world.

May 13, 2015
Making sure schools teach kids how to make small talk about how surprising any current weather is. #britishvalues

— Chris Thompson (@thompsuk) May 13, 2015
The proposals will aim to crack down on preachers like Abu Hamza, as well as the sort of radicalisation which led Mohammed Emwazi (AKA 'JIhadi John') to join the Islamic State militant group, as well as the murder of Lee Rigby.
Planned measures include introducing new orders to ban extremist organisations and restrict people who seek to radicalise youngsters.
The Prime Minister is expected to set out his intention to include the new counter-extremism bill in his Queen's Speech later this month as he chairs the first meeting of the National Security Council (NSC) since the Tories' election victory.
SEE ALSO:
The new package is expected to include:
The introduction of banning orders for extremist organisations who use hate speech in public places, but whose activities fall short of proscription.
New Extremism Disruption Orders to restrict people who seek to radicalise young people;
Powers to close premises where extremists seek to influence others;
Strengthening the powers of the Charity Commission to root out charities who misappropriate funds towards extremism and terrorism;
Further immigration restrictions on extremists;
A strengthened role for Ofcom to take action against channels which broadcast extremist content.
The Government is also expected to revive controversial plans for new laws governing the retention of people's activities on the internet and social media.
In 2013, the Communications Data Bill - labelled a "snoopers' charter" by critics - was shelved after opposition from the Deputy Prime Minister Nick Clegg and the Liberal Democrats.
The Lib Dems were a thorn in the side of the Tories when it came to such issues.