Thomas Cook has donated a £1.5 million payout it received following the deaths of two young children to Unicef after a barrage of criticism.
The company apologised to the parents of Bobby and Christi Shepherd "for all they have gone through".
Bobby and Christi, aged six and seven, died when they were overcome by fumes from a faulty boiler as they stayed in a bungalow in the grounds of a Corfu hotel with their father, Neil Shepherd and his partner, now wife, Ruth, in October 2006.
Last week, an inquest jury concluded that Thomas Cook breached its duty of care to the family and returned verdicts of unlawful killing.
Since then, Mr Shepherd and the children's mother, Sharon Wood, have criticised Thomas Cook for failing to apologise to them.
Mrs Wood has said: "I will always hold Thomas Cook responsible for their deaths."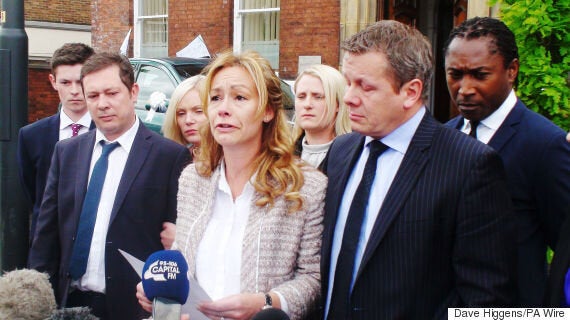 Sharon Wood makes a statement with Paul Wood (right, husband) and Neil Shepherd (left, ex-husband) outside Wakefield Coroner's Court after the inquest
The family's barrister Leslie Thomas QC said the firm should "hang its head in shame".
The company's group chief executive Peter Fankhauser confirmed today it had received the sum from the owners of the Louis Corcyra Beach Hotel, where the children died.
Mr Fankhauser said: "I believe this is the right thing to do and I apologise to the family for all they have gone through."
He confirmed that his firm received the £1.5 million, mainly in respect of legal fees, as part of a £3 million settlement with Louis Group, the hotel owners.
The other £1.5 million went to Thomas Cook's insurers.
Family lawyer Leslie Thomas QC makes a statement outside the court
The company was criticised for not giving the money to the parents.
Robin Swinbank, whose company the Counsel House works in crisis management, told The Telegraph: "Any gesture has to be welcomed and it is a wise and sensible move but it is not directed at the family, which is what they will be judged on at the end of the day."
On Twitter, the incident and the donation were called a "PR disaster".
Mr Fankhauser said: "Thomas Cook has not in any way profited from our claim against the hotel owner.
"In late 2012, we brought a claim against the hotelier for breaching their contract to provide safe accommodation to our customers and to comply with all applicable laws, which was decided in our favour.
"Today I have made arrangements for the full amount - £1.5 million - to be donated in full to Unicef, the world's leading children's organisation."
Mr Shepherd and Mrs Wood said it was "disgraceful" that an apparent letter of apology from Mr Fankhauser was only brought to their attention by journalists.
On Wednesday, a jury at the inquests concluded that the firm had "breached their duty of care" to the family and outlined a series of other shortcomings by the tour company.
The hearing heard that Bobby and Christi, from Horbury, near Wakefield, died due to multiple flaws in the installation and maintenance of the hot water boiler in an outbuilding next to the bungalow where they were staying on a half-term break.
Mr and Mrs Shepherd were with Christi and Bobby when the tragedy happened and were found unconscious next to the two dead children.
The jury foreman read out a series of conclusions which included that Thomas Cook had been misled by the hotel about its gas supply but also that the holiday giant's health and safety audit of the complex was inadequate.
A number of former Thomas Cook staff, including its chief executive at the time of the tragedy, exercised their legal right not to answer questions during the inquests, infuriating Mr Shepherd and Mrs Wood.
Two Thomas Cook employees were tried in a Greek court for manslaughter but were cleared five years ago.
Four Greek nationals were convicted of offences relating to the deaths of the children and jailed but they were released pending appeal hearings.
Yesterday, in a statement, Mr Shepherd and Mrs Wood said: "It is disgraceful that, after all we've been through, Thomas Cook are still putting us last in the equation.
"We haven't had this 'so-called' letter of apology. We have been shown it by the press and feel it is an appalling continuation of Thomas Cook's PR exercise. It's not an apology for their wrongdoing but a general offer of sympathy.
"It does not address the central issue that their safety management system failed and it does not apologise for that. Our compensation was accepted before the inquest in which Thomas Cook were found to have breached their duty of care."
She said her frustration is not about money, but the family is "incensed" that the travel firm sought to claim back costs after a 2010 criminal trial in Greece.
She said the firm should have apologised at the inquests.
The coroner at the inquests last week said he would deliver recommendations to relevant organisations later this year which he hoped would influence British and European law and practices in the holiday industry.