SNP leader Nicola Sturgeon has used her first major economic speech since the General Election to call for a 'double lock' on a British exit from the EU.
Speaking at Heart of Midlothian FC's stadium in Edinburgh on Tuesday, the MSP reiterated her vow to fight for Scotland's continued membership, and piled pressure on the Prime Minister not to force EU-withdrawal on any nation who's electorate reject seperatism in the upcoming EU referendum.
"We will propose a double majority, meaning that exit from the European Union is only possible if all four nations of the UK agree to it - something which would ensure that Scotland couldn't be forced out of the EU against our will," she said.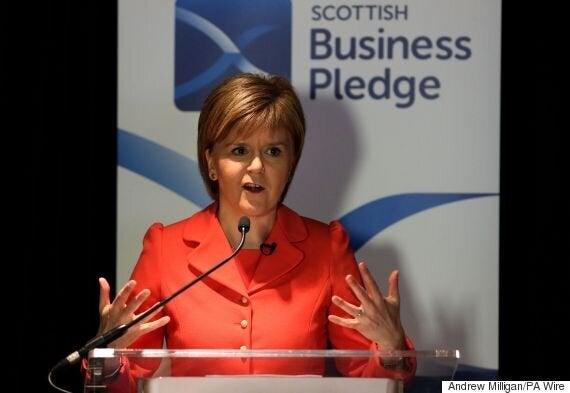 The First Minister said she would fight for Scotland to remain in the EU
"And during the run-up to the referendum, the Scottish Government will, of course, make a strong and a positive case for staying in the EU.
"We don't think it's perfect; we think reform is both desirable and necessary, but we believe very strongly that Scotland's interests are best served by being members of the European Union and we will argue that case strongly and positively."
Also in her headline address was a denouncement of the Conservatives' austerity agenda, and calls for more economic powers to be devolved to Holyrood, on welfare, employment law, and the ability to vary both business taxes and the minimum wage.
She hit out at Chancellor George Osborne's financial plans, saying: "We will continue to oppose spending reductions of the scale and speed that the UK government has suggested. These would slow economic recovery and make deficit reduction more difficult – something shown by the impact of the cuts imposed after 2010."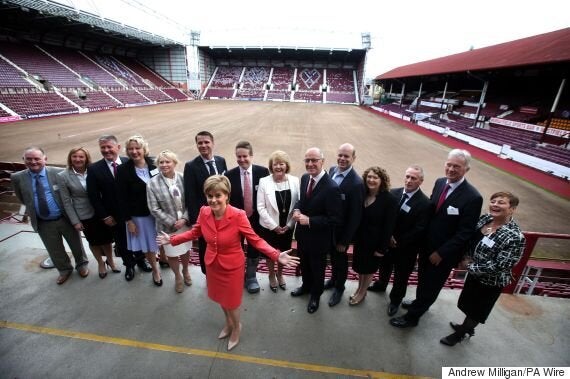 Sturgeon pictured with business leaders in attendance on Tuesday
Ms Sturgeon used the landmark talk to launch a new industry code, which calls on businesses to commit to paying the living wage in a bid to promote fair practices.
Companies will be encouraged to sign the Scottish Business Pledge, described as a voluntary code for employers to recognise "fair and progressive" policies while boosting productivity.
The First Minister and Finance Secretary John Swinney met Ann Budge, chairwoman and chief executive of football club Heart of Midlothian as it became one of the first companies to commit to the pledge.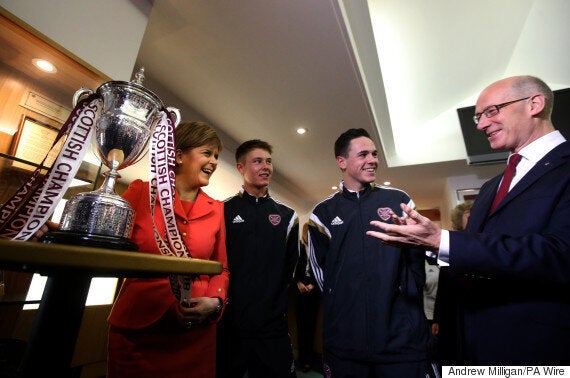 Swinney and Sturgeon pose with Midlothian FC players Angus Beith and Liam Smith, with First Division League Championship trophy
Other firms backing the initiative include GlaxoSmithKline, the bank Virgin Money, pensions company Hymans Robertson, cleaning business Strata Cleaning and IT service provider LogicNow.
Popular in the Community