David Cameron has today urged Sepp Blatter to quit as Fifa President as the calls to re-open the 2018 and 2022 World Cup bidding processes got louder.
The Prime Minister's official spokesman said Mr Cameron backed the comments of the Government's Culture Secretary when he described Fifa as a "deeply flawed and corrupt organisation".
The Government also revealed today it will meet with FA chairman Greg Dyke to discuss the "nuclear option" of pulling out of Fifa entirely in light of the corruption allegations.
Russian President Vladimir Putin has also waded into the row, claiming the US-led investigation into Fifa is part of a plot to scupper his country's hosting of the 2018 World Cup.
The row comes just hours before Mr Blatter stands for the Fifa president election for the fifth time.
In the House of Commons this morning, Culture Secretary John Whittingdale called on the tarnished Fifa President to go.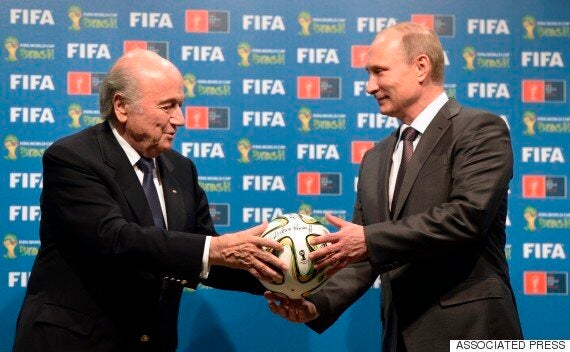 Business as usual: Sepp Blatter and Vladimir Putin. The Russian President is warning of a US 'plot' to snatch the 2018 World Cup from Russia
He said: "Significant and wide ranging reforms are needed at the very top of Fifa, including a change in its leadership."
During a regular Westminster briefing, the Prime Minister's official spokesman said: "I associate the Prime Minister in full with what John Whittingdale was saying."
The ramping up of political tensions come as a number of high profile sponsors, including Visa, Nike, adidas and Budweiser, urged Fifa to clean up its act.
In the past two days, seven Fifa officials have been arrested in relation to corruption allegations
Labour's Shadow Culture Secretary Chris Bryant was equally damning in his criticism, and referring to the 2018 and 2022 World Cups said: "Should the bidding rounds not be reopened? If not, is not time for the major football associations of the world to consider creating alternative competitions for those dates."
Tory backbencher Philip Davies went even further, and asked Mr Whittingdale: "If the election goes ahead and Sepp Blatter is re-elected, unbelievably, as the head of Fifa, will he encourage the home nations to withdraw from Fifa."
Mr Whittingdale replied: "I shall be seeing Greg Dyke very shortly to discuss the attitudes of the FA, there are a number of options, whether or not one would resort to the nuclear option is a matter for the FA but one we will discuss with them."
He said: "If we are serious about reform, England, and other leading European Football Associations, have to be prepared to walk away from Fifa."
Mr Collins, who has long campaigned against Fifa's practices, added: "This crisis will eventually bring down Sepp Blatter, and if it continues much longer could wreck Fifa forever.
This morning, Britain's Foreign Secretary told BBC Breakfast there was "something deeply wrong" with Fifa.
Philip Hammond said: "We've long said and I think many people share the view that there is something deeply wrong at the heart of Fifa and international football needs to reform, needs to get its act together.
"There are millions, perhaps even billions of football fans around the world who are being let down by this process which is bringing the game into disrepute and it needs to be resolved."
Speaking to journalists today, President Putin attacked the US-led investigation into corruption at world football's governing body.
He said: "Unfortunately our American partners are using these methods in order to achieve their own selfish gains and it is illegal to persecute people.
"I would not rule out that in regards to FIFA, the same thing could be happening, though I do not know how it will end.
"However, the fact that this is happening right on the eve of the FIFA presidential elections, gives one this exact impression."
Popular in the Community