Controversial TV presenter, Richard Keys, has denied that anyone has died during construction work ahead of Qatar's 2022 World Cup, despite figures suggesting that over a thousand labourers have been killed while building sporting venues.
The International Trade Union Confederation estimate that 1,200 workers have died while building infrastructure for the event, and estimate that a total of 4,000 will be killed before it takes place. That is 62 deaths for each game played.
A Guardian investigation last year revealed workers were dying at a rate of one every two days in 2014.
But Mr Keys, a former Sky Sports presenter who now works for beIn Sports, a global network of sports channels jointly owned and operated by Qatari Sports Investments, has challenged the figures.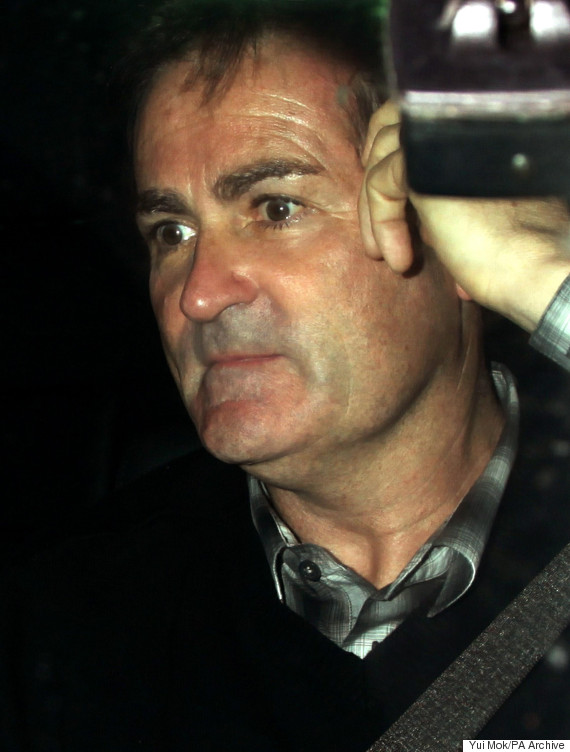 Richard Keys denies any lives have been lost during the Qatar construction
On Twitter Mr Keys said he had "been doing some checking" and claimed there had been "no fatalities" - yet he was unable to provide further information about where he got his figures from.
In 2011, Mr Keys resigned as a Sky presenter after he made derogatory comments about female assistant referee Sian Massey.
I know you like accuracy @ColinMurray. Been doing some checking. 3500 workers on 5 stadia sites 6 million hrs worked - no fatalities.

— Richard Keys (@richardajkeys) May 29, 2015
Mr Keys was also challenged on Twitter over Qatar's gay rights record and was equally dismissive of criticism. He wrote: "I know, I live here."
@RobGilbz What do you need to know? I have never witnessed a problem. There's plenty of diversity here. I know. I live here.

— Richard Keys (@richardajkeys) May 29, 2015
Twitter users lambasted Mr Keys for his comments, as many challenged his "facts" and called him a "liar".
Whilst the rest of the world talks of the shocking death toll during construction for #Qatar2022, @richardajkeys says, "it was just banter"

— Nick (@Beazer90) May 29, 2015
@richardajkeys @ColinMurray I lived in the middle east like you and deep down you surely know the truth. Statistics from where??

— KewRose (@KewRose) May 29, 2015
You'll look back at this tweet one day @richardajkeys and feel extremely silly. I'd have expected better from an elder broadcaster...

— Tom (@Tom1Bomb) May 29, 2015
Who to believe?

Richard Keys vs multiple world news outlets.

May 29, 2015
@richardajkeys the ignorance you have on the human cost of the Qatari World Cup build is frightening.

— James Clark (@JamesMRClark) May 29, 2015
Someone appears to have hacked @richardajkeys account. Apparently it's all a hoax and no workers have died in #qatar

— Wildcat (@M0djadji) May 29, 2015
@richardajkeys @ColinMurray of these "facts" A new low even for you, but then you've got the attention on you now Mr "I'm never wrong"

— MessyKen (@MessyKen) May 29, 2015
@richardajkeys I was going to check with some builder mates of mine over there about the deaths,thing is,I haven't heard from them in months

— Paul Hatchard (@sainthatch) May 29, 2015
@richardajkeys just out of interest, how much salary does it take to be a defender of a corruption ridden slave state? Is it worth it?

— Tim Sutton (@TimSuttonC) May 29, 2015
@richardajkeys You live there and work for @Beinsports which is owned by the Qatari government, so yeah I believe you. Sike!

— Blunt Ashes (@Limannje) May 29, 2015
@wiggysballs @richardajkeys @Dubaipresh you work on the building sites do you RK?as a bonded slave?I've worked there ive seen it #liar

— David Mancini (@mancinicitty) May 29, 2015
Earlier this week, five international footballers, including former Tottenham midfielder David Ginola, demanded Qatar abolish the labour system that allows migrant workers to be "held hostage on the world's biggest building site" ahead of the 2022 World Cup.
The letter, organised by campaign group Avaaz, read: "Over one million workers, a majority of them immigrants from poor nations, are effectively held hostage on the world's biggest building site which experts say could see 4,000 people dying even before the first ball is kicked.
"The name of this beautiful sport should not be sullied by the blood, sweat and tears of those who are building this spectacle. We call on FIFA, Qatar and all the construction firms profiting from this business to abolish this kafala system."
A chart illustrating the body counts of workers involved in construction for the last four Olympics and two World Cups, and comparing them to the reported death toll for the 2022 Qatar World Cup has been released.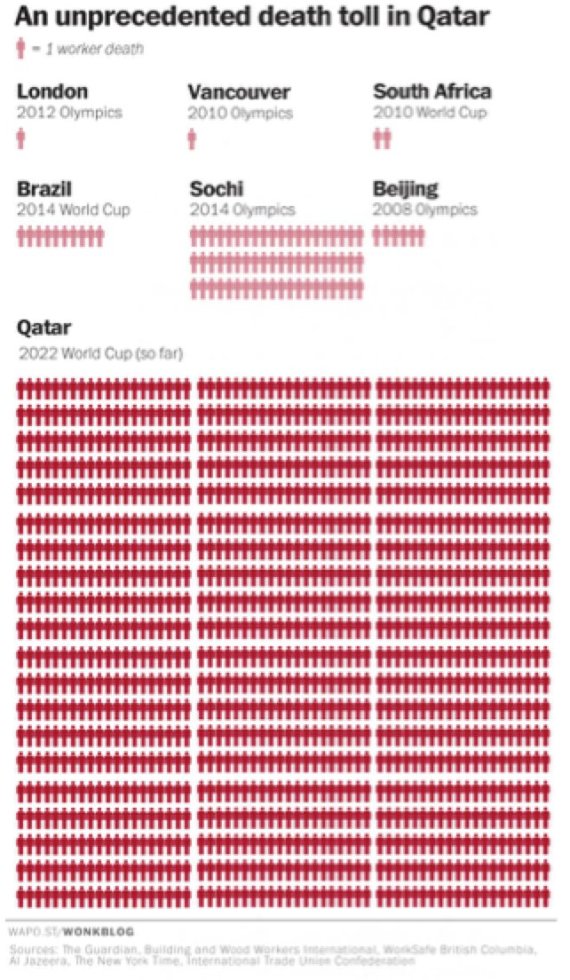 Graph shows the body counts of workers involved in construction for the last four Olympics and two World Cups
Play Fair Qatar states on its website: "By far the most appalling aspect of the Qatar's treatment of its foreign construction workforce is the disregard for their safety.
"The Qatari government have – slowly – been forced to admit that upwards of 40 workers are dying every month, and there may be many more.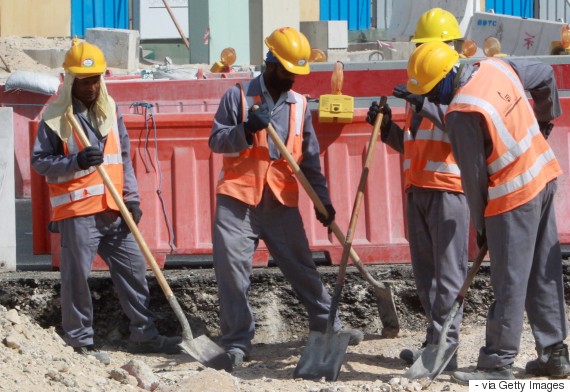 Workers are seen at a construction site in Doha, on November 16, 2014
"Many die in falls, including being struck by falling objects, but the long hours and the harsh heat lead to hundreds dying from heart attacks.
"Based on figures from India and Nepal alone – and there are hundreds of thousands of workers from other countries – the International TUC has estimated that more than 4,000 people will die building the World Cup infrastructure. That's more people than will play in the World Cup.
"In contrast, not one single person died building the London Olympics venues, and only two in building the supporting infrastructure.
SEE ALSO:
"Given that Qatar requires up to another million labourers to meet its World Cup plans, the number of deaths could be even higher – unless Qatar acts now to change the way workers are treated."
Guardian columnist, Marina Hyde, examined the increasing number of "slave deaths" during the construction work in the wealthy country.
She wrote: "Clearly there must be a magic number of slave deaths in the world's richest country that would render the Qatar World Cup a moral and political no-no. But what is that number? What is the ballpark figure where deaths in the construction of ballparks become unacceptable?"
Writing about the estimated 62 lives that are expected to be lost for each game played, she said: "Perhaps players in every match could each wear 62 black armbands.
"Then again, that would probably contravene Fifa's strict rules on what constitutes official kit, infringements of which it punishes ferociously. On infringements such as mass slave death, however, the evidence suggests it is more relaxed."
Ms Hyde also took to Twitter to challenge Mr Keys, pointing at the statistics from independent agencies who record the astonishingly high number of deaths predicted from the Qatar construction programme.
Just as an FYI, all the agencies monitoring deaths in Qatar 2022 construction are wrong and @richardajkeys is right https://t.co/HvzPIv1yR5

— Marina Hyde (@MarinaHyde) May 29, 2015
This latest controversy follows a week of football scandals.
A criminal investigation into Fifa senior officials is now underway after a number of high-ranking staff were charged with alleged corruption.
On Friday it was announced that Britain's Serious Fraud Office was actively assessing "material in its possession" relating to allegations of possible corruption at Fifa after British-based banks were allegedly used to transfer tens of millions of pounds as part of the conspiracy.
Those implicated include Barclays, HSBC and Standard Chartered Bank.