The four-year-old feline from the US weighs more than a toddler.
After being abandoned by her owners, she's been taken in by a local animal shelter where staff have put her on a strict diet and exercise regime to help her battle the bulge.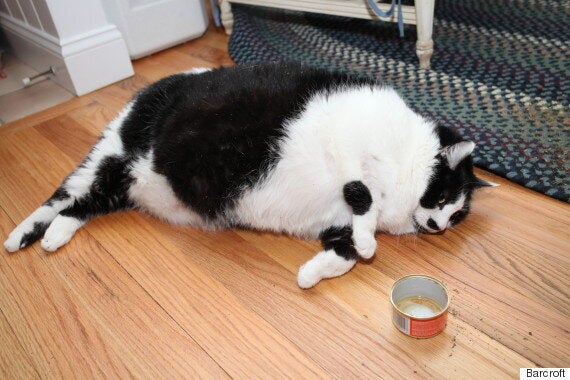 "This is an obscenely overweight cat," said Stacy Olandt, 71, from SOS Sea Isle City Cats in New Jersey, USA. "She could not walk when we got her and she is still unable to roll over.
"This isn't just a pudgy cat – this is a medical issue, overweight cat.
"Our vet has been in practice for more than 40 years and he has never seen such a fat cat."
Typically, a cat of her breed should weigh between 11 and 13 pounds. But Sprinkles is nearly triple that.
The four-year-old puss was found in a foreclosed house before she was taken to New Jersey animal shelter who then sent her to the cat shelter.
"We didn't know anything about her owners," added Olandt. "I think it's pretty clear that they didn't know how to properly take care of a cat.
"She is constantly craving attention and is so overweight that we would surmise that she was left alone to feed and eat too much."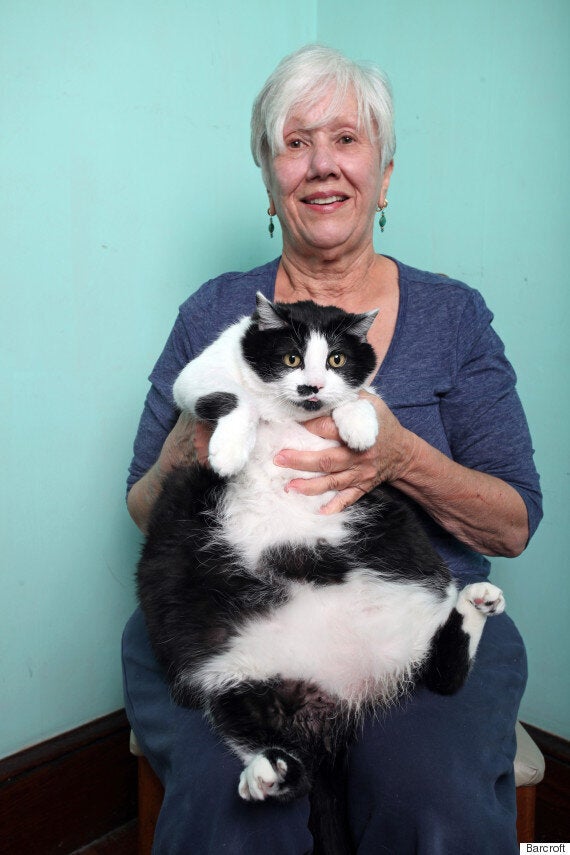 Stacy Olandt, 71, with Sprinkles
Sprinkles' massive weight has also led to other health complications.
"When we first got her she had fleas and ear mites," said Olandt. "Her little backside was covered in urine burns because she could not reach around to take care of herself.
"She has the typical problems of a very overweight human, her joints are compromised, her heart is being stressed and she is simply not very mobile."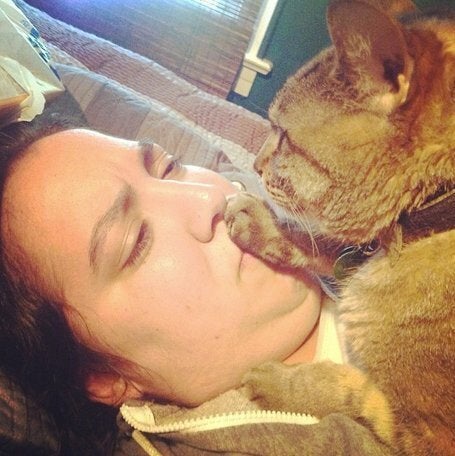 Sprinkles was uninterested in cat food when she arrived at the rescue centre – which led staff to believe that she was being fed human food from the table by her previous owners.
Olandt added: "Our vet has developed a specialist science diet food which we will be switching her to. That will be very carefully measured so she loses weight carefully over the next year and a half."
Along with a specialist diet the feline will soon be going under the knife to try and shift some excess skin.
"Her vet will do a pro-bono tummy tuck because she will probably have skin hanging on the floor," said Olandt.
"We are now hoping that she will get adopted into a home where she can become the centre of attention."
Sprinkles may be losing weight but many of the ladies who volunteer at the centre still struggle to manoeuvre her.
Olandt said: "She is difficult to lift because she is quite heavy, we have had to get a dog crate instead of a cat carrier to move her around in.
"There is a young man who works nearby who helps to carry her up and down the steps where she lives."
Despite her difficult start, staff are confident that Sprinkles will go on to have a happy life.
"We think that Sprinkles has a very bright future, she is only four-years-old and is extremely sociable and friendly," added the 71-year-old.
"With proper weight control she could have a bright future ahead of her. Many cats live well into their 20s so she is very much at the beginning of her journey."