NEW YORK -- Scotland's First Minister Nicola Sturgeon defended Alex Salmond against accusations of sexism on Tuesday, stating there is no man she knows "who is less sexist."
Salmond was accused of sexism after he told Conservative MP Anna Soubry to "behave yourself, woman" during a parliamentary debate on devolution last Wednesday.
Speaking to the HuffPost UK, Sturgeon said that having "worked with Alex Salmond for 25 years, he's not got a sexist bone in his body."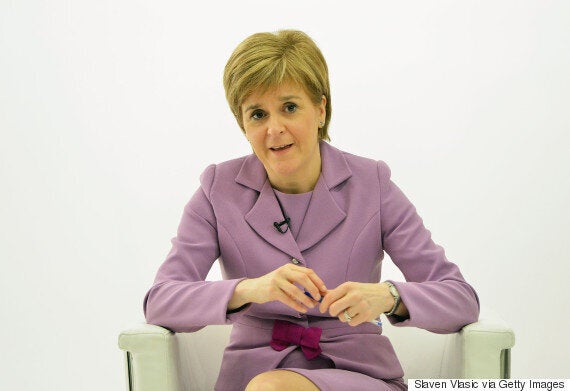 First Minister of Scotland Nicola Sturgeon visits Glasgow Caledonian University New York on June 8, 2015 in New York City
During the debate Salmond scolded the Treasury bench, suggesting it should "behave better." Of Soubry, he said: "She should be setting an example to your new members, not cavorting about like some demented junior minister -- behave yourself, woman."
Soubry responded the following day, chiding Salmond for thinking "women should be seen not heard," and suggesting his attitude belonged "firmly in the 19th century."
However, accusations of sexism were rejected by Salmond's successor who reflecting there was "nobody in my political career that's been more supportive."
Sturgeon added: "I understand it was language that not everybody thinks should be used but it was in a boisterous House of Commons debate. The fundamental question, 'does that language indicate that Alex Salmond is sexist?' Absolutely not, there's no man I know who is less sexist."
The first minister joked perhaps she shouldn't say that because of her husband.
Salmond was questioned about the uproar on Tuesday's "Newsnight," the recently elected MP for Gordon insisting his comments were "not in the slightest" chauvinistic.
"That's a Scottish idiom," said Salmond. "I've said 'behave yourself, man' many times in the Scottish Parliament. I think it was merited on the occasion. There was certainly nothing sexist in it whatever else you might think."
On Sturgeon, Salmond said she is proving "a magnificent first minister of Scotland." Sturgeon, left, Wee Tea plantation tea blender Jamie Russell, center, and actor Alan Cumming have tea, Tuesday, June 9, 2015, in New York
The SNP leader appeared on "The Daily Show with Jon Stewart" on Monday, part of a four-day tour of the US. Salmond quipped: "I only ever managed 'The Late, Late Show'. Maybe that's the difference between Nicola and I? I get on late night television in the United States, she gets on the main 'Daily Show'. Well done to her."
Last week's spat was not a first for Salmond and Soubry, the pair engaging in a tetchy debate on the "Andrew Marr" programme during the election campaign.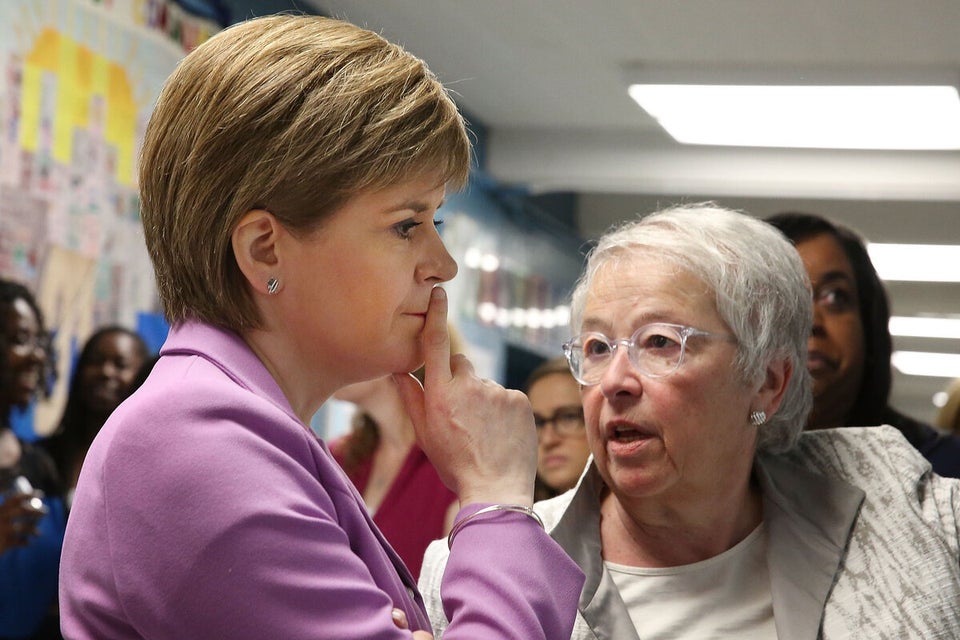 Sturgeon In New York