Apple has unveiled Apple Music at WWDC 2015. A Spotify-rivalling streaming service that aims to combine the convenience of Spotify with the artist subculture that Jay Z has been looking to build on Tidal.
Starting life as Beats Music, Apple Music isn't just about streaming millions of songs, it's also a 24/7 radio station in the form of Beats 1 and a whole new social network specifically for artists allowing them to share pictures, video and un-released tracks to followers.
To help cut through all the noise of the announcement here are all the essentials you need to know about Apple's new service.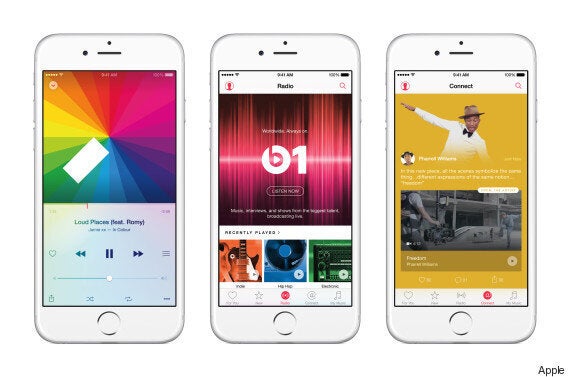 Apple Music is a new service that will allow you to stream and save offline all the songs in the iTunes library. The app will replace the Music app you have on your iPhone however don't panic, you're not being forced to join.
Instead you'll have a basic free package that offers some additional features to the Music app you have now, and then there's the premium package which unlocks a number of extra features including unlimited music streaming and more.
At its core though the Apple Music app is split up into three new features: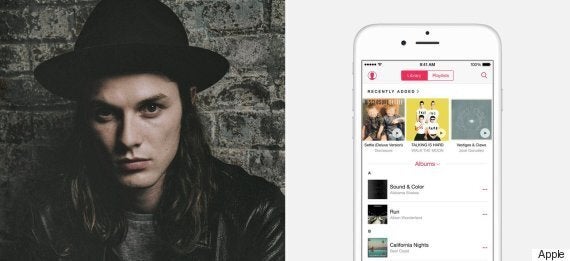 This replaces your Music app currently and when iOS 8.4 launches on 30 June you'll see the icon has changed colour.
The new Music app will cater to both free and paid users but in a way that won't make you feel like you're locked out of anything if you don't pay.
The 'My Music' tab will serve two roles - if you're a free user it'll contain all your currently synced and bought music from iTunes and elsewhere. If you subscribe to Apple Music it'll be replaced with Apple's entire music library available for streaming and saving offline.
Inside it includes a heavy focus on albums and playlists allowing you to create custom playlists that come with your own cover images.
There's also a new look and feel to the 'Now Playing' screen that puts the focus heavily on album artwork. You'll be able to queue tracks in much the same way that you do with the Sonos app and the focus is really on making sure that each track fits in with the next.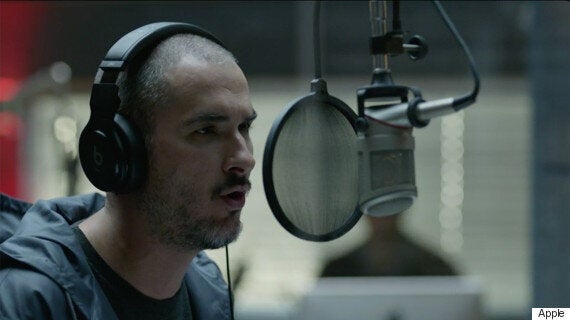 Described by Eddy Cue as the "world's best radio station", Beats 1 is a 24/7 global radio station. Ex-Radio 1 DJ Zane Lowe leads the charge in LA, Ebro Darden covers music in New York and Julie Adenuga in London.
Both free and paid members will be able to listen to Beats 1 without any adverts and uninterrupted.
This tab will also contain the newly revamped radio stations that had previously existed in the US only and iTunes Radio. They'll be personally tailored to each person based on a short test that each person will take when first setting the app up.
If you're a free user you'll be able to use all of the Radio stations however you won't be able to skip through them at will, unlimited skipping is limited to pay monthly users.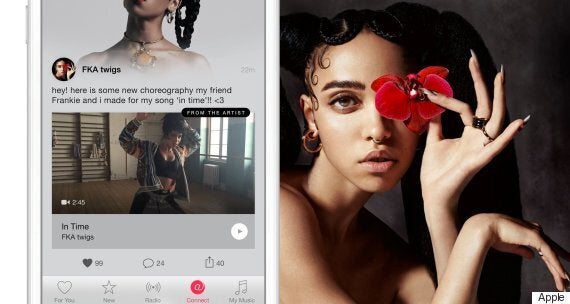 Connect is a new social network for artists. Appearing as a tab within the new Music app, Connect is an endless feed of updates from artists that you choose to follow.
Taking inspiration from Apple's earlier attempt Ping, Connect is designed for artists both big and small and lets them post pictures, videos, song lyrics and just regular updates on how a new album is developing or how a gig is going.
While free users will be able to follow artists, you'll need to be a premium user if you want to play the videos, music and like the posts themselves.
Apple Music launches in the UK on 30 June along with the iOS 8.4 update. There's no UK pricing yet however in the US it'll cost $9.99 per month for a single membership or $14.99 for a family of users up to six people.
Considering the pricing of other services like Spotify and Tidal, we'd assume that the pricing in the UK will range from £7.99-£9.99.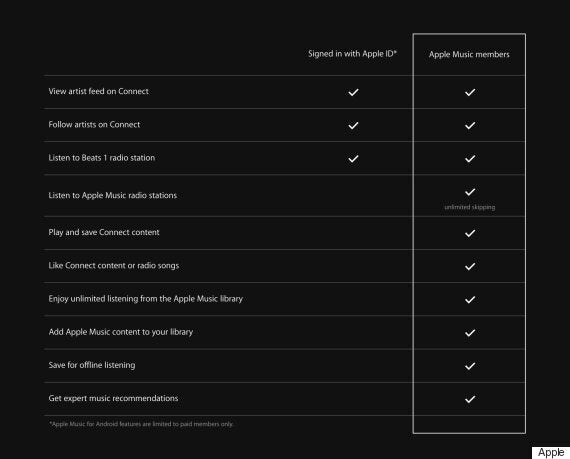 Apple Music Vs Spotify And Tidal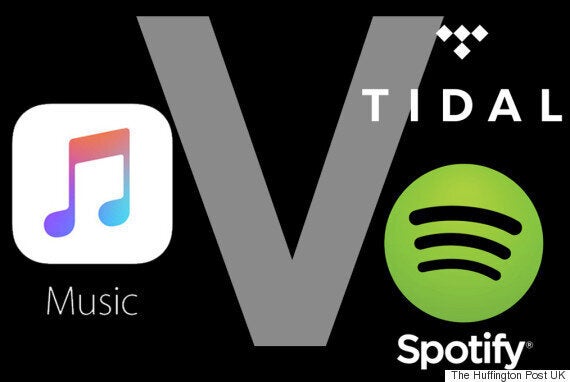 So what's the difference between these services? There are some key differences between the three major streaming services available at the moment.
Apple Music - Apple's service seems to be focused on offering a comprehensive music service. It's an all-encompassing service that provides easy and cheap access to Apple's entire music library while offering a full radio service and social network.
There's currently no word on the streaming quality of the songs, or the quality of the songs that'll be downloaded however it seems likely that Apple will adopt the same quality it uses for iTunes Match.
Spotify - Spotify offers choice. With three plans to choose from, you'll be able to go for the ads version, non-ads desktop and mobile version and then finally the premium service offers high-quality streaming as well as offline for mobile and desktop.
Tidal -This is all about the audio quality. Tidal costs more but it offers you what they call 'HiFi' audio quality so if you have the right equipment, music on Tidal will sound considerably better than the music on its rivals.
There's a catch though, it's more expensive and you'll need an amp, properly good headphones and all the storage space in the world as files on Tidal will be huge. If you're an audiophile though it seems like this might be the service for you.
ALSO: Alternative Music Apps To Try Out
Popular in the Community