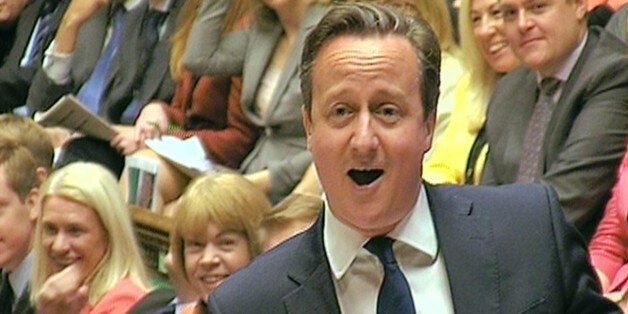 David Cameron is risking "harming the economy" by making it more difficult for non-European Union immigrants to get jobs in the UK, business chiefs warned today.
The Prime Minister this afternoon revealed the Migration Advisory Committee will be asked to look into ways of reducing the number of people coming from outside the EU to work in Britain.
The clamp-down is part of the Government's drive to reduce net migration – which Mr Cameron had previously vowed to get below 100,000.
Simon Walker, director general of business group the Institute of Directors, admitted there were concerns over immigration levels, but the Government was prescribing the wrong remedy.
He said: "Proposals to further increase the cost of visas is essentially a tax on employing people from abroad. This seems particularly odd given how dependent the UK economy is on international skills and expertise.
"The Prime Minister is absolutely right to focus on upskilling the domestic workforce, but there's no quick fix and it could appear misguided to risk harming the economy today in the hope of seeing results a decade down the line."
Mr Walker's concerns were echoed by Katja Hall, deputy director-general of business group the CBI.
She said: "We understand the public's concerns around immigration, but limiting highly skilled workers from coming to the UK is not the answer. They bring their skills and ideas to this country, pay their taxes here and boost growth.
"While improving the skills of British workers is the right goal for business and the Government, it won't happen overnight. We need to keep up-skilling our population, but at the same time as attracting the best and brightest global talent."
The Migration Advisory Committee will look at raising salary thresholds to stop businesses using foreign workers to undercut wages – something Home Secretary Theresa May wants a proposal on by the end of next month.
It will also investigate restricting work visas to genuine skills shortages and highly specialist experts, putting a time limit on how long a sector can claim to have a skills shortage and adding a new skills levy on Tier 2 visas to boost funding to UK apprenticeships.
A Tier 2 visa for up to three years currently costs £564, reduced to £428 if the job is deemed to fill a skills shortage gap.
This list includes skilled chefs, high integrity pipe welders, classical musicians, ballet dancers, nuclear medicine technologist, social workers, chemistry and physics teachers and emergency doctors.
The Government expects proposals on these matters by the end of the year.
A Downing Street spokesman claimed that just 16,000 people come into the UK as Tier 2 migrants, but 90,000 arrive as workers bring dependents.
Mr Cameron said: "This government is on the side of working people: in the past, it has been too easy for businesses to recruit from overseas, undermining those who want to work hard and do the right thing.
"As part of our one-nation approach, pushed forward by my Immigration Taskforce, we have asked the Migration Advisory Committee to advise on what more can be done to reduce levels of work migration from outside the EU."
Ukip's Migration Spokesman Steven Woolfe was scathing about the announcement, branding the proposals a "smoke screen".
He said: "Although these proposals sets out tougher restrictions on Non EEA Work Migration, they are failing to tackle work migration from inside the EU. This is because any government of any colour can not control any category of migration from inside the EU.
"The current EU president, Juncker, has already made clear that 'free movement' of people inside the European Union is non negotiable in future negotiations between the EU and Britain and will remain indefinitely."