Chris Evans has publicly backed Nick Grimshaw to front a new series of 'TFI Friday', but it seems fans of the show are less than impressed with the suggestion.
SEE ALSO:
The madcap Channel 4 show returned for a one-off special on Friday (12 June) night, with former host Chris Evans in the hotseat, but it now appears he's not about to front any further episodes should the show return full time.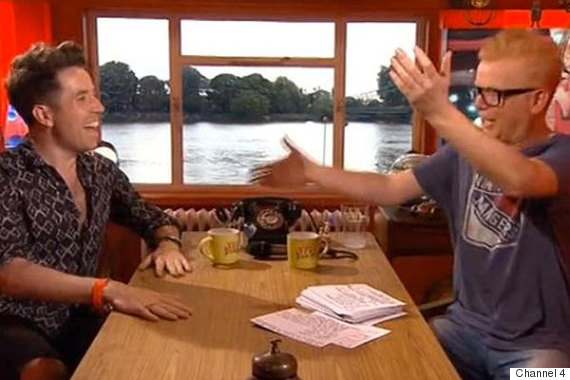 Nick Grimshaw and Chris Evans on 'TFI Friday'
As Radio 1 Breakfast Show DJ Grimmy joined him on the special, Chris told viewers: "I think Nick is the future of the show.
"I think this is good fun for us oldies, but if this show comes back he is the guy, he is the guy."
Grimmy - who is also rumoured to be joining the 'X Factor' judging panel - seemed to be in agreement, mouthing "yeah" to the endorsement.
But fans on Twitter refused to imagine Grimmy taking the reigns of the show:
I don't want to live in a world that could even contemplate Nick Grimshaw presenting #TFIFriday

— Emily (@emily_lovemcr) June 12, 2015
The moment when Chris Evans suggests Nick Grimshaw present #TFIFriday and you hear an echo of FFS! across the country pic.twitter.com/sa2jjKDnRR

— Katy (@_whatkatydid_) June 12, 2015
Dear God in Heaven Above - Don't let Nick Grimshaw near this show #TFIFriday

— KC (@kcshowcork) June 12, 2015
If, as appears to be getting hinted at, Nick Grimshaw is hosting a return of #TFIFriday in the future this will be my last time watching.

— Mike White (@mikewhitesport) June 12, 2015
Really Chris?! Stop letting Nick Grimshaw use this as a #TFIFriday audition! It's Chris Evans or nobody.

— Elliot Gonzalez (@elliot_gonzalez) June 12, 2015
Terrified by the prospect of Nick Grimshaw taking over #TFIFriday!

@aChrisEvans should present till his last breath!! pic.twitter.com/NA42WCbeXD

— Gerry Stergiopoulos (@GerryGreek) June 12, 2015
Hope they don't bring #TFIFriday back with Nick Grimshaw - he's the very reason I stopped listening to #radio1

— Helen Large (@L17RGY) June 12, 2015
No, no, no, first mis-step of the night. Nobody needs MORE Nick Grimshaw. #TFIFriday

— Emma Bullimore (@EmmaBullimore) June 12, 2015
I love Chris Evans but if you suggest nick grimshaw presents a version of this again I'll call points of view #TFIFriday

— Craig Hazell (@CraigHazell) June 12, 2015
Can someone please un-annoint Nick Grimshaw as the new host of #TFIFriday

— Katie Weasel (@KatieWeasel) June 12, 2015
The Guardian previously reported that Channel 4 bosses were hoping to lure Chris into fronting a revived series of the show if the special proved to be successful.
However, he has described the special as his "closure" from the show, as he unexpectedly left the show moments after Channel 4 announced its last series in 2000.
LIKE US ON FACEBOOK | FOLLOW US ON TWITTER