The BBC has hit back at the Daily Mail in a spectacular Twitter rant after a story appeared in Monday's newspaper listing the corporation's finances.
The BBC's press team publicly lambasted the newspaper for missing "crucial facts" in its story and adds "never let that get in the way of a good headline".
The Daily Mail article reports that the BBC spends less than half of its money, which is generated from the licence fee, on its programmes.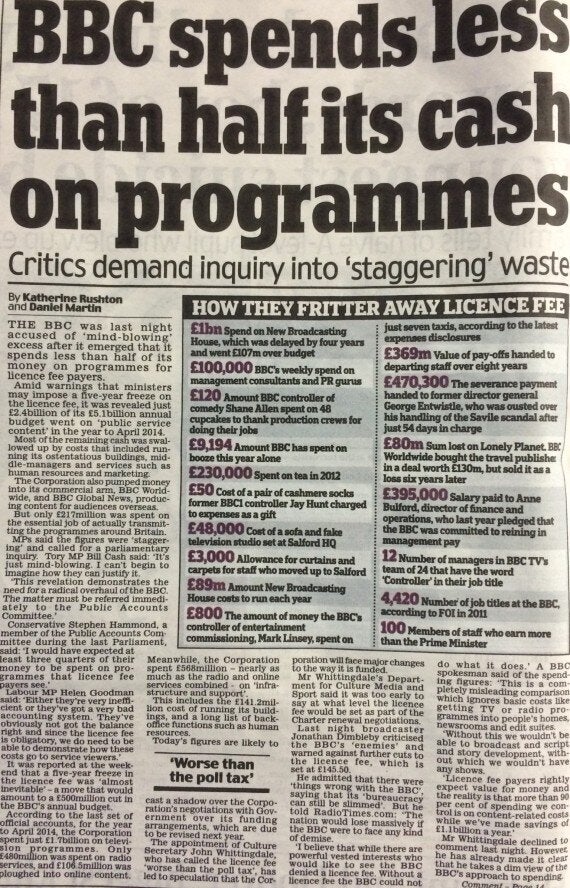 Monday's Daily Mail article hits out at the BBC's 'staggering' waste of public funds
Using the BBC's official accounts, the Mail revealed that £2.4 billion of its £5.1 billion annual budget went on "public service content" in the year to April 2014.
But the corporation's press team condemned the Daily Mail for "ignoring basic facts", adding that the paper did not take newsrooms, edit suits and storyline development into account when calculating "programme costs".
The clarifications continued:
And just in case there was any doubt:
The BBC is becoming the focus of increased scrutiny among politicians, some of whom are calling for the licence fee to be abolished.
George Osborne has expressed his "impatience" with the broadcaster and said the fee "has to be rethought in a digital age".
Last month it was revealed that there has been a dramatic drop in the number of viewers, with more than 1.6 million households claiming they no longer own a TV set - an increase by 500,000 in the last 15 months.
Many enjoyed seeing the BBC calling out the Daily Mail with such a public shaming: