In response to an article published in the Mail on Monday about the corporation's finances, the BBC press office went on a very 'un-BBC' Twitter tirade against what they said was a story lacking in "crucial facts".
The Daily Mail reported that the BBC spent £2.4 billion out of £5.1 billion on programmes in the year to April 2014 - less than half of its budget.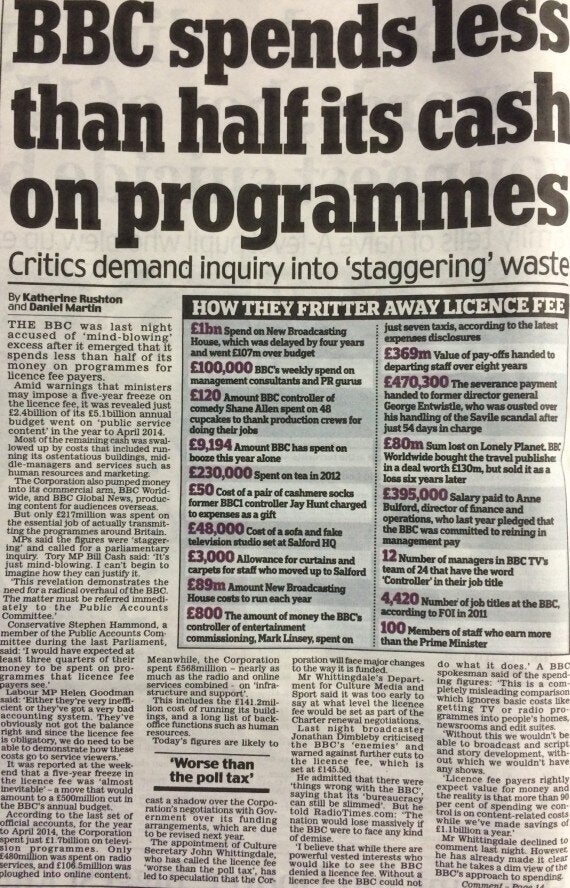 Monday's Daily Mail article hits out at the BBC's 'staggering' waste of public funds
But the broadcaster's press team publicly lambasted the newspaper yesterday in a series of tweeted 'corrections', which claimed the article omitted a number of facts, adding "but never let that get in the way of a good headline".
And despite the spectacular rant, the BBC were not going to let the matter lie.
Just in case anyone had missed the BBC's retort, the press team posted another numbered list detailing their 'final thoughts' on the Mail's article.
He wrote: "Actually more than 90% of the money we control is spent on content, distribution and their related support costs - making TV, radio and online content and bringing it to you.
"That leaves just 9% of spend on the professional support needed to run the BBC. That figure has been independently verified."
The BBC's retorts were welcomed by readers.
@bbcpress@bbcdemlive The only way to stop lies is to challenge them hard and early. Otherwise they spread like a virus. Well done, BBC.

— Leighton V_Williams (@LeightonVW) June 15, 2015
But that was not the end of the disagreement.
The journalist and author said the corporation was guilty of "lavishing cash on management drones" while not investing money in staff such as researchers, producers and directors, thousands of whom earn a pittance and are placed on short term contracts.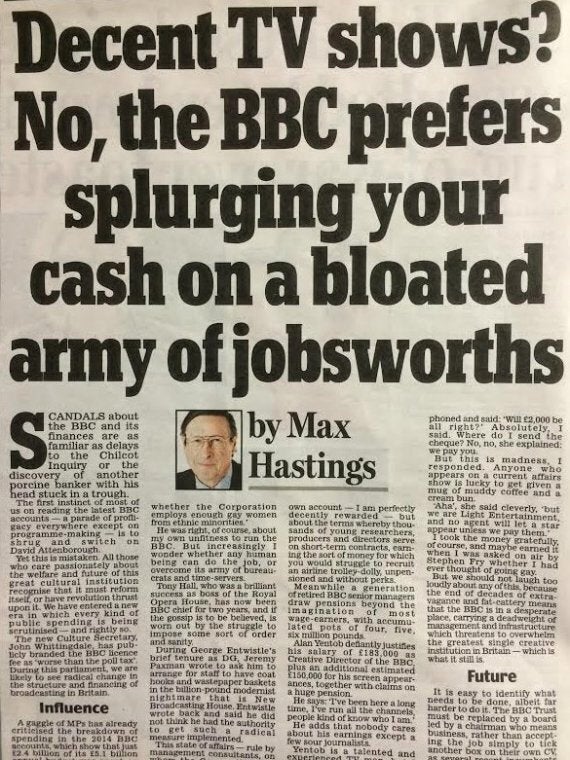 Writing for the Mail, Max Hastings said too much money is spent on management and not enough on creative staff
Hastings said: "Meanwhile a generation of retired BBC senior managers draw pensions beyond the imagination of most wage-earners, with accumulated pots of four, five, six million pounds."
He added: "But we should not laugh too loudly about any of this, because the end of decades of extravagance and fat-cattery means that the BBC is in a desperate place, carrying a deadweight of management and infrastructure which threatens to overwhelm the greatest single creative institution in Britain."
The BBC is becoming the focus of increased scrutiny over its management of funds, most of which derives from the licence fee.
Culture Secretary John Whittingdale is a vocal critic of the BBC and a strong opponent to the TV licence fee - once describing it as "worse than a poll tax".
George Osborne has also said there is a need to reconsider the corporation's funding in the digital age.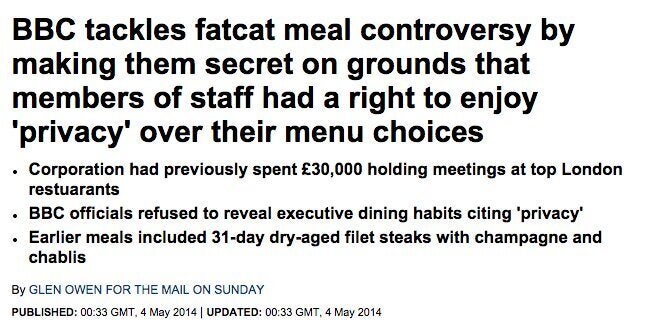 Daily Mail Bashes BBC
Related