The News Of The World (NoTW) rang Kate Middleton's voicemail at a rate of nearly once a day for more than a year, the trial of one of its former senior journalists has heard.
Between January 2005 and August 2006 - a 608-day period - the paper is said to have called her voicemail 493 times, nearly five times more often than Prince William.
The claim was tweeted by former Independent journalist turned freelancer Martin Hickman, who is covering the trial of Neil Wallis.
Wallis, who was deputy editor of the paper from 2003 to 2007 and then executive editor until he stood down in 2009, is accused of conspiring to hack phones.
BREAKING - From Jan 05-Aug 06 NoW called voicemail of:

Prince William 104 times

Prince Harry 58 times

Kate Middleton 493 times

June 16, 2015
The paper also accessed the voicemails of royal aides - one of them more often than they called Kate Middleton's.
(Cont. for royal aides)

Paddy Harverson 165 times

Kate Waddington 186 times

James Lowther Pinkerton 511 times

Helen Asprey 370 times

— Martin Hickman (@martin_hickman) June 16, 2015
Hickman crowd-funded his coverage of the trial, which is taking place at the Old Bailey. He is live-tweeting proceedings and writing regular round-ups.
In an article filed today, he reported how Wallis decried his "endless bail", having been first arrested and bailed in connection with phone hacking in 2011, the year the NoTW was shut after the hacking allegations erupted into a public scandal.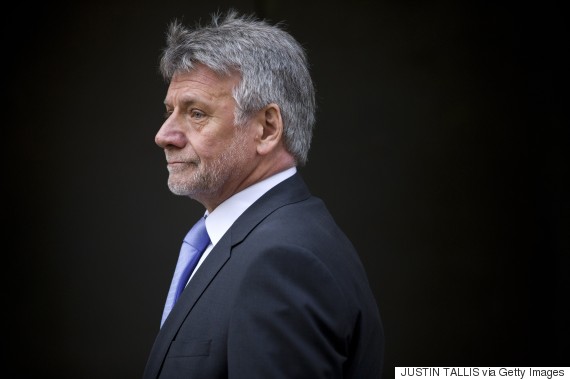 Neil Wallis outside court
Writing on The Huffington Post UK in 2013, Wallis decried the length of time arrested journalists had spent on bail.
Last week, the trial's first, the court heard evidence that Wallis "knew" about phone hacking while he was at the NoTW.
Prosecutor Julian Christopher told the jury: "The prosecution alleges, that he knew it was being done and agreed that it should be done."
The jury heard how Andy Coulson, the editor between 2003 and 2007, had been convicted of conspiring to hack phones after a long trial last year.
Testifying today, Wallis said he would not get involved in the "detail" of the stories the paper was publishing.
Wallis wouldn't get involved in detail of stories. His main questions would be can the reporter stand up story and what does the lawyer say?

— Martin Hickman (@martin_hickman) June 16, 2015
Wallis denies one charge of conspiracy to intercept voicemail communications. The trial continues.
SEE ALSO: Mirror Phone Hacking Payouts To These Celebrities Are The Biggest Yet

Police Turfed My Six-Month-Old Son From His Cot, News Of The World Reporter Reveals

Piers Morgan Questioned Again Over Phone Hacking Allegations