Russell Brand and Charlotte Church were among demonstrators at a huge anti-austerity rally in London today.
Church, who has become increasingly politically active over the past few months branded austerity "unethical, unfair and unnecessary" and said the idea that it was needed was "the big lie".
The Welsh singer continued: "What this country needs is economic stimulation - most economists around the world would say the same. We need to get the blood pumping."
She called for the country to rally and "save ourselves from decades of yuppie rule".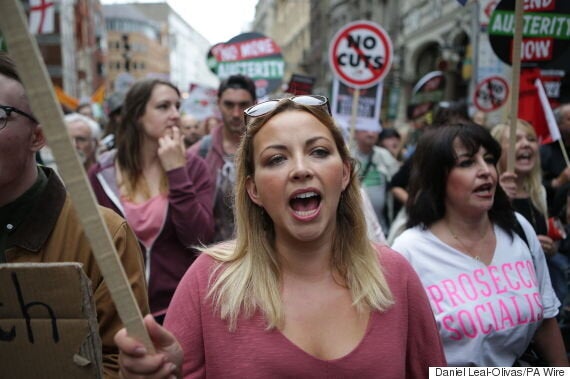 Charlotte Church spoke out about the 'big lie' of austerity
She attacked the "scandalous" sell-off of the bailed-out Royal Bank of Scotland and warned the Government will "sell off our schools and our hospitals, and once it is done, it will be very difficult to reverse".
She told the crowd: "One aspect of this that really gets under my skin is that it's all wrapped up in a proud-to-be-British package. I'm proud to be British because of our National Health Service, the welfare system and David Bowie. Not because of the Union Jack."
Earlier, she said: "I'm here today in a show of solidarity with everyone here - it is a massive turnout - everybody who thinks that austerity isn't the only way and thinks it is essentially unethical, unfair and unnecessary."
According to Morning Star reporter Lamiat Sabin, Russell Brand also told the crowd: "We're all vulnerable members of society."
He added: "I thought fame and fortune would save me but it's empty. I'll commit my whole life now to community."
Other speakers at the event included Green MP Caroline Lucas, Labour leadership hopeful Jeremy Corbyn, Sinn Fein's Martin McGuinness and Unite secretary general Len McCluskey.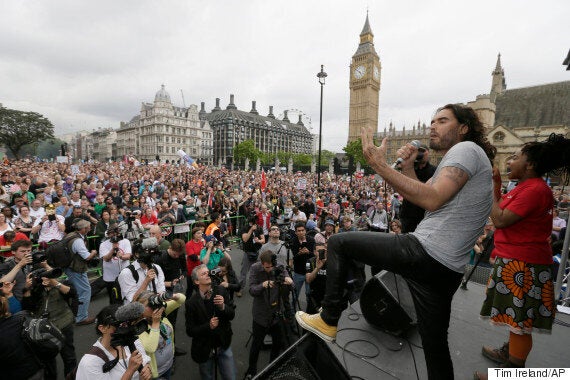 Russell Brand speaks to the crowds
The protest against government cuts saw more than a quarter of a million people turn out.
Demonstrations were also held in Glasgow and Liverpool.
A spokesman for the People's Assembly, which organised the protest, said: "It is clear this march has exceeded all expectations.
"Even the police are estimating that there are several hundred thousand marching. Today is not the end of our campaign against austerity but the start of a mass movement prepared to take on this government."