Property rental prices are a constant source of grief for Britons but a new study has now shown that the UK is actually getting the worst deal in the whole of Europe.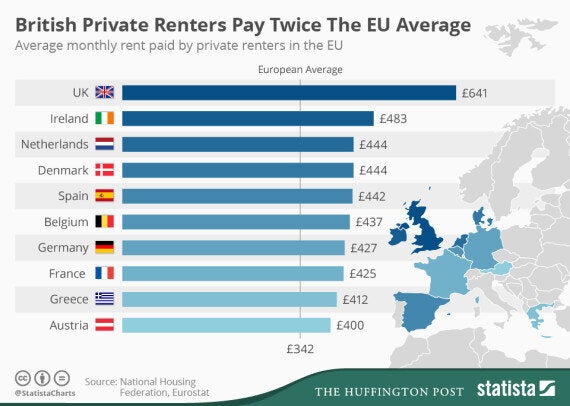 Britons get the worst deal in the whole of Europe when it comes to private renting
Rents in the UK are not only the highest in Europe - but also take up the biggest portion of people's salaries, it has been revealed.
The analysis by the National Housing Federation also revealed that despite sky-high rent, Britons also face the least secure tenancies.
UK renters pay an average of £750 per month, comparing dismally with the European average of £400.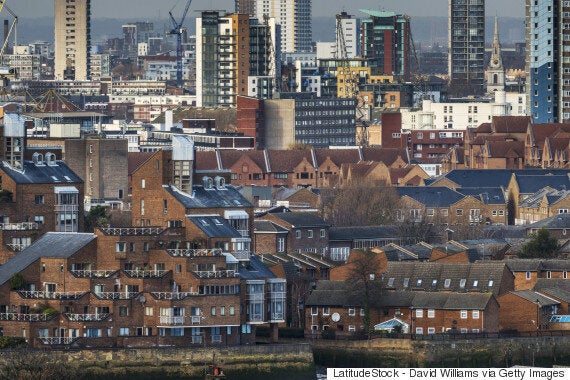 Britons get the worst deal in the whole of Europe when it comes to private renting
Even in similar-earning countries like Germany and Holland, private rents are around 50% cheaper than in the UK.
And while European private renters spend an average of around 28% of their income on their accommodation, this jumped to almost 40% for UK renters.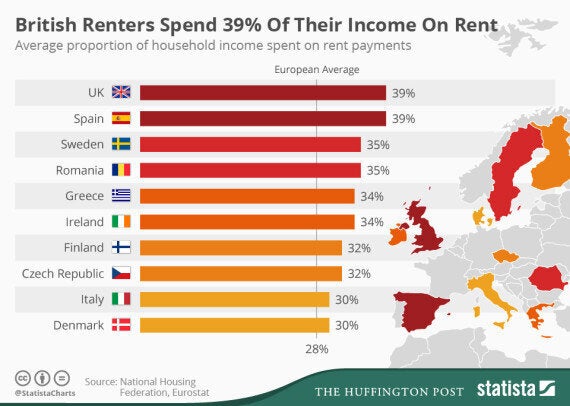 Things are even more dire for those living in house shares, who on average spend 55% of their income on rent.
David Orr, Chief Executive at the National Housing Federation, said: "British renters get a raw deal in comparison to their continental counterparts. Not only do they face crippling rents, but renters in the UK have almost no certainty about whether they will be able to stay in their home from one year to the next.
"How can we expect people to raise families, start businesses or save for their first home if they don't even know where they will be able to afford to live?"
Orr blamed underinvestment in housebuilding for the crisis.
Between 1996 and 2011 in the UK, just 3% of national GDP was invested in housing, compared to 6% in Germany and 5% in France.
Orr added: "High rents are just one symptom of the housing crisis, we are simply not building enough due to under investment and problems with the land market. Housing associations are already helping people across the housing market meet their aspirations, including private renters.
"But they want to do more. By 2033 they want to build 120,000 new homes of all types every year. The Government can empower housing associations to do this by freeing up land and providing proper investment."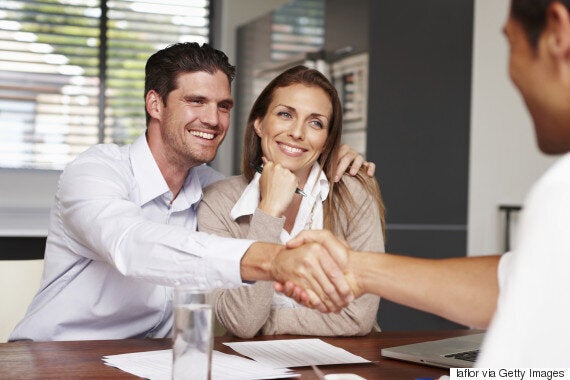 For many renters, the idea of buying a house seems impossible
More families than ever are now renting from private landlords, according to Shelter, with some nine million people in the UK renting privately.
The number of people living in properties owned, managed or let out by a private landlord, rocketed by 69% between 2001 and 2012.
And shockingly, one third of privately rented homes in England fail to meet the Decent Homes Standard while some 85,000 complaints about rogue landlords were ade in 2012, according to the charity.
Popular in the Community