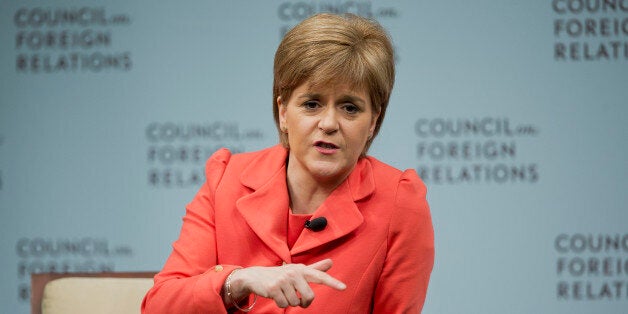 First Minister Nicola Sturgeon has broken her silence on the row over whether Scotland will pay its share towards the monarchy's upkeep by slamming a journalist on Twitter for writing allegations that were "simply not true".
Cathy Newman, a presenter on Channel 4 News, was reprimanded in a string of tweets by Sturgeon for having posted a blog on the Daily Telegraph website, re-heating claims that the Scottish leader was planning to stop bankrolling the monarchy to the tune of £2.2 million-a-year if further devolution went ahead.
In briefings several Fleet Street papers including The Times, Telegraph and Daily Mail, Buckingham Palace claimed that if Scotland took control of its Crown Estates north of the border there could be a serious shortfall in Royal revenues.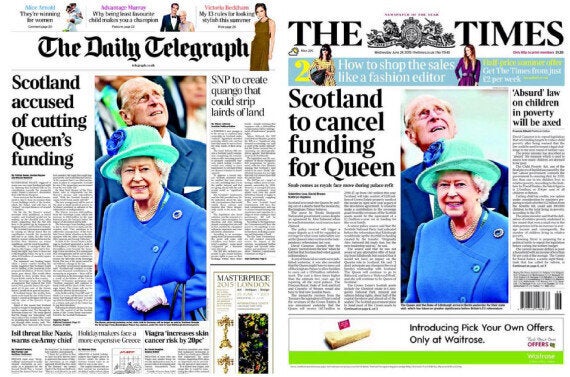 The Telegraph and The Times' Wednesday front pages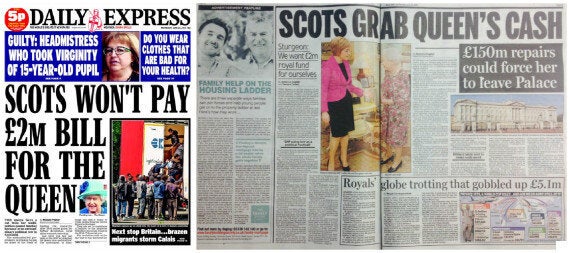 The Daily Express' front page and The Mail's inside splash
But both the UK and Scottish governments have strongly denied the allegations, and said devolution would not have any negative impact on Holyrood meeting its legal and constitutional obligations.
In a testy Twitter exchange, Sturgeon blasted the offending material and called out Newman for republishing allegations that had "no basis in fact".
Sturgeon referred in her second tweet to a claim in Newman's article that she did not take an oath of allegiance to The Queen upon election as an MSP for Glasgow in 1999.
Newman enquired why the First Minster had chosen to affirm rather than swear an oath upon her election to Holyrood, and asked why Buckingham Palace sources, who Wednesday's newspaper claims were attributed to, had been briefing against her.
The Channel 4 anchor was rebutted by Sturgeon, who set the record straight by telling Newman the oath/affirmation quandary did not concern any reference to The Queen.
Newman quipped back, calling on Sturgeon to "pay generous tribute to The Queen as your predecessor [Alex Salmond] did.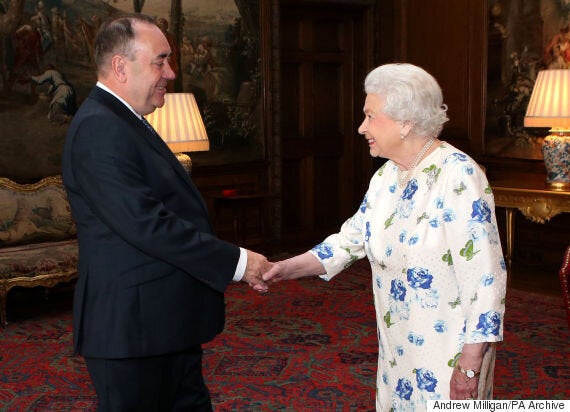 Salmond, who has "strong" affection for Queen Elizabeth II, greets her at the Palace of Holyroodhouse in Edinburgh
But Sturgeon, who herself met the Queen back in December 2014, hit back.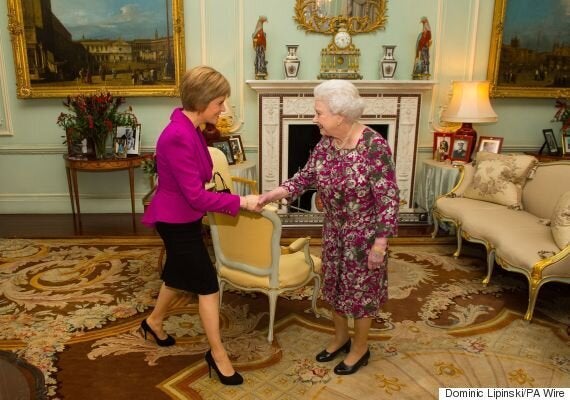 Sturgeon greets The Queen, 3 weeks after becoming Scotland's First Minister
She claimed to have paid tribute to the monarch on "many occasions", and asked Newman to amend her blog post.
Newman replied, claiming she had simply reported the Palace's briefing and included the Scottish National Party's response.
"The bit about me refusing to swear allegiance to HM Queen", Sturgeon retorted. "It's simply not true. Correction?"
The journalist then appeared to back down slightly, agreeing to change one part of her article.
But her concession failed to win over Sturgeon, the SNP leader keen to hammer home her point.
Sturgeon declined the request, saying she had already done a video clip on the matter for use on Newman's show.
And with that, the First Minister bowed out, tweeting: "And that is the end of this exchange from my end."
She even wished Newman well after the pair's 16-tweet digital joust.
Newman also tapped out, claiming she had "enjoyed chatting" with Sturgeon on Twitter.