A shocking video has revealed the moments before British jihadi Thomas Evans was killed in a gunfight in northern Kenya.
The footage was discovered on a camera on the body of Thomas Evans, who called himself Abdul Hakim, who died in the skirmish last week.
The video shows Evans preparing for battle, smiling and hugging fellow radicals.
It also captures the group travelling by foot under the cover of darkness before they come under gunfire and Evans appears to be shot dead.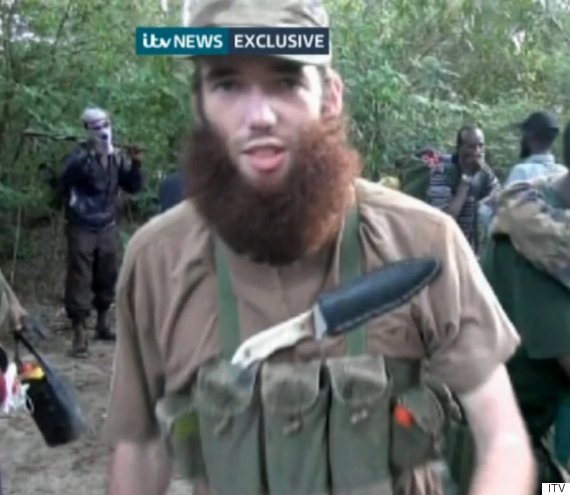 Thomas Evans was killed while fighting with terrorist group Al Shabaab
He was one of at least 11 jihadis to die in the incident.
It added that his body was buried in Kenya after his identity was confirmed with DNA from his family.
The 25-year-old's death makes him the first British Islamist militant to be killed in the African country, according to the Telegraph.
Evans, from High Wycombe in Buckinghamshire, travelled to join the Somali militant group Al Shabaab in 2011.
Following his flight from the UK, his mother Sally said that she would rather see him jailed in Britain than die on a foreign battlefield.
SEE ALSO:
She and Evans' brother Michael spoke to the Home Affairs Select Committee about how a previously "normal teenager" became so radicalised.
His mother said that he initially began attending a moderate local mosque but changed when he switched to a hard-line prayer centre.
He was even stopped by counter-terrorism police at Heathrow Airport in 2011 while trying to fly to Kenya.
But later that year he flew to Egypt after telling his family he was going to learn Arabic, before travelling on to Kenya via Ethiopia.
He gained the nickname The White Beast apparently because of his brutality while part of Al Shabaab.