Greece's exit from the eurozone is not inevitable, despite the country being days from defaulting on a major debt repayment, the country's finance minister has insisted.
Yanis Varoufakis said the bailout crisis was a "dark hour" for Europe but the nation had a "clear conscience" over its actions.
It comes as the European Central Bank (ECB) announced it would continue an emergency credit line to Greek banks as customers flocked to withdraw cash following the announcement of a snap referendum on proposals put forward by creditors.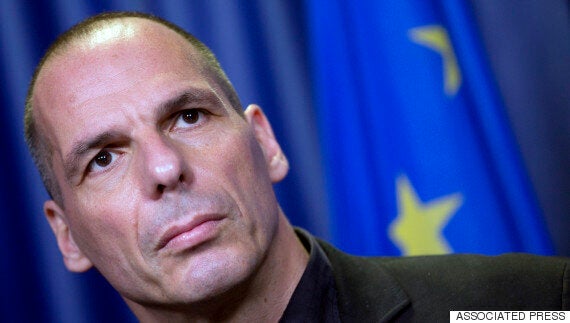 Varoufakis said it was 'a dark hour for Europe'
The move maintains current support levels but does not include any further credit.
Mr Varoufakis said he found it "appalling" that the prospect of the ECB turning off the tap was even being discussed and insisted such a move would show Europe had "failed in its duty" to preserve the monetary union.
He told BBC Radio 4's the World this Weekend: "It is a dark hour for Europe as far as I'm concerned. Greece has had many dark hours in its long history. Nevertheless, from where we are sitting, we have a clear conscience.
"We know that we have bent over backwards to accommodate the institutions of the troika, our European partners. They have not come to the party. They have not meet us halfway, not even a quarter of the way.
"Now, we are looking upon these developments with a great deal of sadness on what has happened to the Europe we signed up to."
Bailout proposals put forward were "unviable" and would leave the country in the same position a few months down the line," he added.
"Europe has to face up to the fact that it has lost its way, and particularly the people of Britain are looking upon this with a great deal of trepidation as to what Europe means," he added.
Mr Varoufakis said there was "absolutely no reason" that a Grexit was inevitable and a no vote in the poll "doesn't have to and it shouldn't" mean the country ends up leaving the single currency.
"There are no provisions for leaving the euro," he said. "Once in, you can't get out. This is part of the European Union treaties. And why should we have to consider even getting out of the euro?"
The Syriza minister said Greece was owed 1.9 billion euro (£1.3 billion) from ECB profits in 2014 and called for that money to be transferred to cover the 1.6 billion euro (£1.1 billion) that they owe to the IMF on Tuesday.
The finance minister said Greeks pat him on the back as he walks down the street and urge him not to "give in".
He said: "There's something called dignity, which has no price."
Eurozone ministers criticised Greek prime minister Alexis Tsipras for announcing a popular vote would be held next Sunday on the bailout proposals.
If Greece fails to meet its debt repayment it will be declared in default, pushing it towards the exit door of the single currency.
The UK government is continuing to "take steps" to shield Britain from the impact of economic turbulence in the eurozone.
A Treasury spokesman said: "We urge the people of Greece to resolve the current uncertainty and ensure economic and financial stability across Europe.
"We have taken measures to increase our economic security so we can deal with risks like this from abroad, and we continue to take steps to prepare and protect ourselves from all eventualities".
Related