A woman in her 60s is being hunted by police over a bus assault that left a 22-year-old with osteoporosis with a suspected broken rib.
Police have released CCTV images of the woman, who is described as having glasses and a walking frame, following the assault on a 73 bus in Westminster.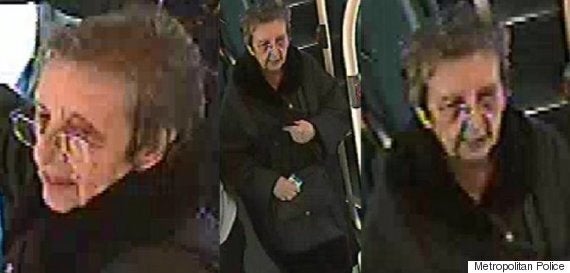 Police are hunting this woman, who is thought to be in her 60s, after an assault on a 22-year-old woman with osteoporosis in a dispute over priority seating on a bus
Police said the victim was sitting in the priority seating area at the front of the bus on March 12, at 3.38pm, when she was set upon.
"As she got up to leave the bus at Great Titchfield Street, the suspect elbowed her hard in the stomach, causing her to fall back onto the floor," police said in a statement.
The young woman was later taken to hospital with a suspected broken rib.
Police described "the suspect" as a woman of Mediterranean appearance, aged about 60, with short grey hair, wearing glasses and using a wheeled walking frame.
They want to hear from anyone who can identify her.