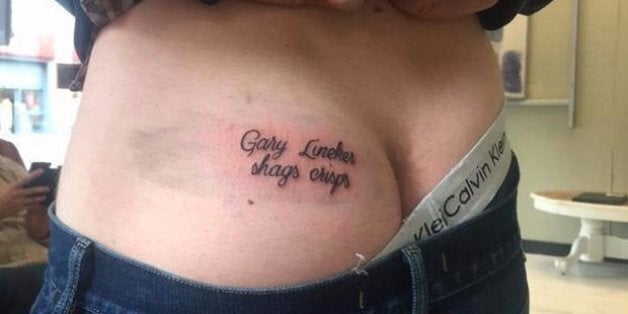 There are bad tattoos and then there are shit tattoos. And this, ladies and gents, is a shit tattoo.
An actual human being thought it would be a good idea to get the words 'Gary Lineker Shags Crisps' inked onto his bottom.
Jonno Scott from Doncaster got the tattoo etched onto his bum cheek and, God only knows why, decided to share a photo with the rest of the world on Twitter.
Scott tweeted Lineker a picture of his derriere with the caption: "Hi Gary I'm a massive fan of yours."
But swiftly regretted the decision. (We can't imagine why!)
And, needless to say, his mother was far from impressed with his antics.
Yes, Scott, like herpes, a tattoo is for life.