The BBC's new daily tennis round-up show, "Wimbledon 2Day", has been slated by critics for being a "fake" production reminiscent of "Top Gear".
The new programme replaces the popular show "Today At Wimbledon", which ended last year.
Controversial presenter John Inverdale used to host the old daily highlights.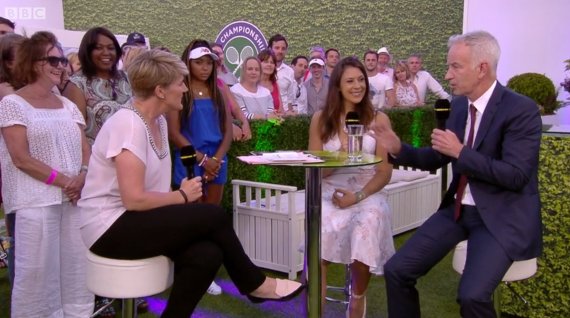 (L-R) Clare Balding interview tennis champions Marion Bartoli and John Mcenroe on Wimbledon 2Day
He was heavily criticised for the "sexist" comments he made about Wimbledon champion Marion Bartoli, saying she was "never going to be a looker".
The new show, which discusses the day's play at Wimbledon, features Clare Balding in a bizarre set up.
The hour-long programme sees Balding interview guests, sitting on stools, on fake grass, surrounded by a standing, often rather uncomfortable looking, audience at "The Gatsby Club".
Jan Moir's comment in Thursday's Daily Mail "savages" the new show, which is a "travesty and a tragedy".
She writes: "In his place comes the super right-on, tooth-achingly trendy 'Wimbledon 2Day', so much like a parody of something that might be suggested on W1A, the satirical show about the BBC, that it is painful to watch.
"Even the hashtag-friendly name speaks volumes, suggesting that some focus group informed the Beeb that they were not attracting enough teenagers to tennis… and to sharpen up their image, pronto.
"So like some nightmarish cross between "Top Gear" and "Play School", guests must chat to Clare while standing around one of those high top tables that are so popular in wine bars."
The Radio Times also slated the "dreadful" show. Alison Graham said she believes the show is aiming to be "Top Gear with strawberries and cream".
She wrote: "BBC2's nightly highlights package is a mess, a giddy mix of inane Tweets, snippets of matches (let's not forget actual tennis is being played, something, presumably we all want to see which is why we've tuned in) and a bit of chat. All marshalled by a panicky-looking Clare Balding."
Audiences watching from home were not any more impressed by the new programme.
Dear BBC, A suggestion. Why not show some tennis in your tennis highlights show? Yours, Everyone Who's At Work All Day #wimbledon2day

— Stephen Tall (@stephentall) July 2, 2015
John McEnroe: "What the hell are you asking me about beards for?" Pretty much sums up #Wimbledon2day.

— Jake Kanter (@Jake_Kanter) July 1, 2015
A radical proposal for the BBC - you could just make #wimbledon2day a tennis highlights programme for people who've been working all day.

— Esther McCarthy (@Esthermccarthy) June 30, 2015
Twitter you are gloriously angry about #Wimbledon2day. For that I thank you! Bring back #TodayAtWimbledon

— rachel menday (@raaaaaa) June 29, 2015
#wimbledon2day This new format is a mess. Ill-conceived, stilted, embarrassing. Horrible camera work. BBC Sport, please reconsider!

— Susan Tomes (@susantomespiano) June 29, 2015
Oh dear. Dumbing down has reached #Wimbledon2015. #Wimbledon2day New format. Even Jonnie Mac's not sure.

— Jo Lloyd (@phenelloyd) June 29, 2015
The new format has even led to calls to bring back Inverdale.
Yes, #Wimbledon2Day is awful. Bring back John Inverdale's highlights programme. #r4today

— Annette Hardy (@Annette1Hardy) July 2, 2015
Bring back Today at Wimbledon with John Inverdale immediately! #wimbledon2day

— Jenna (@thetrekfiles) June 29, 2015
#wimbledon2day can we just have the cosy relaxed end of day format with John Inverdale, JPMcEnroe & other discussing the tennis!?

— Charlie Radnor (@CharlieRadnor) June 29, 2015
#wimbledon2day it's not the same without Mr Inverdale. Gawping members of the public in the background is a big no no. It's not Top Gear.

— Mark Jones (@biffa69) June 29, 2015
#Wimbledon2day Bring back John Inverdale.

— Paul Denny (@Denzel1978) June 29, 2015
The new show does have a few fans, however.
Yes @clarebalding! LOVE #wimbledon2day @BBCTwo. I'm watching! TENNIS NERD. Can't wait for the next two weeks pic.twitter.com/2jD6uhJxYO

— Greg James (@gregjames) June 29, 2015
Love a bit of #Wimbledon2day with @clarebalding. McEnroe is the king and Davenport is at least 12ft tall.

— Dan Walker (@mrdanwalker) June 29, 2015
Well at least they kept the Today at Wimbledon theme tune. #wimbledon2day

— Simon Gosney (@simongosney) June 29, 2015
The BBC did not respond to The Huffington Post UK's request for comment before this article went live.
SEE ALSO:

Wimbledon #HeatWave Has Created Huge Sexism Row

Serena Williams Could Destroy Her Sister Venus' Record At Wimbledon

BBC Hasn't Had A Single F***ing Complaint Over All The Wimbledon Swearing