The death of a migrant desperately trying to reach Britain on a freight train in the Channel Tunnel left many horrified yesterday - but the tragedy of the situation seemed utterly lost on some.
The migrant, whose name, sex or nationality has not yet been released, was found dead at around 5.30am yesterday.
A Eurotunnel spokesman said: "At 5.30am the presence of migrants was reported on a freight shuttle just entering the tunnel.
"Safety procedures apply automatically if there is any human presence in the tunnel, therefore the train was brought to a controlled stop and the overhead power was cut.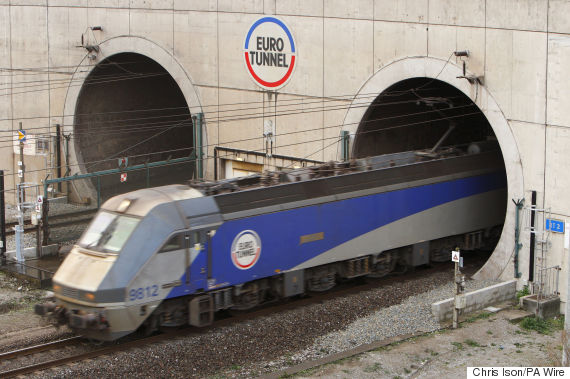 Many migrants from war-torn regions are desperate to cross the Channel into the UK
"The French police conducted a search, in the process of which they found a migrant who they declared deceased a short while later.
He added: "Eurotunnel once again calls on the governments to end the migrant crisis, and full services through the Channel Tunnel will resume as soon as possible."
Many have attempted to undertake the dangerous journey to the UK after fleeing from war-torn countries including Syria and Afghanistan.
But some clearly had little sympathy for the victim…
@SkyNews who gives a fuck 😂

— Chris Ralston (@ChrisRalston5) July 7, 2015
@SkyNews anybody care?

— carl sands (@carl767715) July 7, 2015
@SkyNews One less illegal to worry about..

— Mercian (@andrewswingler1) July 7, 2015
@SkyNews good

— jboy (@JG16580057) July 7, 2015
@SkyNews one down several to go

— Jonah Moffatt (@JonahMoffatt) July 7, 2015
@DailyMailUK @MailOnline oh, what a pity, NOT!!!!!

— Bob (@torysupporter) July 7, 2015
@DailyMailUK well he shouldn't have been in there ! Tough shit.

— rosie tadpole (@pincekid) July 7, 2015
@DailyMailUK tough!!

— Tina foley (@tinafoley17) July 7, 2015
Others were quick to pull them up on their callousness..
The comments under that person dying on the channel tunnel are disgusting, you don't know what he's been through at all

— milner_fan (@laurinaaa_) July 7, 2015
Seen some absolutely horrible comments by small minded bigots about this person who died in the channel tunnel this morning

— Tom Cummings (@T_C1987) July 7, 2015
A human died today trying to get through the Channel Tunnel. A person with hopes and dreams like me and you. My next 4 tweets sum up society

— Joey McNally (@thejoeymcnally) July 7, 2015
If you want to lose faith in humanity, take a look at the replies to any of the news tweets about the migrant who died in the Channel Tunnel

— Shannon Hawthorne (@shanmia) July 7, 2015
This is the second migrant death in a fortnight following the reported death of an Eritrean while trying to get on a train at Coquelles last month.
Yesterday's incident came days after around 150 migrants caused delays and cancellations when they tried to storm the Channel Tunnel terminal in France.
SEE ALSO:
Kent Police said delays were building around junction 11a of the M20, where lorries are queued as part of Operation Stack when cross-Channel services hit disruption.
The migrant crisis in Calais has escalated in recent months, with around 3,000 people displaced from countries including Eritrea, Syria and Afghanistan setting up camp near the port.