Apple Pay is now officially live in the UK allowing you to pay in-store using your iPhone or Apple Watch.
Available for users with an iPhone 6, Apple Watch or Touch ID-enabled iPad, Apple Pay is the new wireless payment service that's being launched by Apple.
Users are able to load compatible bank cards onto their devices and then using the Touch ID sensor, securely pay for items in shops up to £20 as you would with a contactless card or with online shopping.
Because Touch ID is so pivotal to keeping the payment method secure, Apple Pay will only be available on devices that have this feature.
There are two ways to pay, either by using the iPhone 6 and Apple Watch as physical payment devices (as you would a contactless card) or through compatible apps.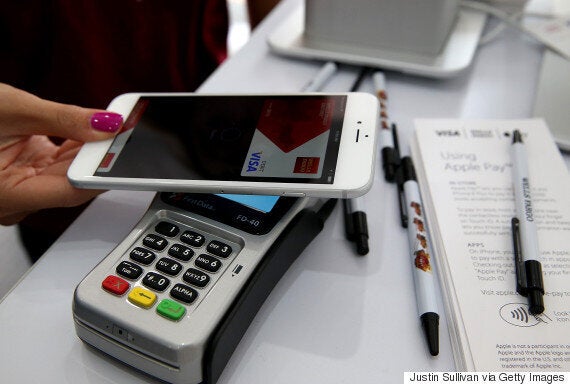 Setting up Apple Pay is really easy. Simply open up the Passbook app on your iPhone and you'll see that a new icon has appeared at the top asking if you'd like to set up Apple Pay.
Simply following the instructions and then hold your card in front of the iPhone's camera, it'll then automatically save the card onto the phone and you'll be good to go.
To use Apple Pay today you'll need to be banking with any of these:
NatWest
Nationwide
Royal Bank of Scotland
Santander
Ulster Bank
MBNA
Other banks including HSBC, Lloyds, TSB and Halifax will be added later in the Autumn.
Once the card is loaded you simply hold your iPhone near the terminal where you'd normally use a contactless card, keep your thumb resting on the Touch ID sensor and you'll hear a confirmation sound.
For Apple Watch, simply double-tap the side button and the default payment card will appear. Hold it to the payment reader and again you'll hear a confirmation sound.
Very. Using a system called tokenisation, the device never actually directly shares your bank details with the terminal, in fact the phone never has your bank card number to begin with.
When a card is added to Apple Pay, a Device Account Number is assigned to that card and then securely stored within the same chip as your Touch ID details.
There are many retailers on board including:
Lidl
McDonalds
Starbucks
M&S
Waitrose
Costa
Boots
Bills
KFC
Nandos
SPAR
Post Office
Le Pain Quotidien
Pret
Wagamamma
BP
Subway
More will be confirmed later in the Summer. You will also be able to use Apple Pay on any of the TFL's Oyster Card readers. Simply hold the phone over the reader while keeping your thumb on the Touch ID sensor and the payment will register.
Leaked documents from Waitrose have also confirmed the release date with internal memos letting staff know. Its believed that retail stores have been training their staff up on the new technology as early as June.
The UK launch of Apple's payment service was accidentally revealed when a support representative for HSBC replied to a question about it on Twitter.
The customer asked when Apple Pay would be launching in the UK, to which the representative replied: 'Yes! It's due to launch this Tuesday! We are excited too.'
If you happen to be out and about you might start seeing the Apple Pay logo popping up as well in preparation of the launch as Engadget writer Matt Brian discovered when passing through a McDonald's drivethru.
Popular in the Community