The team behind Ginger Parrot, a website dedicated to 'all things nice and gingerful,' delivered 524 pages of 15,000 signatures to Apple HQ yesterday, and are now eagerly awaiting a response.
Emma Kelly, editor and founder of Ginger Parrot, told Huffington Post UK: "It's important for redheads to be represented on Apple's emoji keyboard. It's all about inclusion.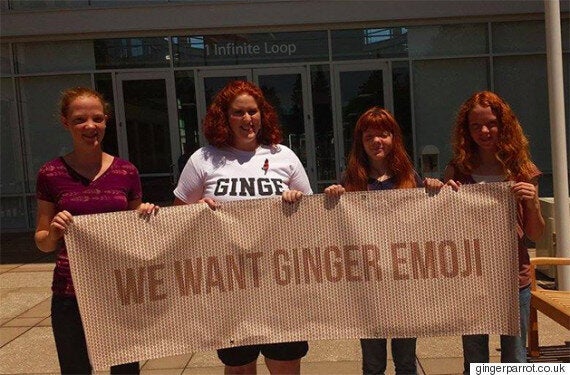 The banner features a tiny ginger emoji for every person that signed the petition
"When Apple released their 300 'diversified' emojis earlier this year, I was outraged that there was no redhead included (AGAIN), especially as they'd made a point to include every other natural hair and skin colour. It seemed ridiculous that this one was missing.
"I'm not saying there needs to be anything complicated about the design with freckles and all that, just one with ginger hair will make us happy for now."
Despite giving some of their most popular emojis options for both blonde and brunette hair, there was no ginger emoji added.