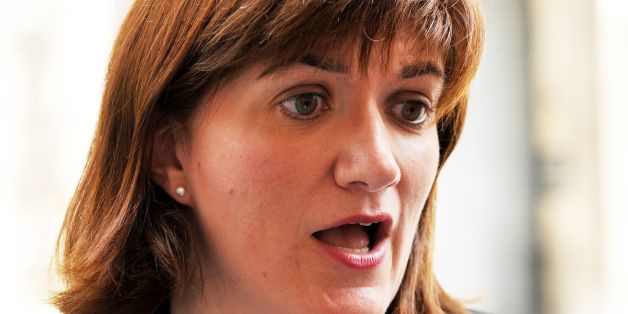 Nick Ansell/PA Wire
A slight subbing slip from journalists at the Evening Standard left two top Conservative MPs smirking, after the paper mistakenly said the pair were married.
Nicky Morgan, education boss, and David Gauke, the government's Financial Secretary to the Treasury, appeared in Tuesday afternoon's issue of the London daily, accidentally labelled in a picture caption as husband and wife.
Morgan's husband in real life is architect Jonathan Morgan.
Gauke was left bemused by the whole ordeal, tweeting: "A little surprised to learn from the Evening Standard that I am married to Nicky Morgan and called Jonathan."
A little surprised to learn from the Evening Standard that I am married to @NickyMorgan01 and called Jonathan. pic.twitter.com/KKJeVyPO7i

— David Gauke (@DavidGauke) July 14, 2015
Morgan has not yet responded to the editing error, although The Spectator assistant editor, Isabel Harman, commented that the Education Secretary looked "thrilled".
@DavidGauke she looks thrilled though.

— Isabel Hardman (@IsabelHardman) July 14, 2015
Others even chimed in with messages of celebration to the happy - and surprised - couple.
@DavidGauke @jessbrammar @NickyMorgan01 Congratulations on your marriage and name change.

— Kal S Dhindsa (@KhalSir) July 14, 2015
@DavidGauke @NickyMorgan01 lol Congratulations.

— Gene (@GeneGenieGene) July 14, 2015
@BBCEleanorG @DavidGauke @NickyMorgan01 ah wicked congrats

— James Charlton (@JamesCharlton25) July 14, 2015
@DavidGauke congratulations Jonathan.

— Giles Mooney (@GilesMooney) July 14, 2015
While it's likely this was simply a sub-editing slip, Morgan and Gauke could be taking advantage of a new Government proposal, revealed in Budget 2015, that would mean married couples would be able to pass on assets worth up to £1m without paying any inheritance tax.
READ MORE: