A shocking report has laid bare the extent of gender inequality in Britain, accusing businesses and politicians of failing to "put their money where their mouth is".
The paper, created by The Young Foundation, named after the sociologist Michael Young, claims that while the UK's "systemic" gender problems are on the agenda, businesses and government are not putting enough money into tackling the issue.
The 'Unequal Nation' research found that deep inequalities remain between women and men - and the situation may be getting worse.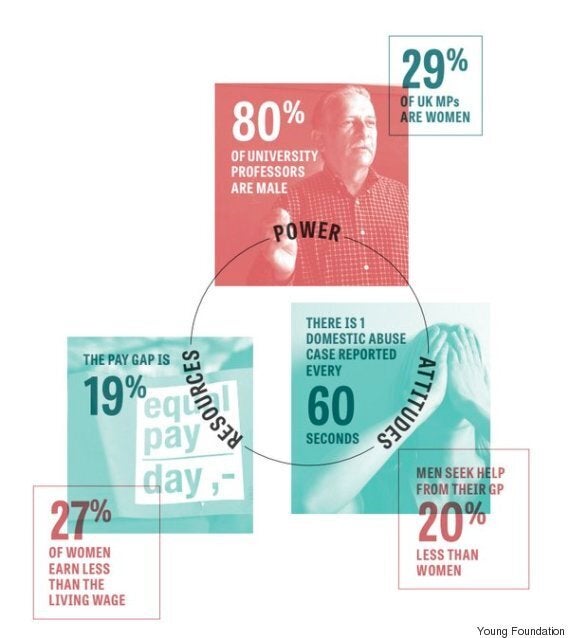 Stats from the Unequal Nation report
The gender pay gap in the UK remains at 19 per cent. The country has fallen from number ninth to 26th in the World Economic Forums global ranking since 2006, and also recorded its lowest overall score for equality since 2008.
Nearly a third of women are earning less than the living wage, 75 per cent of whom are bearing the worst of the benefit cuts.
The report's authors claim it is "a robust retort to those who claim that gender equality has been achieved" in the UK.
They say that despite the women's equality movement and the 'fourth wave' of feminism, funding to women's organisations and other gender equality work by social ventures, government and businesses remains minimal.
The issue is often seen by corporations as "the preserve of red tape, or a box to be ticked by the HR department," said Ceri Goddard, the Director of Gender for the Young Foundation.
"It's all about priorities - if we can build hadron colliders and smartphones, why can't we get the rape conviction rate above 6 per cent or deliver quality affordable childcare?" she told The Huffington Post UK.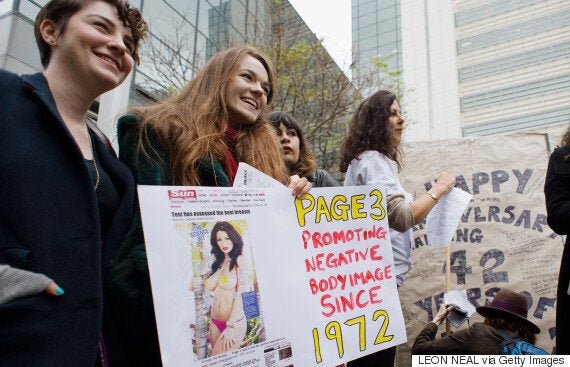 Campaigners against The Sun's Page 3 topless models which some saw as damaging to the perception of women
The Young Foundation report says: "The current spotlight on women and girls has had relatively little impact on improving the funding situation for a large majority of women's organisations around the world. In 2010, the median annual income of over 740 women's organisations around the world was just $20,000."
"Although one of the key achievements of the gender equality movement has been to gain broad recognition of this, progress in many areas remains extremely slow and in others has stalled. In some areas signs of regression and unraveling of previous gains are even visible."
Reviewing a wide range of recent research, the report claims gender inequality affects millions of people in Britain, both men and women, in three key areas:
WORK AND MONEY

27% of women (compared to 16% of men) are paid less than the living wage
Women are bearing the brunt, over 75%, of cuts to welfare benefits
Limited paternity pay still precludes fathers from playing a greater part in their children's lives

WELFARE AND HEALTH

An incident of gender-based abuse and violence is reported to the police every minute
Seven women are killed every month by partners or ex partners
Bullying of children who don't fit "gender norms" is still prevalent in schools

POWER AND LEADERSHIP

Unequal and limited representation of women in sport and culture, political, business and social spheres
The number of women on corporate boards and elected bodies has seen "some positive but limited progress"
The report's lead researcher, Freya Johnson Ross, said: "Our research reflects wider international findings that new forms of social finance, that is increasingly being relied upon to supplementing state spending, is not reaching the gender equality innovators who could effect change."
Goddard added: ''The current generation of women's and gender equality campaigners has shifted the dial so politicians, business and civil leaders are near united in their willingness to say things should change. But if you look at how powerfully gender inequality is still limiting peoples everyday lives you wonder what's it all for?"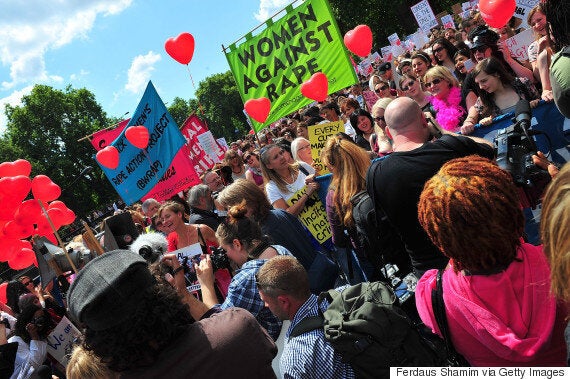 'Slutwalk' campaigners calling for and end to discrimination against women
"It's also not unreasonable to conclude that many of those in the position to change things either think gender inequality is inevitable or even desirable compared to the challenging the status quo," she said.
"We need to explore more why social investors are saying inequality is wrong, but not putting their money where their mouth is," Goddard added.
The report claims to be the first across-the-board review of the state of UK gender relations for several years, and looks at sources from academia and government, concluding it is "one of the greatest social challenges of our time".
It suggests that more work and funding could come from the booming area of 'social innovation' - businesses like The Big Issue, consumer groups Which? and Airbnb, and campaign groups like Everyday Sexism and Change.org, which are driven by a social conscience. These businesses could be natural champions for gender equality, the report explains, but many opportunities are "untapped". The Young Foundation calls on innovators and investors to "step up" to address this problem.
Anne Kazimirski, from the charity think tank New Philanthropy Capital, said the report's findings were not surprising. "At NPC we encounter issues around gender inequality right across the social sector, whether it's greater drops in wellbeing among teenage girls witnessed by the children's sector and identified in our data on children's wellbeing, or sexual abuse of a boy by a female perpetrator not being taken as seriously."
Hanna Naima McCloskey, a founding director of Fearless Futures, which works on empowering young girls in schools, said: "The problem is - that gender norms are (mostly) invisible - so we tend to operate unknowingly and unconsciously assuming that they are societal truths because we don't know what to look out for or how to challenge them."
[Story continues below slideshow]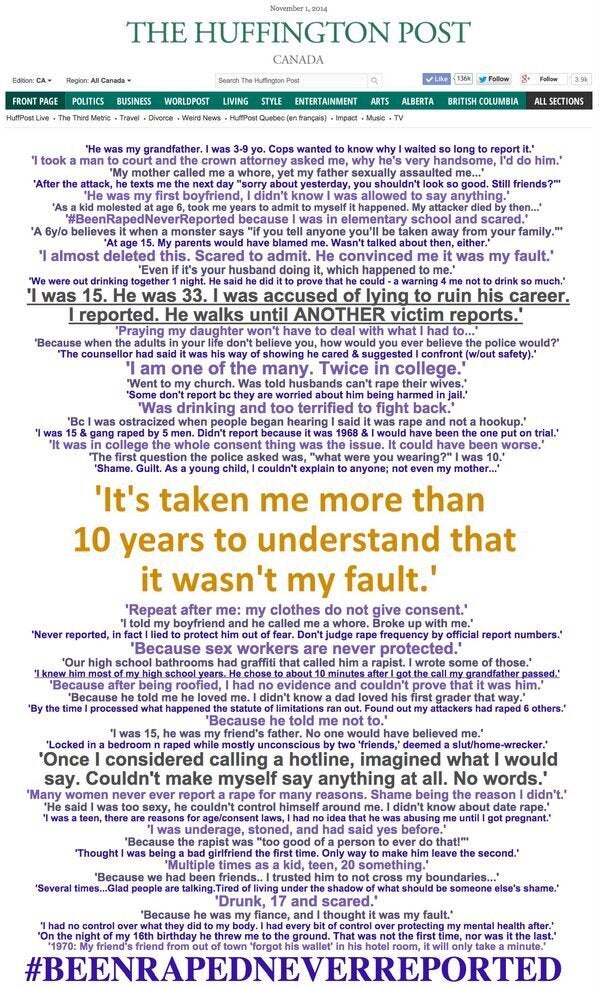 Great Moments For Feminism In 2014
The report also found that even early years education, for children under five, plays a vital role in perpetuating gender inequalities from a young age.
June O'Sullivan MBE, CEO of the London Early Years Foundation, told The Huffington Post UK the stereotypes mentioned in the report were "unsurprising".
"As a female leader of a childcare business which employs mostly women to care for and educate small children, with mostly female customers, I feel obligated to do the best I can to give them the greatest opportunities. This includes my attempts to support the involvement of men (staff and fathers) in order for children to see that the world has men and women in it who can all work well together.
"The conversation around gender equality needs to change and I think young people should lead that conversation.
"I worry that we are going backwards when I think about the pressures that young women and men face from the media around body image and celebrity culture. Instead of worrying about how to become famous, I think all young people should be galvanised to enter the work place and make real social impact and positive change in order to end gender inequalities."
Vivienne Hayes MBE, the CEO of the Women's Resource Centre, added: "We only hope that the Young Foundation's report is taken seriously and that some attention is now paid to how all government policies and initiatives disproportionately impact the lives of women and girls.
"We remain concerned that the misconception that we now have of sex equality is devastating the efforts we and thousands of women's organisations across the country make to address this inequality and the overwhelming lack of support for our vital and often life saving work."