Transport For London has warned that people who use Apple Pay on the London Underground could be in for a nasty surprise if their iPhone or Apple Watch runs out of battery.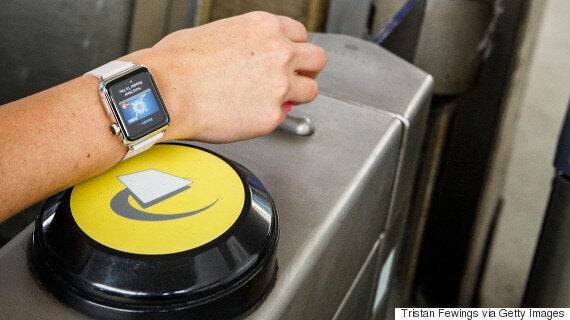 The website lists a number of potential situations where you'll be charged a penalty fare on its website, warning that users who want to travel by Tube should make sure their iPhone is charged appropriately.
"Your iPhone or Apple Watch must be switched on to use it to travel. You should also check that you have enough battery on your iPhone or Apple Watch to complete your journey."
The website goes on to warn that if either of these is not the case then:
You will not be able to touch out at the end and could be charged a maximum fare
If an inspector asks you to touch your iPhone or Apple Watch on their reader, it will not be able to be read and you could be liable for a penalty fare
Apple Pay launched in the UK on the 14 July, allowing users with iPhones and Apple Watches to pay for items at any contactless-approved retailer.
Setting up Apple Pay is really easy. Simply open up the Passbook app on your iPhone and you'll see that a new icon has appeared at the top asking if you'd like to set up Apple Pay.
Simply following the instructions and then hold your card in front of the iPhone's camera, it'll then automatically save the card onto the phone and you'll be good to go.
To use Apple Pay today you'll need to be banking with any of these:
NatWest
Nationwide
Royal Bank of Scotland
Santander
Ulster Bank
MBNA
Other banks including HSBC, Lloyds, TSB and Halifax will be added later in the Autumn.
Once the card is loaded you simply hold your iPhone near the terminal where you'd normally use a contactless card, keep your thumb resting on the Touch ID sensor and you'll hear a confirmation sound.
For Apple Watch, simply double-tap the side button and the default payment card will appear. Hold it to the payment reader and again you'll hear a confirmation sound.
Very. Using a system called tokenisation, the device never actually directly shares your bank details with the terminal, in fact the phone never has your bank card number to begin with.
When a card is added to Apple Pay, a Device Account Number is assigned to that card and then securely stored within the same chip as your Touch ID details.
There are many retailers on board including:
Lidl
McDonalds
Starbucks
M&S
Waitrose
Costa
Boots
Bills
KFC
Nandos
SPAR
Post Office
Le Pain Quotidien
Pret
Wagamamma
BP
Subway
More will be confirmed later in the Summer. You will also be able to use Apple Pay on any of the TFL's Oyster Card readers. Simply hold the phone over the reader while keeping your thumb on the Touch ID sensor and the payment will register.