A 91-year-old man has confessed to the previously-unsolved killing of a woman in 1946 - thought to be the longest ever period of time between a crime and a confession.
The unnamed man, who now lives in Canada, was apparently prompted to admit the crime following a cancer diagnosis, according to the Sun (£).
He confessed to shooting prostitute Margaret Cook, 26, outside the Blue Lagoon club in London's Carnaby Street, now well-known for shopping.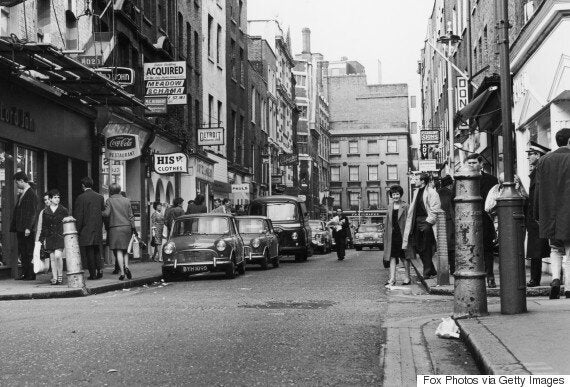 Carnaby Street went on to become a popular shopping area
Metropolitan Police detectives flew out to interview the man, who lives in a care home, and showed him pictures of 12 women, including Cook, and he successfully picked out his victim from the selection.
He said that he shot her with a WW2 Russian-made pistol after she cheated him out of money.
Newspaper reports at the time suggested that her attacker had been trying to take money from her.
They described a police chase of a man in a pork pie hat and Burberry-style raincoat in his mid to late twenties. The pursuit was unsuccessful, however, as the suspect vanished into the crowds.
Five years later, he moved to the eastern Canadian province of Ontario, where he eventually became a citizen.
According to the Sun (£), the Crown Prosecution Service applied for the man's extradition back to the UK last year, on the grounds there is a realistic prospect of conviction and it is in the public interest.
But Canadian authorities have not yet made a decision.
The alleged perpetrator's age and infirmity may affect whether he faces charges back in Britain.
At the time of the crime, the murderer could have faced the death penalty, which was not abolished until 1965.
No suspects ever came to light at the time and the case left detectives mystified.
There was a spate of prostitute murders following the end of the Second World War, leaving some concerned over the possibility of a serial killer.