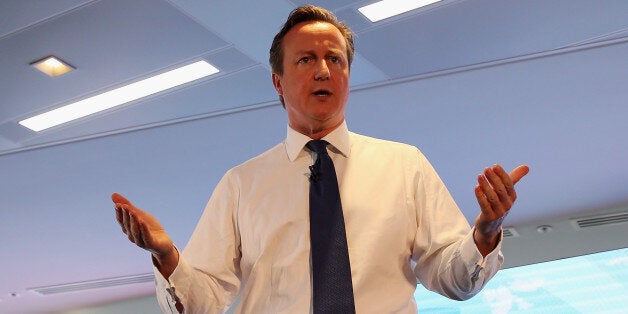 David Cameron has come under fire after Downing Street said it was 'a private matter' how he spent a £7,000 rise in his MP's pay.
The Prime Minister's official spokeswoman refused to say whether he would donate the 10% pay hike to charity as other Parliamentarians have vowed to do.
All MPs' salaries will go up from £67,060 to £74,000 following a decision today by the Independent Parliamentary Standards Authority (IPSA).
But the decision comes just a week after millions of nurses, teachers and other public sector workers saw their pay capped by George Osborne at 1% for another four years,
Asked today if the Prime Minister would pocket the money himself or or donate it to charity, his official spokeswoman said the issue was his own business.
"It is Ipsa that determines MPs' pay and therefore how much the PM earns as an MP. How he spends his salary is a private matter," she said.
"He disagrees with their decision today, but it is Ipsa, as an independent body that makes that decision. They have made it and they have made clear it will now go ahead automatically."
But despite No.10's reluctance to be seen telling MPs what to do, in an interview in Cornwall, the PM came close to saying he would indeed hand the cash to charity.
Asked directly if he'd donate the rise, he replied: "I may give....I give money to charity. This will obviously enable people to give more money to charity. But I think that's a private matter"
A source close to Yvette Cooper told HuffPost UK: "How you use taxpayers' money should not be a 'private matter'. Cameron should sort this IPSA issue and not hide."
IPSA tried to sweeten the pill of the bumper pay rise by describing the rise as a 'one off' increase, and recommended that future rises should match those in the public sector.
The pay rise will be backdated to 8 May 2015. MPs' pay will then be adjusted yearly in line with average earnings within the public sector, rather than being linked to the whole economy as previously announced.
IPSA said earlier this year that unless there is "new and compelling evidence," it would go ahead with the bumper rise
The watchdog today stressed that cuts in MPs' pensions and expenses - such as claiming evening meals and taxis home - means the overall package of changes will not cost taxpayers "a penny more".
Its detailed report revealed that some MPs were brave enough to back the pay hike.
But the near £7,000 rise prompted an instant reaction from the Labour leadership contenders, with Yvette Cooper attacking Mr Cameron for refusing to stop it.
The Prime Minister has in the past branded any inflation-busting pay boost as "unacceptable" at a time of austerity and last month Downing Street suggested he would keep the money himself.
Some MPs have said they would 'refuse' the money but it is understood that the rise will automatically go into their bank accounts.
When the plan for the rise was initially floated in 2013, some MPs vowed to donate the increase to charity.
Education Secretary Nicky Morgan, SNP leader Angus Robertson, Tory backbencher Chris Skidmore and Lib Dem leadership contender Tim Farron have all said they would hand over the rise to charitable groups.
Foreign Secretary Philip Hammond said in 2013 he would not accept a pay rise while the rest of the public sector was being restrained. Michael Gove, now Justice Secretary, famously declared that Ipsa could "stick" their pay rise.
But others, like Tory backbencher Andrew Bridgen, have said that it would be 'the worst kind of politics' to adopt the 'gesture politics' of giving the money away.
Some Twitter users were sceptical about the final announcement today.
But Mr Cameron has a PR problem in donating any rise to charity as his actions put huge pressure on his own MPs to follow suit, and several backbenchers point out they don't have a ministerial or Prime Ministerial salary.
Asked directly if the Prime Minister would give the expected rise in his own salary to charity, his official spokeswoman replied a few weeks ago: "If Ipsa determine that MPs get a pay increase, then MPs get a pay increase."
Yet in 2013, the PM had himself kept open the option of changing the statutory remit of IPSA. He said: "IPSA do need to think again and unless they do so I don't think anyone will want to rule anything out."
Today, IPSA Chair, Sir Ian Kennedy, said: "Parliament gave IPSA the power to deal with the vexed issue of MPs' pay – independent of Parliament and Government.
"Pay has been an issue which has been ducked for decades, with independent reports and recommendations from experts ignored, and MPs' salaries supplemented by an opaque and discredited system of allowances.
"We have made the necessary break with the past... In making this decision we are very aware of the strongly held views of many members of the public and by some MPs themselves. We have listened to those views. We have made an important change to the way in which pay will be adjusted annually. Instead of linking MPs' pay to wages in the whole economy, it will be linked to public sector pay.
"Over the last Parliament, MPs' pay increased by 2%, compared to 5% in the public sector and 10% in the whole economy. It is right that we make this one-off increase and then formally link MPs' pay to public sector pay."
Labour leadership contenders Andy Burnham, Yvette Cooper and Liz Kendall have all declared they would forego the rise and today Ms Cooper said she'd look at giving it to local apprenticeships in her constituency.
The proposals have caused bitter divisions among MPs, with some decrying the award and others arguing they have been underpaid for decades.
Today, IPSA revealed detailed responses from those MPs who backed the pay increase.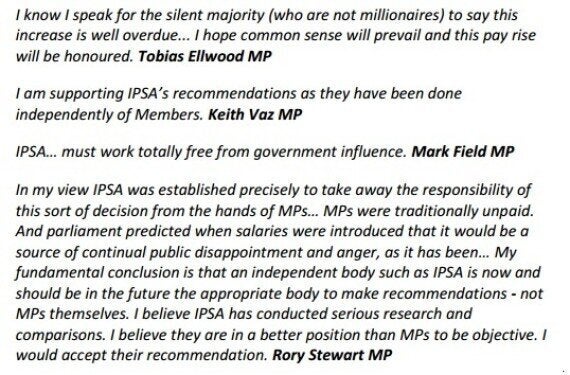 The public were less impressed in some of their own responses in the report.

Under pressure, the Government formally expressed its opposition to an increase in a letter to the watchdog's final consultation on the plans last month but that's fallen on deaf ears.
To head off criticism, Mr Cameron has already imposed a freeze on the ministerial element of pay to ensure he and other Cabinet ministers are not seen to profit.
Some MPs want the rise as they believe their pay has failed to keep pace with comparable jobs in recent years, arguing that it is turning politics into a 'rich man's game'.
Others feared the public backlash but blocking any pay rise would require a change in the law that handed responsibility for pay-setting to IPSA in the wake of the expenses scandal.
The decision to back off a longer term plan to put up MPs' pay in line with average earnings is some progress for MPs who objected to the original recommendations.
OBR forecasts show average earnings going up 3.1% in 2016, 3.7% in 2017, 4% in 2018, and 4.4% in 2019. That would have meant MPs earning just under £86,000 by 2020 - a rise of £19,000 over a single parliament.
The TaxPayers' Alliance today said: "This unaccountable body is doing our MPs a great disservice: the invisible quangocrats at IPSA may have made this regrettable decision, but the public will inevitably direct their anger at their elected representatives in Parliament.
"Make no mistake: IPSA's decision to hand MPs a huge page rise is totally misguided, and the public won't forget it."