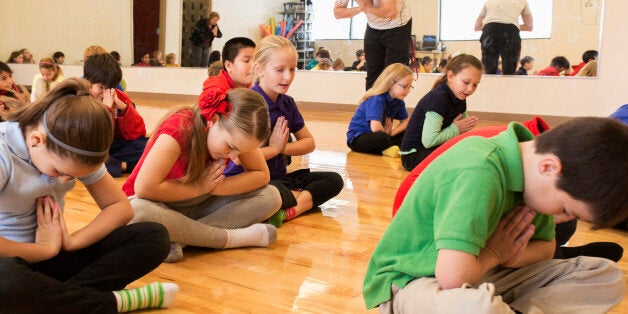 Teenagers across the UK are to have school lessons in mindfulness, as part of an experiment to determine whether such training can protect against mental illnesses.
Around 6,000 11 to 14 year olds from 76 schools will participate in the trial, which will see teachers encouraging their students to use mind exercises to train their attention, such as deep breathing.
The study, conducted by the Wellcome Trust, will teach youths about "thought buses", where they are encouraged to think of their thoughts as buses they can choose to board or let pass them by. They will also be taught deep breathing techniques - counting in for seven seconds and breathing out for 11, known as the 7/11 technique.
It will be the first large randomised control trial of mindfulness ever, and will determine whether mindfulness can improve mental resilience.
More than 75% of mental disorders begin before the age of 24, with 50% starting before the age of 15. Scientists believe just as physical training is associated with better physical health, psychological resilience training can be linked to better mental health.
Claire Greaves, a 23-year-old who fought a long battle against anorexia and regularly speaks publicly about her mental illness, told HuffPost UK: "Mental health wasn't mentioned when I was in secondary school and that was only a few years ago.
"I didn't know how to cope with my mental illness and I didn't even realise that I was unwell, I just thought I was weak and pathetic. I'm now in dialectical behaviour therapy and mindfulness is a core part of that, it's improved my mental health hugely but I wish I'd been taught these skills as a child.
"These skills are life changing and life saving."
"Mindfulness training is a very popular technique that has been found to be very effective in preventing depression and promoting mental health in adults," the Trust says. "This programme of research seeks to answer whether mindfulness reduces the incidence of depression and associated mental disorders in teenagers by improving their ability to employ problem solving skills in the face of emotional distress, intrusive thoughts or behavioural impulses."
The trial is expected to begin in late 2016, and will run for five years, including a follow-up period of two years for each student.
"Key outcomes researchers will be looking for are: risk of depression, social and behavioural skills, and well-being," the Trust adds.
"Researchers are also looking at secondary outcomes of mindfulness training including peer relationships, anxiety, student attainment and teacher well-being."
The £6.4m programme will be carried out by teams at the University of Oxford, University College London and Medical Research Council. Professor Willem Kuyken, one of the lead researchers in the trial, said: "Mindfulness is a form of 'mind exercise' as it's a way that we can improve our mental health.
"Just as brushing your teeth or going for a run are well known ways of protecting general physical health, mindfulness exercises develop mental fitness and resilience.
"What this project is trying to establish is whether teaching teenagers mindfulness techniques can improve their attention and resilience, two key skills for maintaining good mental health."
Paula Kearney, a geography teacher at the UCL Academy in Swiss Cottage, London, who has given mindfulness training to her students, said she had had "very positive" feedback.
"I find that mindfulness techniques are used by different students in different ways, for example some might prefer breathing techniques, whereas others find visualising thoughts more helpful.
"Mindfulness gives my students specific skills and tools which they can use if they want to, it's not about making them advanced practitioners or making time for mindfulness compulsory. A lot of my students use the techniques they like, for example the 'thought bus', more often than just during lessons or times of stress, but also at home."
Speaking to the BBC Radio 4's Today programme, Kuyken, who is also director of the Oxford Mindfulness Centre (OMC), said the technique was "just at the beginning of being used".
"In terms of teenagers' mental health, I would say there is preliminary evidence that this is an acceptable and tractable way of working in schools.
"We have promising evidence that it's effective, but what we really need now is a large scale properly designed trial to definitively answer does it work in terms of promoting resilience, reducing risk, over longer term follow ups."
Students at the UCL academy who have trialled the mindfulness programme told the radio station of two particular techniques being used: "Feet on Floor, Bum on Chair" (FOFBOC) and the 7/11 process.
Prof Kyuken elaborated on FOFBOC: "It's a very simple technique were you invite children to bring their attention to their feet and their bottoms."
"It's a playful way of training attention, whereby people would take their attention away from worrying thoughts."
Both the "school climate" and "classroom climate" will be assessed. A further, lab-based part of the study will focus on "whether mindfulness training is more beneficial at some stages of adolescence than others", he added.
"Over 24 months researchers will assess whether mindfulness training in nearly 600 participants aged 11 to 16 improves their self-control and emotion regulation."
The third and final part of the study will have researchers at the Universities of Oxford and Exeter assessing how best to train teachers to deliver mindfulness to their students.
It will involve 200 teachers and analyse the cost effectiveness of ramping up teacher training.
This study comes at a time when studies show one in 10 young suffer from mental health problems.
Three in four young people fear the reactions of their friends when they talk about their condition.