A petition to reverse the Government's decision to approve a puppy farm in Hull has been signed by over 365,000 people.
The Change.org campaign comes just days after Communities Secretary, Greg Clark, approved plans by Yorkshire Evergreen - part of US animal supplier Marshall BioResources - to breed beagle puppies and other animals for drug testing at a site in Grimston, near Hull.
Emma Hart, who started the petition, wrote: "The government have just given the go ahead for a puppy farm in Hull to supply animals to laboratories for testing.
"These beautiful and loving animals will never know love compassion, just pain, suffering and neglect! It's WRONG and CRUEL!!!!"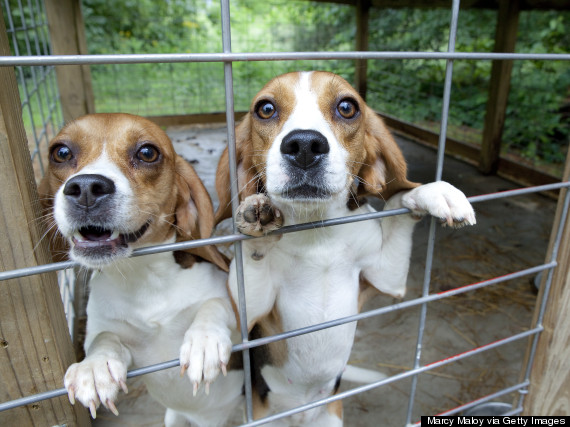 The farm will breed beagle puppies for animal testing
Leading animal rights campaigners have spoken out against the approval of the controversial farm, with the National Anti-Vivisection Society (NAVS) calling it a "betrayal of the animals, the public and science".
Ricky Gervais and Brian May were amongst the celebrities to openly criticise the plans.
They can't torture the foxes so they'll torture the hounds. Government allows beagles to be bred for testing http://t.co/4pUAevfRsA

— Ricky Gervais (@rickygervais) July 16, 2015
He later took to Facebook to share his support of the petition:
Queen guitarist May said: "I am sickened to hear that this facility is to go ahead, ignoring the views of the public and local authorities and condemning these best friends of man to thousands of unethical and unnecessary tests. This is an appalling message to send out to the world."
Proposals for the "beagle farm" were initially turned down by East Riding Council after more than 100,000 people signed petitions opposing the scheme in 2013.
The decision coincided with a British Union for Abolition of Vivisection (BUAV) report claiming to show dog experiments are not necessary for drug development. .