 A Tory minister who earns almost £90,000 has apologised for saying he would have to "watch the pennies" if MPs did not get a £7,000 pay rise.
Tobias Ellwood, a junior Foreign Office Minister, claimed he would struggle financially without the wage increase in a letter to the Independent Parliamentary Standards Authority (IPSA).
His comments provoked outrage among his Bournemouth East constituents, with one calling him "a disgrace to the local community" via Mr Ellwood's official Facebook page.
Mr Ellwood used the page to apologise for any offence caused, but did not apologise for backing the wage increase.
He posted: "A number of constituents have expressed understandable concern regarding my confidential submission to the IPSA consultation on MP's basic pay. I recognise that this was inappropriate and insensitive. Constituents' comments have been a stark personal reminder of the challenges everyone is facing and I am the wiser for it. I apologise for the offence I've caused.
"This submission was a private attempt to underline a genuine concern that a failure to properly align MP's basic pay (not taking into account any additional ministerial responsibility payment) to that of similar public sector positions is affecting the very makeup of the House of Commons."
Alongside his basic MP salary of £67,060, Mr Ellwood earns an additional £20,000 as a Foreign Office Minster.
Last year he claimed £55,828.96 in expenses - £27,192 in rent, £148.80 in taxis and £83.55 for teas and teas.
Mr Ellwood wrote: "I know I speak for the silent majority (who are not millionaires) to say this increase is well overdue.
"I never expected to be watching the pennies at my age and yet this is what I now have to do."
He added: "Those who are vocal about turning down the MPs' increases have all acquired considerable wealth and can afford it.
"Without a competitive salary you will fill this place with rich people and not those such as me who have taken a salary cut to serve here.
"In addition, as an MP, I have no hospitality budget so when, for example, the Mayor of Bournemouth comes up for an annual lunch at the House of Commons, the bill comes out of my own pocket.
"I exhaust my car travel mileage, as I return to Bournemouth most weekends and my wife exhausts her rail travel allowance for the same reason. So we have to pay all this extra ourselves."
In his post on Facebook, Mr Ellwood conceded his comments had "underlined the perception that MPs are out of touch".
He added: "That is something I very much regret and must now focus on repairing."
His apology appeared to do little to quell the outrage on social media, with one Facebook user, Leah Hooten, writing: "You have to watch the pennies?? Im a ward sister at a local NHS trust and earn a quarter of what you earn!!!! Me and my husband both work long hours supporting our three children, we do not qualify for tax credits. You have got you outrageous pay increase, i have had pay frozen when every other expense, such as childcare, increases. Your Statement about watching the pennys is clearly showing how detached from society you are. How do you think the majority of the population are surviving if you on your 90k is struggling to budget?!!! Get real!!!! Your comments were insulting. Why dont you get out there and live a week in our shoes? See how the real world get by!!!"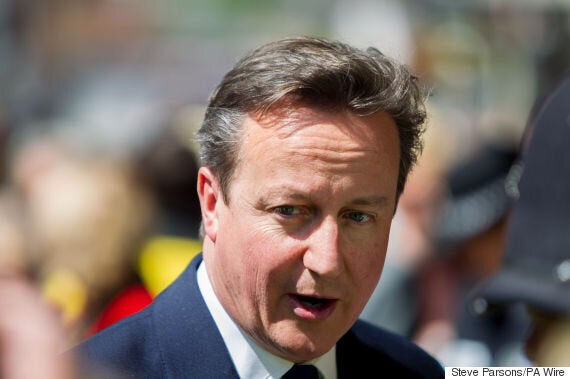 David Cameron has refused to say whether he would give this pay rise to charity
The increase in MPs pay comes at a time of public sector pay restraint.
Many parliamentarians have vowed to give the pay rise to charity, including Education Secretary Nicky Morgan, SNP leader Angus Robertson, Tory backbencher Chris Skidmore and Lib Dem leader Tim Farron.
"It is Ipsa that determines MPs' pay and therefore how much the PM earns as an MP. How he spends his salary is a private matter," she said.