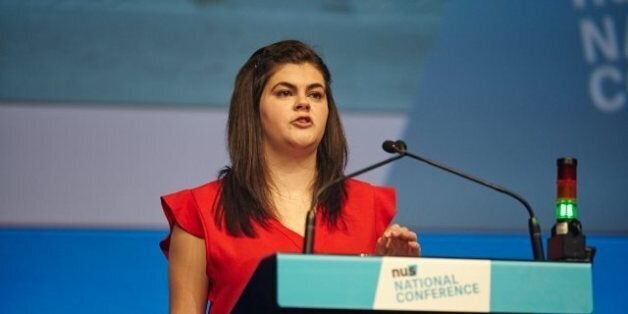 The National Union of Students has censured its own president for allegedly failing to implement a boycott on Israel, by agreeing to a deal with Coca Cola.
The motion against Megan Dunn, which was passed on Monday, focuses on the acceptance of a sponsorship from Coca Cola for the NUS' awards, which were held earlier this month.
It stated: "To formally censure Megan Dunn, to mandate the NUS president and vice-president Richard Brooks to publish a formal apology stating that it was a mistake to accept Coca Cola's sponsorship."
According to the motion, the drinks giant is a target for the Boycott, Divestment and Sanctions Movement, which aims to put pressure on Israel to recognise Palestinian rights, and which the NUS is signed up to. Despite protests, the union renewed its commitment to boycott Israel in June, after voting in favour of BDS in August of last year.
Several NUS officers boycotted the awards ceremony in protest, saying Coca Cola operated factories in illegal Israeli settlements.
"The Central Bottling Company Ltd, which operates the Israeli franchise of Coca Cola as 'Coca Cola Israel' from production to distribution Coca-Cola, operates factories of the illegal Israeli settlements of Atarot, Shadmot, and in the occupied Syrian Golan Heights," a statement released at the time read.
"There is thus a clear, direct line of accountability whereby Coca Cola, through its operations in Israel, is active within illegally occupied territory, in the process keeping occupation a viable exercise for the Israeli state.
"The responsibility thus lies on NUS to implement its policy and break ties with the company until it at the very least ends complicity in the Israeli occupation."
The NUS decided working with the company was not against the BDS policy, saying it "prides itself" on its relationship with partners such as Coca Cola, the Times Higher Education reported.
Dunn, who describes herself as a "diet coke" drinker in her Twitter bio and was only elected president in April, tweeted an open letter signed by several student union presidents calling on the motion to be rejected.
"Instead of seeking to improve our student's lives, this motion seeks to play politics and undermine the National President," it read. "Furthermore the action taken at Students' Unions 2015 has damaged our faith in our NUS and the NEC, whom should be responsive and accountable to us."
The Union of Jewish Students said more than 150 student representatives had written an open letter calling for the motion to be opposed.
Related