The Department of Energy and Climate Change (DECC) this afternoon revealed it was scrapping the Green Deal Finance Company, which provided loans for people to insulate their properties.
DECC claimed it was axing the scheme to "protect taxpayers", and did not announce a project to replace it.
Green MP Caroline Lucas accused Mr Cameron of taking a "wrecking ball" to the green sector.
She said: "David Cameron had the audacity to again call his government the 'greenest ever' today – at the very same time as he takes a wrecking ball to key climate and energy policies."
Ms Lucas added: "The fact is that the Green Deal never did enough to roll out the home energy efficiency schemes this country desperately needs. But the Government's rhetoric – which suggests that cancelling the scheme is good for taxpayers – is deeply flawed."
"The Government should be putting home energy efficiency at the very top of its infrastructure priorities – not cutting away at the schemes already in place. We need an ambitious energy efficiency programme for lower bills, decent jobs and to stand any chance of meeting our climate targets."
The latest attack on the green sector comes in the same week as the Tories unveiled plans to slash subsidies to solar power projects – with opponents claiming it would take Britain's renewable energy sector "back to the dark ages".
Energy and Climate Change Secretary Amber Rudd claimed her first priority in her job was to get spending under control.
She said: "We are on the side of hardworking families and businesses – which is why we cannot continue to fund the Green Deal.
"It's now time for the building industry and consumer groups to work with us to make new policy and build a system that works."
Labour's Shadow Minister for Energy and Climate Change, Jonathan Reynolds, hit out at the timing of the announcement, coming two days after Parliament went into recess for the summer.
He said: "This is the second major announcement in the two days that the House of Commons has been on recess and it is clear the Department is in complete disarray. With more than two million households in fuel poverty, the Government urgently needs to lay out what plans they have to replace the Green Deal."
Mr Reynolds added: "The Green Deal was billed by the Government as 'the biggest home improvement programme since the Second World War' but has been a flop from start to finish. Today's announcement simply serves to confirm that the Government's approach to energy efficiency has been a complete and utter failure.
"Installing energy efficiency measures in the home is an important way of getting consumer bills down, but the Green Deal never represented value for money."
Mr Cameron hit back at his detractors and argued his administration had done a great deal for the environment and renewable energy.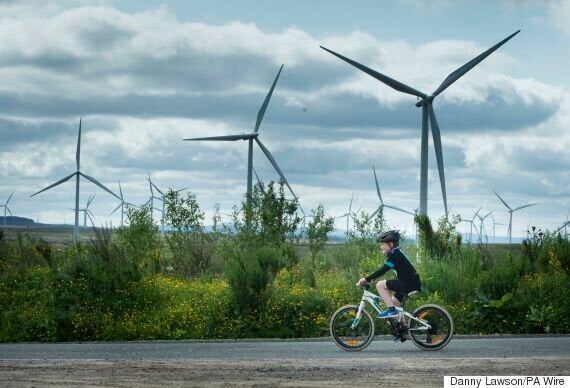 Cameron claims his government has done a lot for renewable energy
Speaking at the rural festival The Royal Welsh Show in Builth Wells, mid Wales, he said: "I believe we've been the greenest government ever and we've made great pledges in the last parliament which we've kept – like the world's first green investment bank, which is spending billions of pounds of investing in green energy.
"We have seen a massive increase in investments in renewable energies....we are now close to having 10 per cent of our electricity needs being met by onshore wind. We have the world's largest off shore wind market."
Twitter users did not seem particularly impressed...
Mr Cameron spoke to reporters as news broke that there was to be a temporary lifting of a European Union ban on neonicotinoid pesticides.
Farmers' groups have welcomed the move, but environmentalists have condemned it.
Cameron said: "We should follow the science. The EU put in place the ban on neo-nics, but we have to be informed by the science and if scientists start telling us that these things are safer than they thought then perhaps we can license them.
"But we do have think very carefully about these things. My view as someone from a rural constituency is that we should listen to the local experts such as the beekeepers and see what they have to say."
The National Farming Union was pleased about the relaxing of rules on two types of neonicotinoid pesticides – but claims the changes did not go far enough.
NFU vice president Guy Smith said: "We're glad to finally see a positive result.
"However, we know that this isn't enough and the extremely limited nature of this authorisation is unfortunately not going to help the vast majority of farmers in need of the protection."