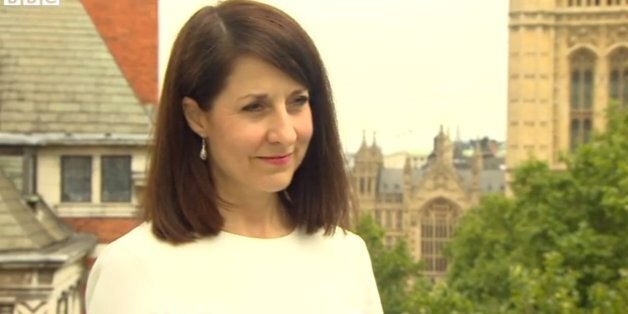 Labour leadership contender Liz Kendall has dismissed calls to quit the race to see off left-winger Jeremy Corbyn as she warned the party of heading into the "wilderness for generations".
Briefings to national newspapers that Ms Kendall was under pressure to step down to unite moderates forced the Leicester West MP to say she would be in the contest "until the bitter end".
Her defiance comes as former deputy leader John Prescott slammed Tony Blair for saying Corbyn supporters needed a heart transplant, and a wave of Shadow Cabinet ministers said they would refuse to serve under him against warnings from party big beasts.
After Team Kendall sent texts to journalists this morning confirming she would not be standing, Ms Kendall appeared on the BBC to underline the point.
Asked if she would stand aside, she said: "No. You never stop fighting for what you believe in. I'll be fighting for what I believe in until the bitter end.

"I don't think that sticking to Labour's comfort zone that saw us lose the last two elections is right and neither do I want to see the party I love turn into a party of protest because then we will be in the wilderness for generations.

"I have an alternative argument to make that will help Labour win so we can change the country for the better."
The poll had Mr Corbyn on 43%, Andy Burnham on 26%, Yvette Cooper 20% and Ms Kendall 11%.
The Mirror reported Shadow Cabinet members were in open revolt, plotting Mr Corbyn's downfall and seven vowed never to serve under his leadership.
At a hustings hosted by LBC Radio, Ms Kendall ruled herself out of a frontbench job under Mr Corbyn, and Ms Cooper said the prospect was unlikely.
Shadow Business Secretary Chuka Ummuna said the party was "still grieving" and that he would not serve under Mr Corbyn, as did Emma Reynolds, the Shadow Communities Secretary.
"I would definitely not serve in a Corbyn shadow cabinet," she told the newspaper. "You can quote me on that. It is not going to happen."
Ex-deputy Prime Minister Lord Prescott this morning urged the party to "calm down", but fuelled tensions on BBC Radio 4's Today by adding that Mr Blair's suggestion that those who backed Mr Corbyn in their hearts should get a transplant was "unacceptable".
But other Labour grandees have waded in warning of the impact of Mr Corbyn's rise. Alan Milburn said the party has "a death wish" if it votes him leader and Lord Mandelson said the "existence of the Labour party as an effective electoral force" is now at stake.
Local Labour parties have also swung behind Mr Corbyn too. A barometer of popularity, 78 constituency parties have backed him, while Mr Burnham has bagged 73, Ms Cooper 64 and Ms Kendall 12.