As if the Labour leadership contest, in which parliamentarians voted for a contender they didn't actually want to win, wasn't confusing enough already. Now we have this interview between Sky News journalist Kay Burley and Brent Central MP Dawn Butler.
Butler was repeatedly questioned by Burley over her decision to put Jeremy Corbyn on the leadership ballot, despite actually wanting Andy Burnham to win.
The tense interview, in which neither one of the pair seemed to get their message across, eventually ended with the Labour MP asking Burley "What's wrong with you?".
Tory MP and government whip Gavin Barwell has come out in support of Butler, tweeting:
And Butler herself was pleased and surprised to have started her own hashtag: #WhatsWrongWithYou:
In the interview, Butler explained that she didn't regret her decision to nominate Corbyn for the ballot: "I accept that responsibility. I'm glad I nominated Jeremy. I think it was our duty as MPs to make sure that we had as many different people on the list as possible, so that we could have the widest possible debate in the party."
"You'd like him to win?" Burley asks. "I don't think he will win, I nominated Jeremy..." replies Butler.
"That wasn't my question, with respect," interrupts Burley. "Yes, but I'm answering," says Butler.
"No, you're not. No no, my question is, do you want him to win?" replies Burley.
Butler replies: "And I'm going to answer you Kay, just calm down. So what I'm saying is, I nominated Jeremy, I'm happy that I nominated him. I don't think he will win, the person that I'd like to win would be Andy."
After a pause, Burley asks again: "Do you want him to win?"
"I'd like Andy Burnham to win," Butler repeats, "because I think Andy is the leader that we need to take the party forward and to actually unite the party, so I'd like Andy Burnham to win."
"So what was the point of voting for Jeremy Corbyn to be on the ballot paper in the first place?" Burley responds.
"Because, as I said right at the beginning," said an apparently exasperated Butler, "it was our responsibility as MPs to make sure we had the widest possible debate."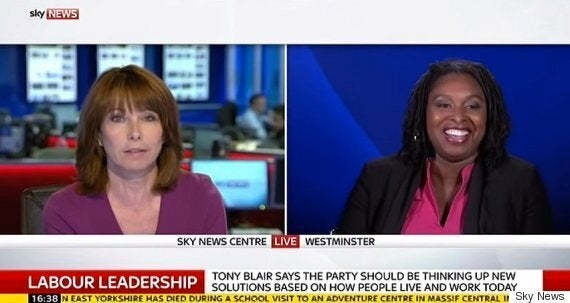 Burley's reaction to being asked "What's wrong with you?"
Burley continues to press her on the same point, asking: "What's the point of putting somebody on the ballot paper if you don't want them to win?"
Butler repeats her explanation again before saying "I don't know, you say that politicians don't answer the question, I've answered it three times, and then you're asking me the same question again."
Their exchanges continue to become tense, especially as they debate whether Burnham had said he would have Jeremy Corbyn in his shadow cabinet if elected.
"Don't tell me he didn't say it because he did, what's wrong with you?" says Butler, laughing.
Butler's microphone later appears to be muted, after she says that she doesn't understand Burley's question.
Speaking to the Huffington Post UK, Butler said she was "extremely frustrated" that Burley continued to ask the same question repeatedly, but added that at least the interview has evoked a discussion about politics.
Butler said: "Not listening, it's frustrating. The great thing is I should be thanking her because there are lots of people who now understand the process [selecting a new Labour leader].
"Really, I suppose I should thank her because, ultimately, it's nice to get people involved in the political discussion."
Butler said she "loves" the 'what's wrong with you' hashtag and said that, after answering the same question three times, at least there can be no doubt about where she stands in the Labour leadership race.
WATCH KAY BURLEY'S BEST BITS: