Boris Johnson was left red-faced today after Theresa May poured cold water on his plans to allow the use of water cannon.
Boris on his redundant water cannon

July 15, 2015
But the Mayor of London looked even more upset when Kay Burley read out a few suggestions of other uses for the crowd control tool.
The Sky News presenter asked Johnson: "We've been asking people on Twitter this afternoon what you should do with these water cannon given that you can't use them at least for now. Some were suggesting that you could shower elephants, others were suggesting it could be a gameshow and were suggesting that maybe you could use them to wash your hair. What do you think?"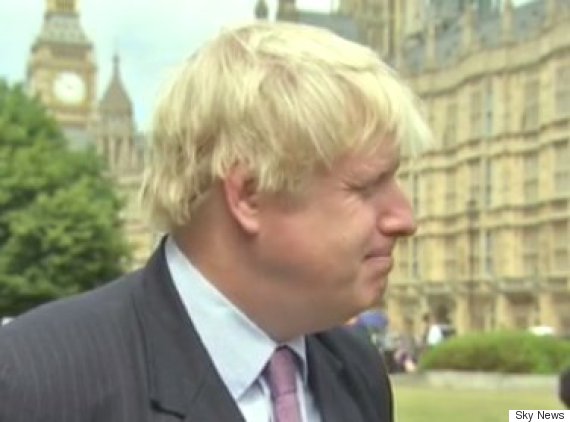 Not a happy bunny
It was exit, stage right for Boris.
"All suggestions greatly received Kay, if you don't mind I've got to go off and give an interview to someone else, I'm so sorry to tell you," he responded.
An amused Burley told the audience: "Well we thought it was funny."
There have also been plenty of other suggestions on how best use the defunct cannon...
£250k is "chickenfeed" for #Boris. He can buy the #watercannon & hire them to his friends to water their peacocks or something. #DragonsDen

— jacqueline (@jacqc1) July 15, 2015
I guess Boris could give the #watercannon to the Fire Service to replace all the stations he's cut. #austerity #makedoandmend

— Simple Si (@DadAndTwo) July 15, 2015
Boris. Thames Valley Autotrader.

#WaterCannon pic.twitter.com/edJiL07WWl

— Algy Gloryhole MP (@eversotired) July 15, 2015
Please, can we still try them out on Boris? RT @alextomo: Home Sec Theresa May refuses to let English and Welsh police use watercannon

— Rick Light (@CoercinABull) July 15, 2015
Nevermind Boris, some of your pals might need a moat filled. #WaterCannon

— K♠z (@Culture_Agent) July 15, 2015
Boris can use those water cannon of his to defend his island from dolphins or something #realworldpolitician

— Al Murray the 318 (@almurray) July 15, 2015
The Home Secretary announced this afternoon she would not be giving permission for police to use water cannon as part of riot control techniques, citing safety fears as a major factor.
The ruling, supported by Labour, is an embarrassment for the London Mayor, who spent £218,000 on three German water cannon last year.
But after the announcement Mr Johnson vowed to keep then, and said he would not hesitate to reapply for permission to use them if there were riots on the streets of London.
SEE ALSO: