An independent investigation into people who die in police custody could turn out to just be "a PR exercise," a campaigning charity has said, after it was revealed such deaths have reached a four-year high.
The probe was announced just before it was confirmed 17 people died in or shortly after being released from police custody in 2014/15, an increase on 11 the previous year and the highest since 2010/11, when 21 people died.
Eight of the 17 had mental health issues, including schizophrenia, bipolar disorder, depression and paranoia.
The independent investigation, announced just before the latest statistics were published, will look at the use of restraint, access to mental health facilities and how deaths are investigated.
Home Secretary Theresa May warned each death can "underline dramatically the relationship between the public and the police".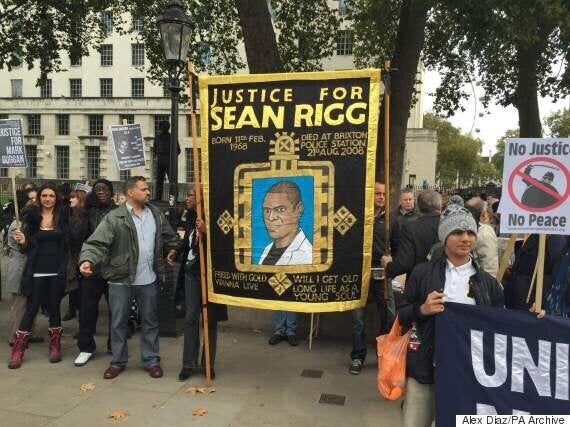 Families and friends of people killed in police custody march from Trafalgar Square to Downing Street
But Inquest, a charity that campaigns on behalf of the families of people who die in state custody, said that it could become "another review that fails to produce practical recommendations and whose report gathers dust".
Deborah Coles, co-director of the charity, said: "It must address why so many previous recommendations from reviews, inquiries and inquests have not been acted upon.
"It is too early to tell if this is more about a public relations exercise than a real attempt to bring about effective systemic change and the necessary accountability of police officers."
One of those consulted over the probe was Marcia Rigg, whose brother Sean Rigg died in 2008 in Brixton Police Station after suffering a psychotic episode and prolonged restraint by officers.
In April, Ms Rigg blogged for HuffPost UK on mental health, saying she was frustrated at the number of reports on custody deaths that found the same issues and made similar recommendations.
"I am tired of reports and recommendations. What we really need now is a culture change in our attitude towards the mentally ill and policies that reflect the magnitude of the issue," she wrote in the blog for our Beyond The Ballot series before the election.
Speaking about the Home Office investigation, she said: "There is a clear need for a radical overhaul of how the whole system works following a death in police custody, and I hope that the independent review will address this, as well as the root causes of these avoidable deaths and ensuring accountability for those who fail in their duties to members of the public."
Ajibola Lewis, the mother of Olaseni Lewis, who died after being restrained by police in a mental health hospital, said: "If the review is going to be more than an exercise in public relations, and if it is to enjoy the confidence of families in our position, it must find a meaningful way to learn from and reflect our experiences.
"We find deep seated and repeated failures on the part of all of the agencies of the state to whom we look to take responsibility to investigate and prevent such deaths, including those concerned within the senior management of our police service, the Independent Police Complaints Commission, the Crown Prosecution Service and the coroners' courts."
Dame Ann Owers, who chairs the Independent Police Complaints Commission that investigates all deaths in police custody, said: "It is essential for the families of those who died that they know and understand what happened and why.
"Regrettably, our investigations have too often exposed the same issues: inadequate risk assessments; token checks on a person in custody; insufficient handovers between custody staff; a failure to recognise or properly deal with people with mental health concerns or substance abuse issues; poor liaison between police and other agencies."
In a speech this afternoon, Mrs May is due to say: "I have been struck by the pain and suffering of families still looking for answers, who have encountered not compassion and redress from the authorities, but what they feel as evasiveness and obstruction.
"I have also heard first hand the frustration of police officers and staff, whose mission it is to help people but whose training and procedures can end up causing bureaucracy and delay.
"No one - least of all police officers - wants such incidents to happen, and I know everyone involved takes steps to avoid them.
"But when such incidents do occur, every single one represents a failure."
Popular in the Community