The amendment, backed by the NRA, also stops any future legal move to ban the carrying of concealed weapons by the citizenry. Anyone can sell guns in Louisiana; dealers do not require licenses. Citizens can buy as many guns as they want, whenever they want. There is also no restriction on the types of firearms people can buy, including assault weapons.
The NRA claims that lack of gun control leads to a safer state. What stops a "bad guy with a gun?" A "good guy with a gun," as the organisation repeatedly suggests. Yet no "good guy" stood up in the movie theatre on Thursday evening.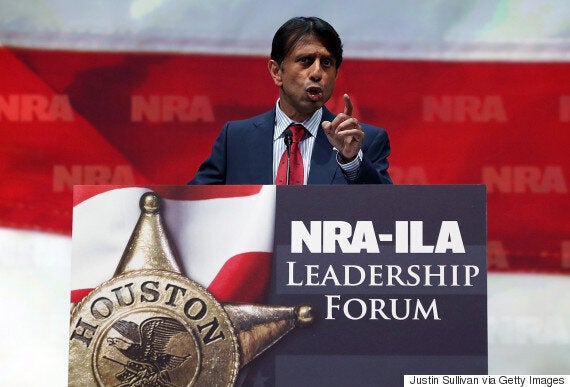 Louisiana Governor Bobby Jindal speaks during the 2013 NRA Annual Meeting and Exhibits in Houston, Texas
In a comment piece for the Mail Online, Piers Morgan, a staunch critic of America's gun laws, placed the blame for Thursday's shooting at the door of Louisiana Governor Bobby Jindal, a Republican candidate for the 2016 Presidential election.
He said: This is a guy [Jindal] awarded an A+ rating from the NRA – meaning they absolutely love him for his pro-gun speeches and legislative behavior. Jindal voted to stop gun manufacturers being sued for misuse of their weaponry, and he co-sponsored banning gun registration in Washington, D.C."
Pivotal Moments In The U.S. Gun Control Debate
Popular in the Community